Games might make better gifts than almost anything else in this world. It's not just that a significant part of the gaming audience can't really afford to buy them on their own—no matter your age, gaming is an expensive hobby filled with a great amount of choice, and no matter how much you buy for yourself there will always be something else out there for your friends and family to buy for you. From faithful recreations of the past to high-tech glimpses into the future, there's something out there for every gaming taste and predilection.
Unlock the past with the Analogue Nt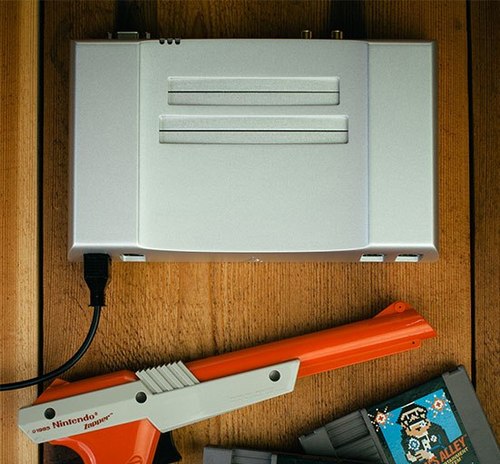 There are a lot of retro options out there for people who want to play old NES games, but the Analogue Nt might be the best. Unlike other retro consoles, the Analogue doesn't emulate the original NES hardware—it uses the same CPU and PPU from the old system. That means it looks and sounds more like what you remember than with emulators or other nostalgia boxes, and with the optional HDMI output it's perhaps the best way to capture footage for NES videos. It's also a really pretty system in its own right, a sleek silver suggestion of gaming's past. It also plays Japanese Famicom cartridges, if you want to import ancient games that never made it to these shores.
Burn your eyes out on the future with the Samsung Gear VR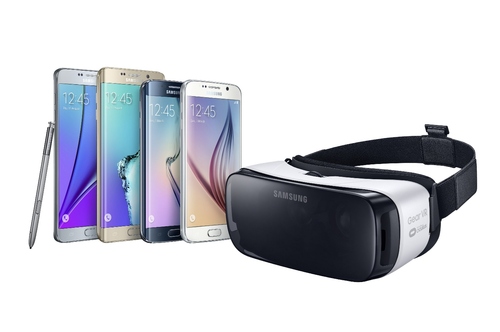 Virtual reality is still coming. I know you've been hearing that for years, but it's true. In fact the Samsung Gear VR is finally available for everybody as of last week. The smartphone-enabled headset, developed in conjunction with Oculus VR, offers affordable virtual reality shenanigans for anybody who doesn't want to splurge on a serious gaming computer. The reality of VR may not live up to the breathless hype of the last few years, but it's still more potent than its critics might admit, and the Gear VR is the best (and, other than Google Cardboard, only) consumer option at the moment.
Let the music games play like it's 2008 again

Rock Band and Guitar Hero fans had a big year, as both games returned with aplomb in October. Rock Band 4 ably revived the classic formula, with a full-band line-up, a fine setlist and new regular DLC, but its chief selling point might be the easy backwards compatibility that lets you transfer almost all of your old song catalogue to the current generation of gaming consoles. Guitar Hero Live, meanwhile, blew up the entire rigmarole and started from scratch. They reinvented the guitar controller, placing two rows of three buttons on top of each other for maximum power chord action, and turned the camera outwards at a full motion video crowd, making you feel like a legit rock person on a legit rock person stage. Rock Band 4 is best for parties, but Guitar Hero Live's Guitar Hero TV mode is the music game innovation this writer's been waiting for—it's a 24-hour streaming music video channel you can play along to, bringing the early days of MTV back to life again on your Playstation or Xbox.
Keep bringing toys to life with Disney Infinity, Lego Dimensions and more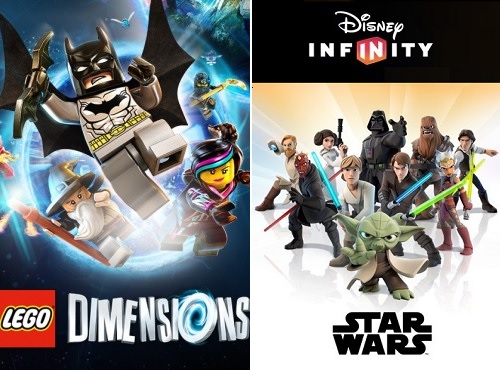 We say it every year: if you can get somebody hooked on a game like Lego Dimensions, Skylanders or Disney Infinity, or into Nintendo's Amiibos, your gift-giving will become really easy for at least a couple of holidays or birthdays.
Lego Dimensions is the new game on the block, and it's a nostalgia-fueled doozy. The basic set comes with Batman, Gandalf and Wyldstyle from The Lego Movie, and will take you on a punch-heavy adventure through some of the most iconic locales in pop culture history. Not just Gotham and Middle-earth, but places like Springfield, the Land of Oz, Back to the Future's Hill Valley, and more. Optional add-ons include characters from The Simpsons, Jurassic World, Back to the Future, Doctor Who and more, along with playable levels set in those worlds. There's even a Portal 2 set with new Portal levels. It's pricy but loaded with potential, and all the while it retains the charming sense of humor the Lego games are known for.
Disney gives us another reason to dig deep into Infinity with this year's addition of Star Wars characters in Disney Infinity 3.0. The cluster of new figures draws from the entire history of the movies and cartoons, from Luke and Leia to the crew of the current Rebels TV show. Next month sees the release of figures and a playset from The Force Awakens. There are also a few new Marvel and classic Disney figures to collect, along with various power disc sets (no longer sold in blind packs, thankfully) and new "Takeover" sets that offer Mario Kart-style racing action and a more refined take on the toy box games introduced with 2.0. It's not just a giant nostalgia blender, but a sprawling collection of well-made games and a massive, open-ended toy box mode that lets you create your own fun.
Nintendo's Amiibo train continues to chug along with its most adorable wave yet. A line of Animal Crossing figures came out earlier this month, pegged to the release of the Animal Crossing: Amiibo Festival virtual boardgame for the Wii U. The game's a trifle, but these are the most adorable Amiibos yet, especially Tom Nook in his autumn sweater and K.K. Slider in his pensive singer-songwriter pose. The Amiibo craze is dying down a bit, and recent figures seem relatively easy to find, so you might be able to pick these up for your loved ones without store-hopping or eBay-trawling.
Finally, Skylanders: SuperChargers adds vehicles into the venerable mix. The toys-to-life progenitor might seem a little long in the tooth today, and can't bank on the nostalgia factor that its competitors boast, but it's still one of the most successful toy lines of recent memory, and a pretty fun series of games, at that.
Sports games came out this year, as they do every year, and sports games fans might like to play them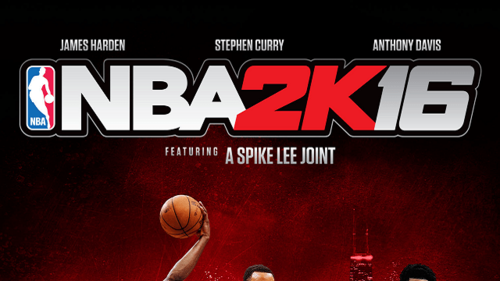 Sports games can be hard to crack if you aren't fans of the sport or don't play these types of games with some regularity. This wasn't an exceptional year for sports games, or anything, but there are a few notable games to target for your sports-loving sports buddy. NBA 2K16 got a lot of promotional mileage out of Spike Lee's involvement, but at its core it's another dependable basketball sim from what's become perhaps the premier sports game in the industry. Sony's MLB The Show had another quality start this year; its Road to the Show mode is still the best sports role-playing game around. Wrestling is more of a sports-like endeavor than an actual sport, and its current popularity might be as low as it's been in a few decades, but WWE 2K16 offers enough options and a deep enough roster to distract passionate wrestling fans from the poor career mode and lackluster booking options. The best sports game of the year isn't found in stores, though, and didn't even come out this year: Super Mega Baseball slipped onto the Playstation 4 with two weeks to go in 2014, eventually hitting the Xbox One and PC earlier this year during the dog days of the 2015 baseball season. There's surprising strategic depth beneath its cartoon exterior and arcade-style play.
Buy today's consoles today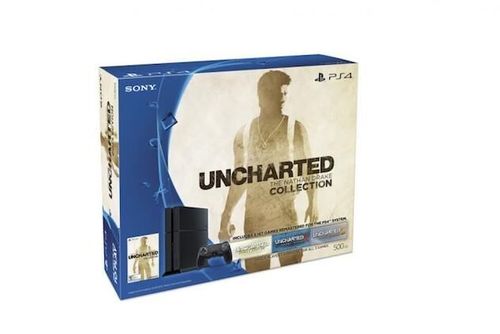 We are solidly in the middle of the current era, with few games still being made for the old systems and nothing known on the horizon (although rumors abound about Nintendo's next console). If your house hasn't bought into the Playstation 4 or Xbox One, there are some fine bundles to target this year, and the underloved Wii U remains a good option for people who love fun games but don't need to buy a new one every few weeks.
If you don't have a PS4 yet, and have never played any of the Uncharted games, the Uncharted: Nathan Drake Collection bundle is a great place to start. It nets you the system, a controller and all three Uncharted games on a single disc for just a hair under $300. (Before taxes, of course.) It's supposedly only available during Black Friday weekend, so maybe keep an eye out between shopping mall brawls on Friday.
If you're more of a Microsoft kind of person, there's an Xbox One bundle with Gears of War: Ultimate Edition for $299 during Black Friday. That's basically every Gears of War game, so it's like the PS4 and Xbox One are duking it out with their best third-person shooter shots.
If you've read our Black Friday recommendations, you already know about the best deal on Nintendo's Wii U. For $250 you can grab Nintendo's current console (which might have about two years left on the market) along with two of its very best games, Splatoon and Super Smash Bros. for the Wii U. The Wii U won't have the library or the lifespan of the PS4 or Xbox One, but there's a good chance you'll get more enjoyment out of it, pound for pound, than any other console.
Say goodbye to the real world with these massive epics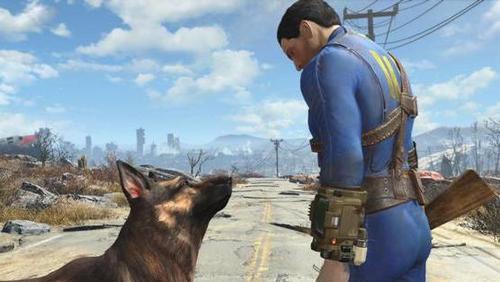 A lot of people play games to delve into a world more magical or vibrant than our own. It helps with that sense of escapism when those games eat up just ridiculous amounts of our time. Fallout 4 is a perfect example: I put over 50 hours into it within a couple of weeks, while somehow keeping a full-time job and not driving my wife to divorce. The weirdest part is it still doesn't feel like I've spent nearly that much time on the game—I am so ensorcelled by its burnt out Boston that real time loses all relevance. If you want to maximize the play time of your gift, Fallout 4 might be the best current game to reach for.
Another absurdly long option, out in early December for the Wii U: Nintendo's Xenoblade Chronicles X. This sequel to a magnificent Wii RPG has no respect for our schedules, demanding dozens of hours and proudly offering the potential of hundreds of hours more on top of that. If the person you're buying a gift for loves Japanese role-playing games and anime, Xenoblade Chronicles X might be the only gift they need this holiday.
Garrett Martin edits Paste's games and comedy sections. Follow him on Twitter @grmartin.