Driving on the interstate at night is a head on collision with mystery. We drive a hunk of metal down a darkened path, shafts of light guiding our way. If we are driving on interstates, we are driving fast, and in particular we are driving with very little concrete knowledge of what lies ahead. The most important thing to remember? Don't go too far off the path, and don't get out of your car.
That sensation of driving full-speed through a blanket of darkness is emulated nearly perfectly in Kentucky Route Zero. At times, your eyes may feel heavy, and a burst of cold air on your face may be necessary to keep you alert for the drive ahead. Still, there are things along the road that are worth paying attention to. In this game, you have to get out and look around.
In Kentucky Route Zero, you mostly play as Conway, an antique furniture delivery man who is inexplicably determined to make his final delivery to an address that he's never seen before. He's been told he can get there by way of Route Zero, an interstate he's not familiar with.
While Kentucky Route Zero is partially about exploration, the world itself is relatively sparse, and its first act focuses on themes of rest, overwork and the economic realities that cause us to toil in less than ideal circumstances. Conway is easy-going, and seems to have all the time in the world. As the player guides Conway across the screen, his steps are slow and deliberate. There's a lot of waiting while Conway finally shuffles his way to the other side of the screen. There's a tired dog with a straw hat and all the patience in the world, as a good dog should. There's a fascination with the mines of Kentucky, a place of incessant labor and heartbreaking injustice.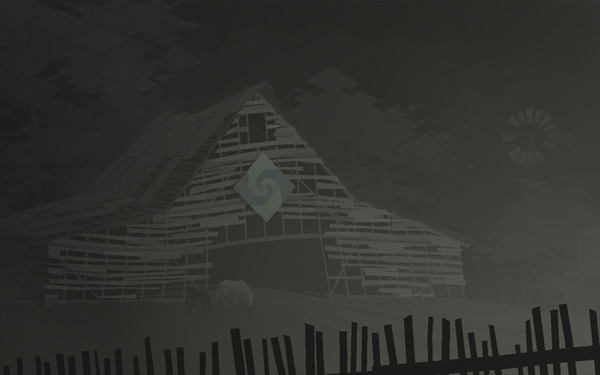 Play with the lights off, with plenty of extra time, when you know you won't be interrupted. Play it with a glass of bourbon. I don't care what you have to do, just give it your undivided attention.
The game manages to melt away the formal restrictions of traditional point and click adventure games. Still, it seems less like an experiment than a grand example of the potential the genre has going forward. At times it feels like a play, with all of the electricity and stakes of a live performance—but then the stage rotates and transforms in a way that seems utterly surprising and supernatural. And you think: this must be real.
The most noteworthy achievement of Kentucky Route Zero is the extent to which the player feels invested in the things that take place off-screen: the worries, the ambitions, the hopes and dreams of the protagonist and those he meets along the way. There's the way it enables an investment in those who came before Conway, the ones who worked in the mines, who drove the old back-roads of Kentucky well before the interstate was invented, who were even less secure—financially or otherwise—than those of us who lived through a recession and live in constant fear of the next one.
But most heartening is the way the game demonstrates the way beauty and joy can arise from seemingly hopeless situations unscathed. There's a thread of dark humor that pulses from the dialogue, and a continuous theme of music as a way of confronting tragedy and frustration. Strangers in the night cling to one another with jovial and inviting conversation and treat one another in that quaint friendly way that modern folk often think of as naive. They get right to the point, not of the practical matters, but of soul-matters. There is no shame in this world. Everyone recognizes their own brokenness and their neediness. There are no haves and have-nots. No one has enough.
But what is enough? I've played through Act I of this story, and so far, it's a mystery.
---
Kentucky Route Zero: Act I was designed and published by Cardboard Computer. Our review is based on the PC version. It is also available for the Mac.
Richard Clark is the managing editor of Gamechurch, the editor-in-chief of Christ and Pop Culture, and a regular columnist at Bit Creature and Unwinnable.