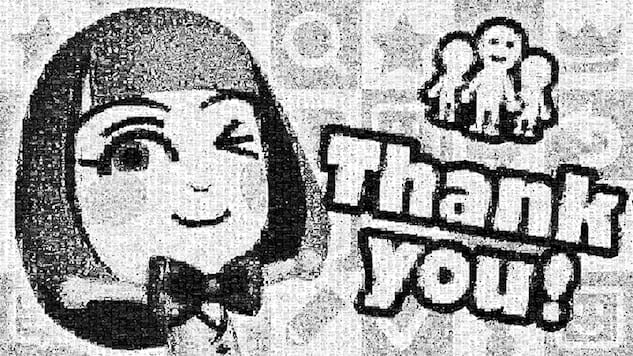 Nintendo's haven of awesome drawings, stupid memes and general shitposting has been shuttered. We previously reported on the end of Wii U and 3DS social network Miiverse over the summer, and as of today, it is now inaccessible. With no equivalent for Nintendo's new-fangled Switch, the videogame company is hoping that users will share their screenshots and other content on Facebook and Twitter. But Miiverse ended less with a whimper, and more with a bang.
Recognizing the fun that Nintendo fans and artists had on the service, which started in late 2012, the company created a special "community" specifically for users to say their heartfelt farewells to Miiverse. Titled the "Everybody's Message Community," this platform allowed Nintendo fans to share their silly hand-drawn pictures in tribute to Miiverse. When visiting what used to be the Miiverse desktop website, users will instead be greeted with a friendly looking collage composed of these drawings (pictured above).
The closing of Miiverse will affect several Nintendo first-party games, including Super Mario Maker, which allowed users to comment on user-made levels, Super Smash Bros. for Wii U, which had a Miiverse stage that displayed messages "rooting" for the brawling characters, or Splatoon and Super Mario 3D World, which populated the world map with Miiverse drawings and comments. Nintendo allowed for users to request their Miiverse content—according to the company, emails containing download URLs should go out to those users within the next several weeks.
Miiverse closed down due to the "financial challenge" of keeping such a service going for a now-discontinued Wii U. Still, the service was quite active in its final days of existence, with the usual artistic masterpieces of stick figures and phallic images populating the social network, which was seemingly abandoned by its moderators at the end of its lifetime. But once one sifts through all of the dicks and whatnot, they can find lovely messages, like this one from Shigeru Miyamoto:
did y'all see miyamoto's last miiverse post before it went down it's so cute pic.twitter.com/FZwfe3aqPP

— ???????? (@SleazeBurger) November 8, 2017
Fanmade Twitter account Bad Miiverse Posts, which is exactly what it sounds like, also put out its own farewell message, comically parodying the end of Metal Gear Solid 4.
— BadMiiversePosts (@BadMiiversePost) November 7, 2017
Goodbye, Miiverse. We hardly knew Yii.