For the past few years, pinball has been experiencing a resurgence. Though it is unlikely that the game with the silver ball will permeate the cultural zeitgeist the way it did for much of the 20th Century, the industry and hobby haven't been this exciting in decades. For thousands of people in this country the game of pinball is still a relevant hobby. The scores of people who were captivated by the game in their youth have sunk their claws deep into the nostalgia and have carried this American invention into the modern era.
Several years ago, if you would have told me that I would have an actual pinball machine in my basement, I wouldn't have believed you. Nor would I have believed that conventions celebrating this classic American amusement have been happening in various locales across the country for the past few decades. However, the idea that I would be traveling from Atlanta to Chicago, at the invitation of the preeminent industry event in celebration of their 30th anniversary, would have caused me to laugh you out of the room. Nonetheless, so it was that I found myself on an airplane in October 2014 to visit the birthplace of what would consume countless quarters and misspent youth.
Walking into the Westin in Wheeling, Illinois, I expected to be greeted by hordes of middle-aged white guys in cargo shorts playing pinball. What I did not expect was to run into Ed Robertson, the lead singer for Barenaked Ladies. It was just after 10 p.m., the kickoff party with live local music had just ended, and most of the festivities for Pinball Expo would not start until morning. Only the seasoned, hardcore enthusiasts of the hobby were still roaming around the hotel lobby, including Mr. Robertson. As cool as it was seeing the voice of my college radio experience in the flesh, I was already on the lookout for "celebrities" of another sort, including the man standing next to him—"Jersey" Jack Guarnieri, the man credited with breathing life into what was a dying industry.
Three years ago, Jack Guarnieri, a former amusement operator and longtime distributor of what was then the only pinball manufacturer for the past ten years, Stern Pinball, announced he would be developing a new pinball company—Jersey Jack Pinball. Though his company was new, he would reach back nearly 75 years to decide upon his first release—The Wizard of Oz. Despite some hiccups along the way, Jack has delivered on his promise to create a full-featured machine and bring excitement back to pinball. Guarnieri's success has since emboldened others, and a new manufacturing landscape for the silver ball has emerged. From small-run boutique builders to large-scale overseas developers, almost all would be on hand, displaying their accomplishments at Pinball Expo.
After clumsily introducing myself to Jack, I met with some friends and grabbed a drink before last call at the hotel bar. One of the people around the table with me was a new friend I only recently met during the Southern-Fried Gameroom Expo in Atlanta, a similarly-styled event I help to organize. Dan Spolar is the brains and heart behind Project Pinball, a charitable non-profit devoted to placing pinball machines in children's hospitals and organizing fundraising events centered around pinball. With the renewed interest in pinball, the charity has been receiving welcomed attention and increased donations to aid in sick children's recoveries, so it was only appropriate to offer a toast to his efforts. After our drinks, I took some time to walk around the venue to get the lay of the land and make my plan of attack for the next three days.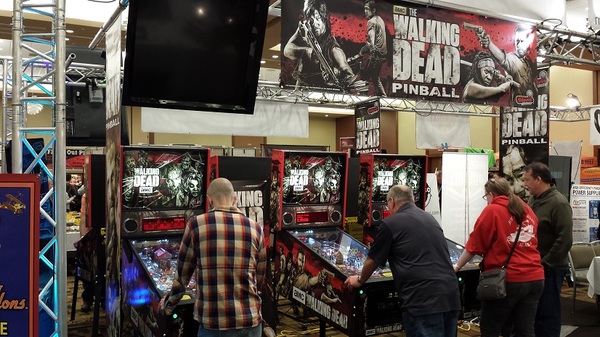 The show wouldn't officially open until the next day, but there were still plenty of things to see. In addition to Hercules, the world's largest pinball machine, which uses a billiard cue instead of a normal steel pinball, and some custom homebrew games lining the wall, there was another game that was drawing the attention of a dozen or so people surrounding it, and that was the newest offering from Stern Pinball: The Walking Dead. Themed after AMC's popular television series, The Walking Dead boasts everything you'd want to see in a zombie-driven game: blood, gore and (duh) zombies. With only three games released each year, every new Stern offering is like an exotic animal in the wild, studied and admired. Those doing most of the studying at this late hour are those preparing to compete in the upcoming International Flipper Pinball Association (IFPA) tournament over the next few days. Learning the ins and outs of a game means players can better exploit the game for points, so a new game presents itself as an unknown quantity and a potential threat to skilled flipper fingers. The lines were too deep and my eyelids too heavy to battle zombies that night, but I would get a much closer look at the game in the morning as it rolled down the factory line.

As dozens of men and a few women milled around outside the hotel waiting for school buses to pick them up to take them to the Stern Pinball factory tour, I met up with a few of my fellow pinball podcasters to discuss some "inside baseball" and beat the crowd by driving a rental car to the factory. Despite being such a niche hobby, there is always plenty of news (and gossip) to discuss, so the conversation was a welcome distraction as we drove the 40 minutes to where the majority of all pinball machines produced in the past 15 years were created. Located in a nondescript industrial park in Melrose Park, Illinois, the Stern Pinball factory isn't much to look at on the outside. Once inside, to the pinball novice's eye, there isn't much to look at either—just a busy manufacturing facility filled with a cacophony of drills, hammers and compressed air. However, to a pinball fanatic, this place is our Mecca.
After the great Bally/Williams ceased manufacturing pinballs in 1999, Stern was the last man standing in a line of great industry icons that slowly closed their doors one by one. As the torch-bearer for the proudly "Made in the USA" pastime, Stern survived some close brushes with death itself as it struggled to find its footing amid the further decline of arcades and the Great Recession of 2008. Despite the struggles, Stern Pinball has remained a bastion of hope for hobbyists, and seeing the birthplace of so many games was one of the highlights of my trip.
Our tour guide was one of the newest employees, a babyfaced software engineer at the company named Jack Benson. Jack, rumor has it, scored his job when he was spotted by a Stern employee at a local arcade enthusiastically playing pinball. When asked by the observer what his favorite game was, he pointed to Johnny Mnemonic, which just happened to be designed by the man he was now speaking to, George Gomez, Vice President of Game Design. The ensuing conversation would eventually lead to the present: Jack showing a group of us how playfields are drilled and assembled, sideart is applied, and electronics are mounted into the mechanical marvels in front of us. Although interesting enough, there wasn't anything unexpected during the tour other than finding out that the new Walking Dead pinball project's secret code name was "Dinnertime."
Funnily enough, it wasn't until after we left the guided tour and returned back to the Expo hotel that we learned Stern issued a press release announcing a partnership to release another new pinball, this time a tongue-in-cheek pin-up girl throwback titled Whoa Nellie, Big Juicy Melons. Prototypes of this game have already been showcased at previous expos and conventions for a few years now, so this news did not have pinball fanatics buzzing with excitement. That honor would go to The Big Lebowski.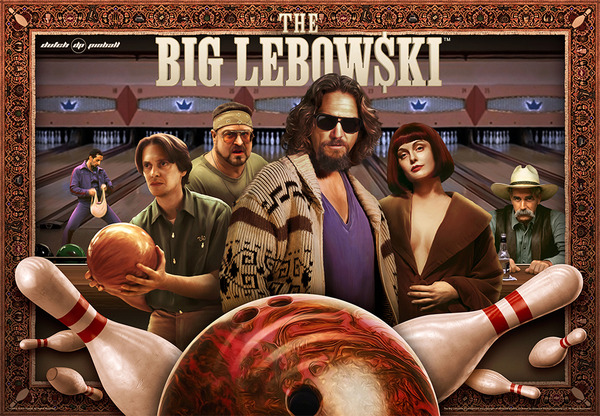 Once back at the halls of the expo, I dropped into a few interesting seminars, ranging from boutique manufacturers revealing exhaustively minute details about unfinished project years in the making, to looking back at the making of the classic Flash Gordon pinball machine from the designers themselves, to a half hour presentation of videos about pinball I could have watched on Youtube at my day job. The real draw of the evening was the revelation of the near-finished product from Dutch Pinball, an innovative homage to the Coen Brothers' cult classic film, The Big Lebowski.
A packed house crowded the hotel ballroom to hear and see the fruits of Dutch Pinball's labor, which started only a year prior with a viral marketing campaign featuring a pinball machine draped in a rug that really tied the room together. Now, audience members watched as Dutch Pinball's director of marketing, Phil Weinberg, bombarded them with an F-bomb laden tirade against the establishment of pinball's "old guard." In a presentation rife with suspicion of industry spies, insulting rebuttals to seemingly innocuous questions, and a swagger that could rival that of Kanye West, the proverbial mic was dropped when the Netherlands-based company revealed three functioning prototypes and offered them up for free play to the masses.
One reason why both Kanye West and, now, Dutch Pinball can get away with such braggadocious ways is that they deliver on the hype. The Big Lebowski is a perfect execution of theme integration in a pinball machine. Not only are "The Dude" and all of his cohorts emblazoned across the backglass and the playfield, but each interactive toy is designed with the cult classic in mind: an under-playfield bowling alley that scores all ten frames, a target that acts to unfurl the iconic rug, and a glowing White Russian to entice the player to just take it easy, man. As the audience moved to encircle the three machines on display following the seminar presentation with cameras flashing as if their last name was Kardashian, it's pretty clear that the only people not interested in the new Big Lebowski machine are nihilists.
Later that evening, there were some other important seminars including the progress by Circus Maximus on remaking the late Python Anghelo's famously rare Pinball Circus, along with the grand reveal of Jersey Jack's second game—The Hobbit. Although an interactive Smaug fought with all his might to capture the hearts of attendees, it was obvious from the crowd's reaction that The Big Lebowski had stolen the show.

I woke up after a long night of playing pinball in the open game room. As you can imagine, with over 100 games on free play, time passes rather quickly. Knowing I still had two full days of Pinball Expo in front of me I broke away from the host hotel to enter full-on tourist mode by seeking out filming locations for Home Alone and Ferris Bueller's Day Off in the nearby Chicago suburbs before making my way to a warehouse party that can only be described as a pinball orgy. Forty-five minutes from the expo, parts supplier and distributor Pinball Life holds an annual party in their shipping warehouse each year corresponding with the annual unrelated Pinball Expo, and they always have something special up their sleeve. This year, in addition to live music, free food, and nearly 100 pinball machines, they had a contraption that suspended both a legless Iron Man pinball machine and its player in the air along with a Game Show pinball machine encased in a booth filled with a flurry of wind-blown packing peanuts. You know a party is fun when you have to sign a waiver to participate.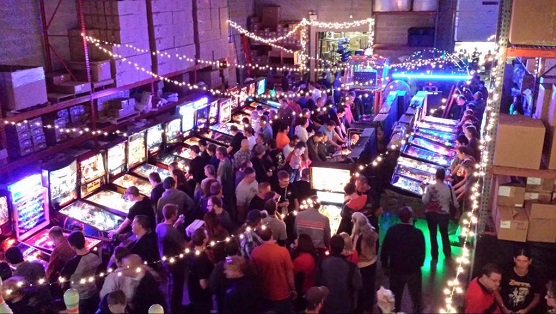 After the mid-day party, I headed back to the Westin in Wheeling to make a trek through the vendor hall and check out another few marquee seminars. The spacious vendor hall houses everything from LED light bulbs and reproduction playfields to gameroom decor and new and used pinball machines for purchase. It was also where each game manufacturer displayed their newest creations allowing for players to really get the feel for new games from smaller companies such as Spooky Pinball's America's Most Haunted and UK-based Heighway Pinball's Full Throttle.
As the evening continued, Heighway Pinball would go on to have the second most buzzed about seminar when they revealed that they secured the license from Fox to build an Alien machine themed around the hit Sigourney Weaver films. Following that bombshell, Stern Pinball's president, Gary Stern, would pat himself on the back for riding the storm and continuing to make successful games. And with the opulence formerly reserved for the dot-com boom, his seminar ended with the official The Walking Dead release party with an open tournament, free beer, a DJ, and a meet-and-greet signing line for the game's design team.
The days at Pinball Expo are long, but the nights are even longer. Though the last seminar finished at 10 p.m., the game room buzzed, beeped, and chimed all night long until 6 a.m. the following day. As I made my way to plunge through my now-nightly routine, I passed the long row of tournament games followed by the even longer line of competitors. I made a mental checklist of some of the top players I spotted in the crowd while I tried to muster up the courage to play against some of the best in the world. Humiliation would have to wait until tomorrow.

At the invitation of the organizers, I was asked to speak on a panel about podcasting in pinball Saturday morning. After a long night of playing pinball, I was pleasantly surprised that over forty people were in the audience by 9 a.m. to hear my fellow podcasters and me discuss our pontificating. With my nerves at ease after mumbling through my answers for the seminar which ended in dodging spray Cheez Whiz (don't ask), I went back to get in line to make a dent in the tournament's leaderboard.
One of the contributing factors to the rise in pinball's popularity has to do with the competitive tournament scene. Players can compete in a variety of competitions around the world and be entered into a database run by the International Flipper Pinball Association (IFPA) that calculates the World Pinball Player Rankings. The appeal of not only competing against your friends and neighbors, but seeing how you stack up against other players around the world while possibly winning a few thousand dollars along the way certainly has some appeal.
With this being one of the largest events in the pinball calendar, almost all the top talent was in line including former world champion Bowen Kerins of Massachusetts and the current #1, Jorian Engelbrektsson from Sweden. Knowing my competition, I hedged my bets and skipped the modern tournament altogether and entered into the classics tournament instead. While the best in the world were racking up points on the newest games from Stern, I used my two complimentary entries to flip away at some 80's classics including Firepower and Harlem Globetrotters.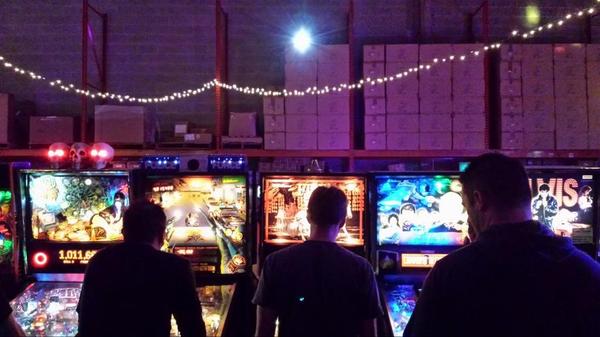 At $10 for every three attempts, the tournament can quickly become expensive, but it also means that it can be very lucrative for winners. For this particular tournament, players earn points for their highest scores on each game. They get points for wherever their score falls in the rank for that particular machine. The higher the ranking, the more points awarded. I know the terminology: bounce pass, live catch, stage flipping; but I know when I am outmatched. My few entries would earn me 64th out of 125 players. Previously-mentioned Engelbrektsson would wind up winning the main tournament along with his share of the $9,000 prize pool.
With defeat firmly established, I made my way to the author, artist and designer autograph session. While baseball has hall of famers such as Andre Dawson and Wade Boggs, pinball's icons include designers such as Steve Ritchie, Pat Lawlor and Barry Oursler, who were seated around tables signing anything (backglass artwork, photos) and everything (yes, boobs). The line stretched around the entire room and out into the hallway, and with the annual banquet immediately following the signing session, I knew I didn't have time to wait, so I didn't do anything except stare in admiration of this hobby's heroes.
The guest of honor for this year's banquet was the founder of Atari, Nolan Bushnell. However, at an additional $80 per plate, I didn't attend and merely had to settle for awkwardly bumping into him while entering the vendor hall earlier in the day. From what I heard, the banquet stretched long into the night with awards and proclamations being handed out to Bushnell and a long-suffering list of special guests. That's ok, I had my fill of seminars and speeches. I needed to get back to basics.
I would spend my final hours of my first Pinball Expo doing what makes this hobby fun—playing pinball. With friends at my side, a drink in my hand, and a pinball machine in front of me, the minutes blurred past as I hopped from game to game. Though 2014 marked Pinball Expo's 30th anniversary, my first trip confirmed what I already knew…the ball really is wild!
Main photos courtesy of Gene X Hwang / Orange Photography.
Preston Burt is a graphic designer living outside of Atlanta, GA. He has previously written for the Screen Crush Network and co-hosts the Gameroom Junkies Podcast. He is a founder and organizer of the Southern Fried Gameroom Expo.