Falcon McBob's First Tweet Is Yet Another Tease for the Spyro the Dragon Remaster
Images via Activision
Games
News
Spyro the Dragon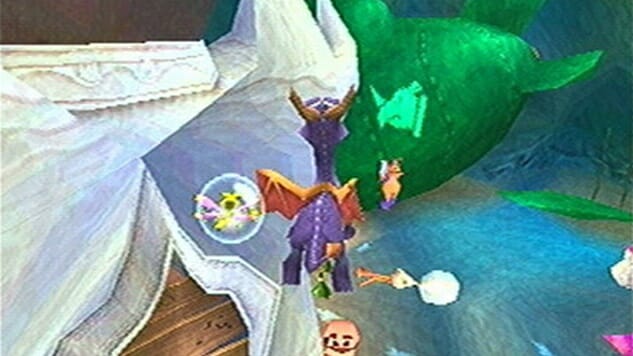 The Spyro the Dragon teases have been coming at an increasingly quicker pace this week. The forthcoming remaster of the original Spyro trilogy was first rumored to exist back in February and was further confirmed by a Target support Twitter account last month, but this week has seen the teases unveiled on a daily basis. Tuesday saw the delivery of purple, scale-ridden eggs from the mysterious Falcon McBob, directing recipients to the Twitter account @SpyroTheDragon. Soon after, the official Crash Bandicoot Twitter account became the first and only account it has followed.
On Wednesday, Falcon McBob crafted their first tweet, which is yet another tease for the forthcoming remaster.
.@CrashBandicoot Good Times. pic.twitter.com/we1PmOrq94

— Falcon McBob (@SpyroTheDragon) April 4, 2018
The image features someone in a Crash costume resembling the one from the game's initial '90s marketing campaign with an image reflected in its eyes. The line "good memories" is attached, directed at the Crash Bandicoot Twitter account. The reflected image is not easily discerned, but members of the gaming community are putting two and two together, and claiming that the image is of a Spyro the Dragon game. It makes sense, considering the source of the tweet and the reported involvement of Vicarious Visions, developers of last year's Crash Bandicoot N. Sane Trilogy remastered collection, in the development of the Spyro remaster.
The quickened pace of teases leads many to believe that an announcement is coming very soon, possibly before the end of the week. Whether it comes that quickly or not, it is interesting to watch the process play out for a game that has already pretty much been confirmed to exist. Official word is all that is missing, and all eyes will be on Falcon McBob until that word comes down.