Telltale's Batman, Walking Dead and Wolf Among Us Will Actually Return
Image via Telltale
Games
News
Telltale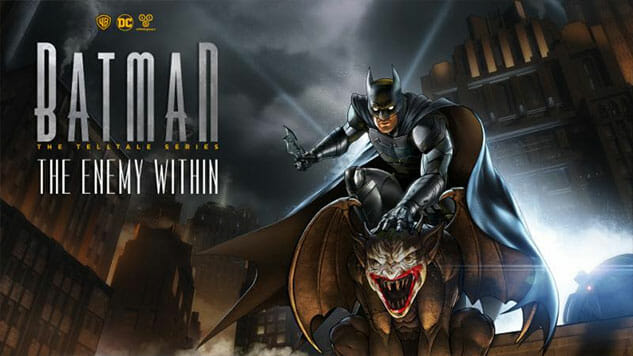 Worried that your favorite Telltale games were gone for good? Fear no longer: Telltale's episodic stories from Batman, The Walking Dead and The Wolf Among Us are coming back, and it all starts this August.
Batman's next season, Batman: The Enemy Within, will launch its first episode titled "The Enigma" on Aug. 8. This season will set its sights on billionaire Bruce Wayne and his alter ego Batman as The Riddler has come back to stir up chaos in Gotham City. Batman must make some unsteady alliances, and Bruce is faced with harsh realities and deceptions.
As with most Telltale titles, your choices from the first season, Batman: The Telltale Series, will carry over into the forthcoming one. But if you didn't get the chance to play the first one, rest easy, as it's a standalone experience. And you won't have to play it alone any more. Telltale's Crowd Play feature, which will allow your friends to play along with you via any smartphone or tablet, will be available for this title.
Due in 2018 is the conclusion to Telltale's Walking Dead series based on Robert Kirkman's award-winning comic series. As it's currently known, The Walking Dead: The Telltale Series-The Final Season will throw you into the shoes of a girl turned hardened survivor, Clementine. We're not quite sure what her journey will entail yet, but we do know that she's the same kick-ass young woman we've come to know and love since 2012.
Also launching in 2018 is the sequel to the title inspired by Bill Willingham's Fables, The Wolf Among Us 2. This isn't its official title, but the new season will have a whole new tale of murder, deceit and lies in store for Bigby Wolf and Snow White.
As with all of Telltale's titles, these three are expected for Xbox One, PlayStation 4, PC, Mac, iOS and Android. More details on The Walking Dead and The Wolf Among Us titles are expected to trickle down from Telltale in the coming months. For more about these forthcoming titles, check out the reveal video below.