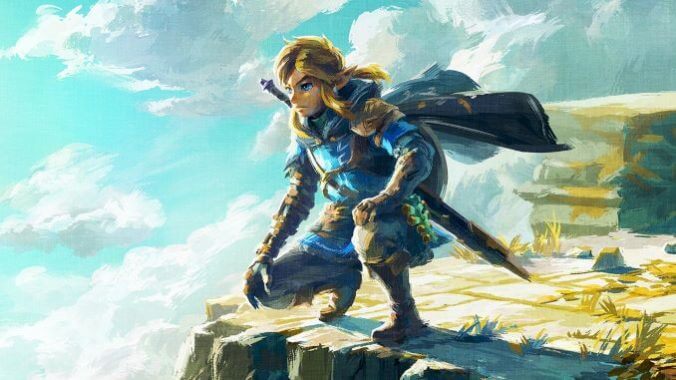 It's a big day for Legend of Zelda fans, as Nintendo has finally released the first extended look at gameplay in Tears of the Kingdom, the follow-up to 2017's critically acclaimed Breath of the Wild. The 13-minute footage shows off some of the new gameplay mechanics and improvements ahead of the game's May 12 release date.
The showcase opens up displaying the new sky islands reminiscent of Skyward Sword's setting and Link's new Recall power as a method of visiting these areas. The sky islands are an interesting way of adding unfamiliar geography to the latest version of Hyrule many players have come to know intimately, so it's nice to see that the map is expanding.
One of the bigger focuses was on the new Fuse power which allows Link to mix and match objects and weapons to create new makeshift ones. The demonstration, led by producer Eiji Aonuma, showed off the new ability by fusing a rock with a stick, then fusing another stick with a pitchfork and finally fusing arrows with various objects to give them new properties like homing or freezing.
This is a game changer that solidifies the already wild techniques Breath of The Wild players have been accomplishing in that game for years, so it'll be exciting to see what fresh gameplay opportunities will come out of the new abilities. Speaking of abilities, the final one on display was Ultrahand, which allows players to meld objects together similar to Fuse, but instead focusing on engineering devices rather than just weapons. The demo shows Link making a makeshift boat with a few logs and two propellers for example, and Aonuma revealed that the car and air balloon seen in the previous trailer were made with Ultrahand, leaving the form of these vehicles entirely up to players. Suffice to say, engineers are gonna have a field day with Ultrahand.
As mentioned, Tears of the Kingdom comes to the Nintendo Switch on May 12.  You can watch today's extended demo just below.