The Top 10 Best Game Soundtracks for Studying
The best alternative to classical music and lofi-study beats
Artwork for Tsuki's Odyssey by Joshua Sung
Games
Lists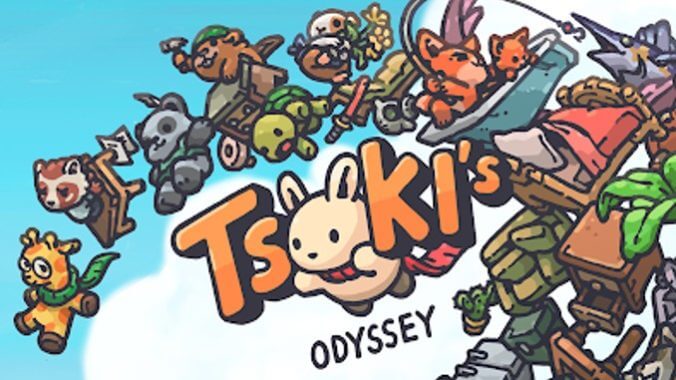 In July of 2022, our beloved YouTube stream of the Lo-Fi girl sitting at her desk listening to music with her cat had been taken down due to receiving a "false" copyright strike. The world stopped—students began to panic amidst the horror of losing a friend that had been with them through the pain and suffering of all-nighters pulled. "Where do I run to for calming music?", they asked. Well, for those who are students or people who are looking to calm some nerves, there's no need to search for that music further. For those of you who find comfort in games and music, this is the place to be. Here's a list of the best gaming soundtracks to study, ranked from most calming to least.
1. Minecraft (2011)
C418 is the creator of all things unbeatable and unmatched with atmospheric, world-building soundscapes. It takes suffering students out of their studying sadness when they are transported from their desks into a relaxing, optimistic world. Although there are technically two Minecraft albums, I highly suggest Minecraft – Volume Alpha over Volume Beta. Beta can still present calming sounds, but portrays the more eerie, whisper-like tones that the Nether world represents. Beware of the chicken screech in "Death," in Volume Alpha—It throws you for a loop when you start getting in the zone. It's a great soundtrack to allow yourself the time to sit back and relax amidst the stress of whatever you're working towards.
---
2. Tsuki's Adventure and Tsuki's Odyssey (2021)
This adorable mobile game is a passive adventure game that immerses you into the world of Tsuki, a red-scarf-wearing rabbit, and the cute villagers of Mushroom Village. The lore behind Tsuki is that he gets tired of his office job a.k.a corporate America (he's just like me) and moves to the country to manage his uncle's carrot farm. It's a pretty hands-off game that you come back to every once in a while to harvest your carrots and see what Tsuki is up to. Tsuki's Odyssey is essentially a re-release of Tsuki's Adventure with more fleshed-out graphics. Both soundtracks are irrevocably tranquil—putting your mind at ease with the finger-plucking guitar. You feel like you are there with Tsuki, out on the farm watching the stars disappear as the sun slowly starts to rise.
---
3. Stardew Valley (2016)
ConcernedApe, otherwise known as Eric Barrone, composed the soundtrack for Stardew Valley—a game he also developed. Hailed to be one of the best soundtracks to listen to while you study, it's ambient, mellow, calm, peaceful, atmospheric, warm, and sentimental, with influences from Bluegrass and Modern Classical music. It's a strictly instrumental piece that allows your mind to wander but focus on the tasks at hand. The soundtrack is 127 minutes—perfect for no interruptions other than the occasional YouTube ad. Stardew Valley is another low-key game similar to Harvest Moon with a soundtrack that greatly complements the theme of taking life slowly. The two-hour soundtrack never really drags and invites you into the enchanting place of Pelican Town.
---
4. The Last of Us (2013)
Surprise! A survival game requiring you to kill freakazoid zombies, ones we surely couldn't outrun if the apocalypse did actually happen, has some of the most relaxing music ever! This soundtrack is one of the best gaming soundtracks ever created with its hauntingly beautiful tracks. There's a reason HBO stuck with the game's theme as the show's theme. The minor arpeggios from the acoustic guitar set the foundation for the tone of the game produced by Gustavo Santaolalla. The soundtrack is 56 minutes long, and standout tracks include "The Quarantine Zone (20 Years Later)" and "The Way It Was." It's easy to put in the background as you type away at your essay that's due in less than an hour.
---
5. Final Fantasy VII Original Soundtrack (1997)
Nobuo Uematsu never misses. The Japanese composer and keyboardist is a self-taught musician best known for his work with Final Fantasy. Uematsu single-handedly composed the soundtracks for the first nine games of the series. Final Fantasy VII's soundtrack is highlighted out of the others due to the game's cultural impact. It held the top spot as one of the best RPGs for any console in the late '90s. It also held topical themes that still stand today: environmentalism, sustainability, monopolies, etc. The music isn't grandiose or complex in any way. It's actually quite simplistic, with only a few melodies going on at a time, and a handful of synths and instruments for each track. The soundtrack doesn't have calming music per se, but it's not at all distracting. A lot of the soundtrack does have a classical foundation, with the use of brass, strings, and percussion—instruments typically used in a symphony or orchestra. The 85-track soundtrack revs up towards the end as tension in the game rises. The music does a great job of storytelling and accompanying the gameplay. Uematsu definitely aids listeners to the experience outside of the game, and inadvertently helps people study.
---
6. Celeste (2018)
The critically acclaimed side-scrolling platform game was released on January 25, 2018, for Nintendo Switch. It's a narrative-driven, single-player adventure game that allows the player to control Madeline—a young woman with anxiety and depression who fights her inner demons on her journey to Celeste Mountain. While the game itself is described to be heard by some players, the music makes for an easy listening experience. Composed by Lena Raine, a majority of the soundtrack has piano as the foundational sound. It plays up on the use of synths to complement the game's 8-bit style and mixes the use of major chords and diminished chords to demonstrate feelings of optimism and bleakness. Being the first soundtrack to be ranked after five, it can induce some levels of anxiety. The songs' momentum and phrasing keep you motivated to keep working while staying relaxed but alert enough to keep you from falling asleep at 3 in the morning (you know, with the work that's been procrastinated.)
---
7. The Legend of Zelda: Ocarina of Time (1998)
This soundtrack is legendary, to say the least. For the title track alone, the recorder's melody, or ocarina for that matter, is a mesmerizing tune that keeps the player wanting to stay there forever. The accompanying piano and strings relay themes of rest, relief, and mourning. Koji Kondo, the Nintendo master who is perhaps the most celebrated composer of videogame music ever, does an incredible job with storytelling through the music he writes. For the most part, a majority of this soundtrack lends itself to be on the chill side which is a big requirement when it comes to studying. "Great Fairy's Fountain," "Kakariko Village," and "Zelda's Lullaby," are some of the standout tracks from the soundtrack. There are moments of intensity sprinkled in the soundtrack, which insists some turn down the volume on their computers. The otherwise peaceful, slow tracks relieve listeners from the strains school work brings.
---
8. Stray (2022)
The dystopian slumber music of the Stray soundtrack aids listeners to create an otherworldly ambiance. It lures listeners forward and motivates them to press onward. The soundtrack yields itself lower on the list because of its various dynamics with relaxation and a sense of urgency. Considering the fact that the game has a running theme, urgency is to be expected. Stray is a third-person stealth action game about a stray cat who falls into a walled, dystopian Tokyo populated by robots, machines, and mutant bacteria set to untangle an ancient mystery to escape a long-forgotten city. The sci-fi adventure game is portrayed well in the music with the different use of synths and pads, all while fear looms in the background. The soundtrack is one of the best for videogames released in 2022 and provides an inspiring sound to finish the work needed to get done in your study session.
---
9. Persona 5 (2016)
While most of these soundtracks may require you to put some extra songs into a playlist to last your entire study session, Persona 5 provides you with a whopping three hours and 47 minutes worth of music. The music is jazz-influenced, with most of the soundtrack being funk, soul, and rock-oriented. It's an amazing assortment of music that makes for a unique, well-composed album. It's defined the game and has made it stand out. There's a balance between adrenaline rushes and delicacy fit for the game's various twists and turns. I suggest starting the soundtrack right around "Have a Short Rest," to start studying with. Once you get to "Suspicion," it'll be a bit of a roller coaster in terms of energy levels in the upcoming songs. It's a marvelous soundtrack for an incredible game.
---
10. HALO 3: ODST (2009)
The soundtrack literally opens with the sounds of rain and follows with a beautiful orchestra and flute solo. Your rhetorical theory class requires you to write a manifesto as your final paper? You will write the goals, theories, belief systems, intentions, motives, outline, introduction, and conclusion by the end of "The Rookie." The HALO 3: ODST soundtrack is extremely dynamic, and creates lots of tension through phrasing and crescendos that come to satisfying resolutions. While this is a very inspirational and breathtaking piece of music, it could be slightly distracting if you're trying to crunch out some numbers or really focus on specific problems. It's great to get the creative juices flowing and rolling, and works well if you need a little bit of pressure from anxiety to quickly finish what needs to get done.
---
Rayne Antrim is a Paste Music intern.