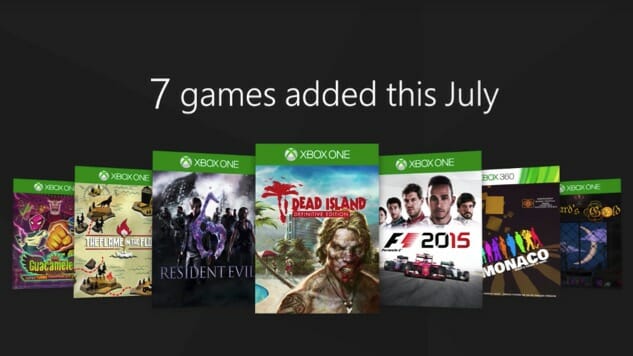 Xbox's newest games subscription service, Xbox Games Pass, is coming back for its second month with a lineup of eight must-play Xbox One and backwards-compatible 360 titles.
For $9.99 a month, you'll be able to: slay zombies and monsters in Dead Island Definitive and Resident Evil 6; discover hope in a world where everything is lost in The Flame and the Flood; rev your engines in racer F1 2015; or catch some high-octane fun in action platformer Guacameele! Super Turbo Championship Edition.
If retro platformers are your thing, you won't want to miss Bard's Gold, but if hidden gems are more your style, Monaco: What's Yours is Mine might be right up your alley. Extra mischievous? Get your hands-on Payday 2 and its extra deals.
Payday 2 will have an extra deal for games pass members from July 1-16 in celebration of the release of its Most Wanted Bundle. Members will be able to swipe 25 percent off all of the title's DLC content.
If you're not already an Xbox Games Pass Member, you can try out the new service for free with a 14-day trial. For more on the service and what it's all about, check out our original story.