13 Original Xbox Titles Confirmed for Xbox One Backwards Compatibility
Images via BioWare / LucasArts
Games
News
Xbox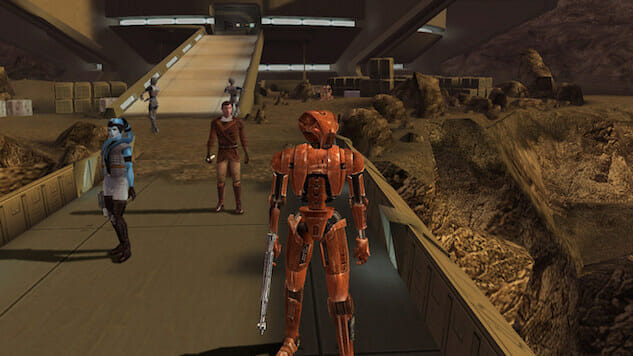 Microsoft today confirmed which games for the first Xbox, aka Xbox, will be compatible with the third Xbox, aka Xbox One. (Great naming conventions, by the way.) Thirteen titles were leaked last Friday, and Microsoft confirmed to IGN that these are indeed the first backwards-compatible titles, to be available starting tomorrow (Oct. 24).
original Xbox back-compat games pic.twitter.com/aU83sbc0t4

— WalkingCat (@h0×0d) October 21, 2017
The list, per IGN, is below:
Star Wars: Knights of the Old Republic
Ninja Gaiden Black
Crimson Skies: High Road to Revenge
Fuzion Frenzy
Prince of Persia: The Sands of Time
Psychonauts
Dead to Rights
Black
Grabbed by the Ghoulies
Sid Meier's Pirates!
Red Faction II
BloodRayne 2
The King of Fighters Neowave
The most significant title for Xbox players is likely Bioware's classic 2003 RPG Knights of the Old Republic. Crimson Skies was the first title to be announced for backwards compatibility back at E3 2017, being a personal favorite of the recently promoted Head of Xbox, Phil Spencer.
All backwards-compatible titles will be enhanced graphically, with 1080p visuals, smoother frame rates and faster loading times. Both physical and digital copies for the original Xbox games will work with the Xbox One. While local multiplayer, even through System Link, is possible, online multiplayer will not work for any of these titles, with the servers for the original Xbox being closed several years ago.
We can expect more Xbox titles to roll out slowly in the coming months, so be sure to get your wishlists ready and annoy the hell out of Spencer on Twitter.