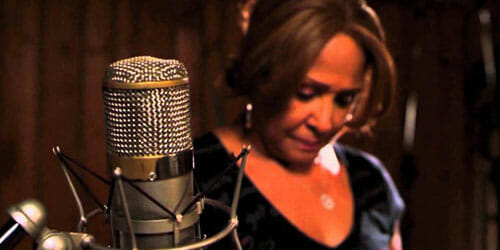 "Da Doo Ron Ron." Ray Charles' "What'd I Say." Joe Cocker's "Feelin' Alright." Lynyrd Skynrd's "Sweet Home Alabama." The Rolling Stones' "Gimme Shelter." Strip these classic anthems of their backup vocals, and they're just not the same. In 20 Feet from Stardom, music documentarian Morgan Neville introduces the "colored girls" of Lou Reed's "Walk on the Wild Side"—for as offensive as the lyric is, the backup singers worth making a film about are mostly black and mostly female. And, for one reason or another, mostly out of the spotlight. As Bruce Springsteen says in the movie's opening interview, "That walk to the front [of the stage] is complicated."
Take Darlene Love, the ghost-voice behind the Crystals hits "He's a Rebel" and "He's Sure the Boy I Love," produced by Phil Spector. (The murder conviction of the originator of the Wall of Sound isn't mentioned in the film, but he comes off as kind of a dick anyway.) Love ended up cleaning houses later in life before eventually being inducted into the Rock and Roll Hall of Fame. Or Merry Clayton, who was called in at the last minute to record "Gimme Shelter" and showed up in the middle of the night, pregnant and in curlers, to sing circles around Mick Jagger. With one soul singer already on the market—Aretha Franklin—her solo career "just didn't take."
Or Lisa Fischer, a fabulous improv performer with a Grammy-winning solo album. But without the narcissism and ego required to be a star, her window of opportunity closed. Or Judith Hill, who was booked to back up Michael Jackson on his "This Is It" tour only to find herself singing "Heal the World" for a billion people at his funeral. She wants to go solo but finds it hard to turn down plum backup gigs in the meantime—she's even tried to sing in disguise.
In addition to spending time with each of these ladies, Neville lends their stories credibility through interviews with their famous collaborators who, to a person, speak in glowing terms of their talent. We can hear it for ourselves, though, as the director also gives ample space to their performances then and now—all in an expertly constructed survey of the history of backup singers since the 1960s.
What Neville doesn't do is explore to any degree one-time backup singers who made the big time. Sheryl Crow appears for maybe one quote, and Luther Vandross' background as a singer with David Bowie is touched on. The lack of examination could lead one to conclude that no one can make the leap. Meanwhile, auto-tuning and other technological innovations that are rendering backup singers moot are frustratingly mentioned just in passing.
Still, 20 Feet from Stardom is a thorough—to the point of feeling a bit long—document on the craft, revealing the special skill set required to achieve a perfect blend of voices and the spiritual high that can sometimes result; the difference between backup singers and eye candy (looking at you, Ike Turner); and the recording of "Sweet Home Alabama" amid the civil rights movement. And it's all set to a soundtrack some of the best tunes to come out of the second half of the 20th century.
Director: Morgan Neville
Starring: Darlene Love, Merry Clayton, Lisa Fischer, Tata Vega, Judith Hill
Release date: June 14, 2013