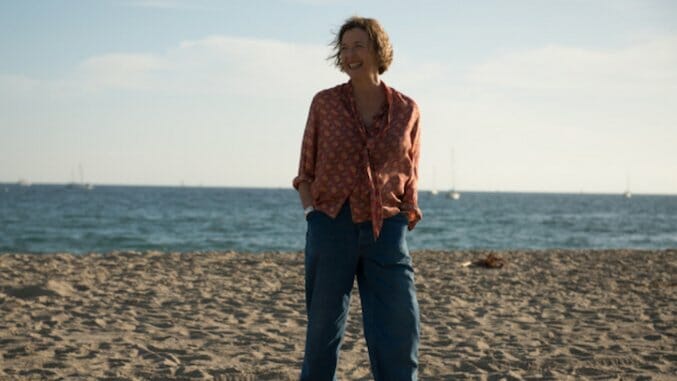 The feeling of watching writer-director Mike Mills' 20th Century Women is akin to that of witnessing a mind working through the twisted byways of his characters' psyches and his themes as if digesting his thoughts right in front of us. He's unafraid of breaking away from the film's major arcs for the sake of digressions that fill us in on both historical context and characters' backstories. And that embrace of irresolution extends to the characters themselves, all of whom show many different sides to us, with Mills showing no interest in neatly explaining away their contradictions. 20th Century Women almost feels like a dialectical essay disguised as a comedy-drama—a late-period Jean-Luc Godard movie except with actual flesh-and-blood human beings instead of glorified mouthpieces for his philosophical aphorisms.
This is hardly the first time Mills has worked in this essayistic mode. His previous film, Beginners, operated much the same way, and for basically the same purpose: to explore characters striving to discover, or in some cases rediscover, themselves. At least Oliver (Ewan McGregor), the benumbed middle-aged protagonist of Beginners, had a couple decades of life experience on him, even as his late father Hal's (Christopher Plummer) belated coming-out shattered his long-held impressions of his family growing up. Jamie (Lucas Jade Zumann), whose experiences form one of the major backbones of 20th Century Women, is even more of a beginner than Oliver was, he being a teenager growing up in Santa Barbara, Calif., in 1979, and thus pelted with competing perspectives on art, politics and sexuality, all of which he's trying to process on the cusp of adulthood.
Jamie, though, is hardly the only one figuring himself out (the film is called 20th Century Women, after all). Three female characters are the heart of Mills' film: Dorothea (Annette Bening), Jamie's mother, a free-spirited single divorcée who, in a moment of concern for her son's coming-of-age without a proper father figure, enlists Abbie (Greta Gerwig)—a young photographer who's renting a room in Dorothea's place—and Julie (Elle Fanning)—Jamie's best friend, who frequently sleeps over in his room but refuses to sleep with him—to help raise him. All of these women are in states of transition. Abbie—a passionate punk-rock fan as well as a cervical-cancer survivor—recently moved back to Santa Barbara after a failed stint in New York and currently feels constricted by the environment, while Julie indulges in sexual promiscuity as a way to, in part, break free from the influence of her therapist mother.
Dorothea is perhaps the most intriguingly complex of these women. A "child of the Depression," as Jamie frequently says in his voiceover narration (one of many voices Mills allows on the soundtrack), she has embraced some aspects of the counterculture but still maintains certain conservative tenets, especially regarding love and romance. And, despite her best efforts, she can barely work up much of an understanding of the younger generation, as evidenced by both her perplexed reaction to hardcore punk rock and her enthusiastic reaction to President Jimmy Carter's "crisis of confidence" speech. In that sense, she's a perfect match for William (Billy Crudup), the film's other major male character, a handyman who frequently hangs around her apartment, and who is himself something of a hippie lost soul trying to find his footing in the alienating society around him.
To some extent, all of these characters are markers of the different worldviews that Jamie tries to absorb. The ultra-feminist Abbie lends him copies of books like Our Bodies, Ourselves and Sisterhood is Powerful while also introducing him to bands like Talking Heads and Black Flag. Julie is seen reading Judy Blume's controversial young-adult novel Forever… to indicate her own sexual curiosity. Dorothea's older-leaning musical taste is reflected on the soundtrack, especially in the repeated use of "As Time Goes By." In lesser hands, that's all these characters would be: the sum total of their quirks, generationally defined or not. But Mills' whimsical side is thankfully offset by his clear-eyed attention to colorful yet also authentic character detail.
That clarity extends, somewhat paradoxically, to that aforementioned discursive storytelling style. The scrambled chronology and digressions can occasionally feel too tidily scripted: A flashback to one of Julie's teen group-therapy sessions presided over by her mother comes almost immediately after Julie tries to play therapist with Jamie, a juxtaposition that feels less off-the-cuff than simply born of Mills' need to neatly explain a particular bit of idiosyncratic behavior. For the most part, though, the patchwork narrative style vividly expresses the confusion at the heart of these characters and of the time period in U.S. history it evokes: a country hinging on the precipice between the relative selfless idealism of the 1970s and the rampant materialistic self-interest of the 1980s. It's a large subject for any movie to tackle, but the beauty of 20th Century Women is that the warmly empathetic Mills never loses track of the characters' anguished beating hearts.
Director: Mike Mills
Writer: Mike Mills
Starring: Annette Bening, Greta Gerwig, Elle Fanning, Lucas Jade Zumann, Billy Crudup
Release Date: Screening at the 2016 New York Film Festival
---
Kenji Fujishima is a freelance film critic, contributing to Slant Magazine, Brooklyn Magazine, The Playlist, and the Village Voice in addition to Paste. He is also Deputy Editor of Movie Mezzanine and former editor-in-chief of In Review Online. When he's not watching movies and writing and editing film criticism, he's trying to absorb as much music, art and literature as possible. He has not infrequently been called a "culture vulture" for that reason.