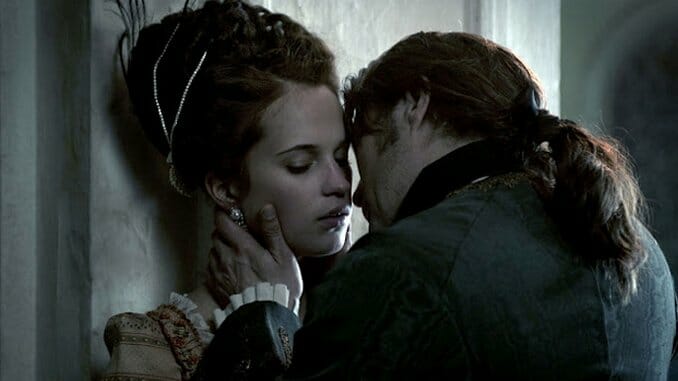 If any royal affair deserves cinematic treatment, it's this one. Fraught with illicit romance and political intrigue, the 18th-century love triangle among British Princess Caroline Mathilde (Alicia Vikander), Danish King Christian VII (Mikkel Boe Folsgaard) and his trusted physician and advisor Johann Friedrich Struensee (Mads Mikkelsen) is inextricably intertwined with the radical and short-lived Enlightenment reforms instituted during their reign. Lush with period detail and throbbing with lusty melodrama, director-cowriter Nikolaj Arcel's A Royal Affair finds complexity and nuance in each of its main characters, painting none as the hero, none as the victim.
Porcelain-skinned 15-year-old Caroline Mathilde is optimistic about her arranged marriage to her cousin Christian, for she has heard he is vivacious and artistic. When she meets him, though, she quickly realizes he's immature and quite possibly mad—and adeptly manipulated by his stepmother, the Queen Dowager Juliane Marie (Trine Dyrholm), to envy his new wife's musical talent. They do conceive an heir, but he subsequently rejects her, opting to party with whores instead. What Christian views as boring are the dignity, grace and duty with which she comports herself in a difficult and lonely situation—although, we later discover, she's capable of profound passion as well.
Christian himself is bored. He doesn't understand all the governmental gobbledygook his council makes him deal with—what he really wants to do is act. Instead, he plays, traipsing off to Germany for years at a time to get away from his disapproving wife and nagging responsibilities. He's been emasculated by his mother, his wife (or so he thinks) and the very men who are supposed to serve him. The worst part is he knows it; he understands he's being manipulated but feels powerless to do anything about it.
Enter Struensee, a small-town doctor with secret Enlightenment sympathies who is recruited to the royal court to attend to the King's ails. Struensee realizes that what Christian really needs is a friend, and the pair has a good time partying together. At first, Struensee views Caroline Mathilde as dourly as Christian does but then becomes enamored of her intellectual curiosity and empathy for her people. They embark on an affair while encouraging Christian to reclaim power and enact their reforms.
At the acme of narrative, when everything is going well, Arcel deftly cuts from the blossoming romance to the political developments and back again, demonstrating how tangled the two through-lines are—one not possible without the other and the stakes higher than sex between two people. But we already know from the voiceover—Caroline Mathilde is penning a letter to her children from exile to explain her side of things—that it doesn't all work out in the end. The how and why are the draw, and Arcel guides us there gently, our allegiances to the characters morphing under his sure hand throughout a slow build to universal themes of love and desire, power and corruption.
Director: Nikolaj Arcel
Writers: Rasmus Heisterberg, Nikolaj Arcel
Starring: Mads Mikkelsen, Alicia Vikander, Mikkel Boe Folsgaard, Trine Dyrholm, David Denick
Release Date: Nov. 9, 2012