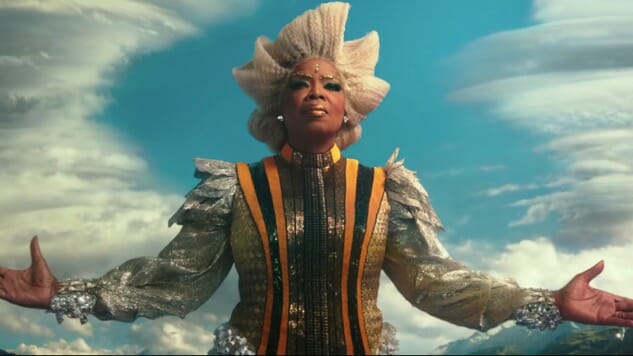 Someday they will release a trailer for a movie that doesn't include a slowed-down, minor-keyed version of a well-known pop song, but this is not that day. Set to some modernized version of Eurythmics' "Sweet Dreams (Are Made Of This)", the first teaser for Disney's A Wrinkle In Time quickly sets a brooding mood, in contrast to the trailer's bright colors and fantastical settings. It's apparent from even this short trailer that Meg Murry's (Storm Reid, 12 Years A Slave) quest to find her father by "wrinkling" time will be a gorgeous, surreal experience.
The film is directed by Ava DuVernay (Selma), who is commanding a budget in excess of $100 million, a new milestone for a woman of color directing a live-action film. Fittingly, the rest of the cast is decidedly more diverse than the original novel's. With actors like Oprah Winfrey, Mindy Kaling and relative newcomer Reid, DuVernay's film has achieved its intended vision of being more racially varied. Then again, the film also has pasty Zach Galifianakis in it, which may tip the balance back.
Though it concludes with a scientifically dubious claim that "the only thing faster than the light is the darkness," A Wrinkle In Time certainly looks like a classic Disney film. The film opens on March 9, 2018.