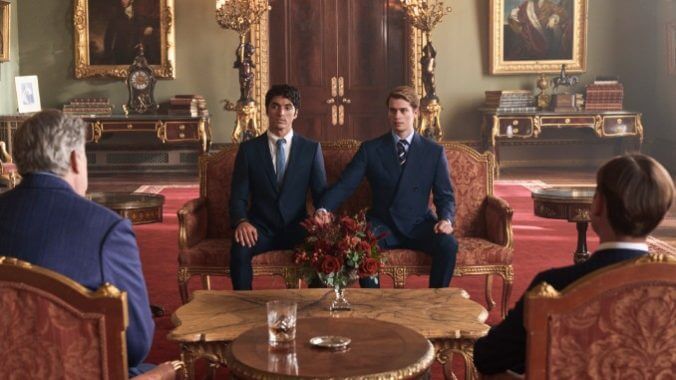 The setup for Casey McQuiston's hit 2019 LGBTQ romance novel Red, White & Royal Blue is about as Hallmark Movie as it gets: The cocky, college-aged First Son of the United States has beef with the haughty Prince of England, then falls for him when it turns out he's got a sensitive side. It's classic enemies-to-lovers territory, highly unrealistic and so syrupy-sweet it should come with a warning for diabetics. The book is also surprisingly good, thanks to a rich cast of characters that help our romantic leads become more confident in their identities and their hopes for a life together. It's told with impressive depth in addition to all the froth.
That depth is sadly missing from the new movie adaptation of Red, White & Royal Blue, which feels flattened and rushed compared to its source material. Matthew López's take on the story suffers from breakneck pacing, shallow characterizations across the board, and filmmaking choices that sometimes baffle, and sometimes betray the film's low budget. It's a disappointing, slapdash cash-in that does a disservice not only to McQuiston's book, but the genre it's part of.
When we meet Alex Claremont-Diaz (Taylor Zakhar Perez), the son of America's first female president (Uma Thurman), he's attending the wedding of the heir to England's throne, Prince Philip (Thomas Flynn). Also at the wedding is Philip's brother, Prince Henry (Nicholas Galitzine), whom Alex finds insufferable. When Alex gets drunk at the reception, he starts an argument with Henry, and their antics result in the destruction of Philip's very large, very expensive wedding cake. To make up for the public disgrace, Alex and Henry have to pretend to be best pals to the press. 
What starts as an act escalates into something more, as the pair realize they both care about helping the world around them (and also, duh, the fact that they're both insanely attractive). Of course, their connection comes with significant risks. Alex's mother faces a contentious re-election campaign, and Henry is…well…a prince. As both of them realize their attraction to each other may be a forever thing, the need to keep it secret becomes increasingly grating.
Much of Red, White & Royal Blue involves Alex and Henry's text conversations, phone calls and emails as they get to know each other from a distance. The movie struggles to make these bookish elements interesting, playing with everything from graphic displays of their texts to bizarre scenes that place the two of them in the same room, even though they're an ocean apart. The implication is that while they're not physically together, their conversation is so intimate that it's as if they are. 
The result feels unnecessarily forced. There's a long history of rom-coms doing phone calls in ways that don't require capital-c Creative Choices to make them engaging. Ones made here include Henry lying on the bed next to Alex, but sounding like he's speaking through a phone whenever his mouth opens. Showing the pair's interactions this way keeps us from getting to see each of them in their native environments, robbing the movie of an efficient opportunity to let us get to know them outside of their relationship to each other.
That approach also hurts Red, White & Royal Blue's supporting performances, which are so minimized you'd be forgiven for forgetting the other characters are even there until they show up and you suddenly have to remember their names. 
Sarah Shahi is amusingly exasperated as Alex's no-nonsense handler Zahra. Rachel Hilson, playing Alex's best friend Nora, is charming and intelligent. Ellie Bamber is reliably sweet and fun as Henry's supportive sister Beatrice. Between the three of them, these characters get maybe 10 minutes total on screen, very little of it substantive. Henry's best pal Percy (Malcolm Atobrah) has so few lines that when his character appears in the end credits, it takes a second to recall who he is. As President Ellen Claremont, Thurman appears in so few shots with her on-screen son that it's thuddingly clear that most of her appearances were done solo, with a stand-in filmed from behind and lines recorded in ADR after the fact. 
In all cases, having even the barest fleshed-out characters might help us understand Alex and Henry more, let alone care about them or the stakes of their relationship. Instead, all we feel is what could have been, rather than what is.
Given the light and fluffy nature of its source material, it's not exactly surprising that Red, White & Royal Blue feels like a cheap made-for-TV knockoff. In many ways, it's designed to be the kind of silly entertainment you put on in the background while you make popcorn or knit. However, the adaptation should still be less sloppy than what we're given here, which feels like a Greatest Hits collection of the novel's big moments with no deeper dive into what actually makes Henry, Alex and their journey compelling. The fixes are so obvious it makes the problems even more frustrating. The book was a sweet-but-satisfying trifle of gourmet quality. The movie wants you to think a gas station Ho Ho is just as good.
Director: Matthew Lopez
Writer: Matthew Lopez, Ted Malawer
Starring: Taylor Zakhar Perez, Nicholas Galitzine, Uma Thurman, Stephen Fry, Sarah Shahi, Rachel Hilson, Ellie Bamber
Release Date: August 11, 2023 (Amazon)
---
Abby Olcese is an entertainment writer based in Kansas City. Her work has appeared at /Film, rogerebert.com, Crooked Marquee, Sojourners Magazine, and Think Christian. You can follow her adventures and pop culture obsessions at @abbyolcese.