Avengers: Endgame Dusts the Box Office, Opening to $1.2 Billion Worldwide
Name a box office record—Endgame has broken it
Images via Marvel Studios
Movies
News
Avengers: Endgame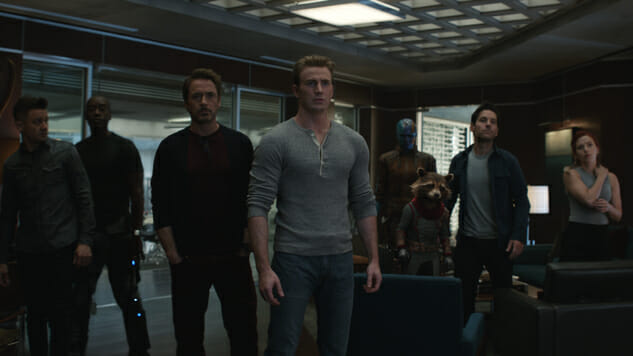 We all knew Avengers: Endgame was going to clean up at the box office. It's not just an Avengers film, though that would be enough—it's the one meant to put an exclamation point on the Marvel Cinematic Universe's game-changing Infinity Saga, a series of 22 films that have raised the bar for blockbuster franchises. Going into Endgame's opening weekend, film trades and box office wonks speculated that the Avengers: Infinity War follow-up could open to an unprecedented $300 million, speculation first borne out by the film's record-breaking preview gross of an estimated $156.7 million—the first rumblings of an earthquake whose magnitude no one could have predicted.
Endgame has opened to an estimated $350 million domestic and a stunning $1.2 billion worldwide, breaking just about every box office record there is.
For a bit of perspective, on the previous biggest box office weekend of all time, April 27-29—the weekend of Infinity War's release—every film in theaters combined made $314 million.
Endgame has beaten Infinity War's opening weekend records by $100 million domestic and an insane $560 million worldwide, nearly doubling the record for biggest global opening weekend.
Endgame is now the fastest film to $1 billion, a feat it accomplished in just five days (to Infinity War's 11), as well as the owner of the biggest domestic opening day, the biggest domestic opening weekend, the biggest worldwide opening weekend, the biggest Friday domestic gross, the biggest Saturday domestic gross and the biggest Sunday domestic gross. Oh, and it's the biggest IMAX global debut of all time with $91.5 million. It's staggering how many records this thing has broken, and how fast.
As BuzzFeed News' Adam B. Vary puts it, Endgame "has fundamentally altered what Hollywood perceives is even possible for a film's financial success. It's as if, after years of trying to land on the moon, humanity suddenly reached Mars."
Out of every five movie tickets sold this weekend, more than four were for Endgame, per Variety. Its domestic debut is the biggest of all time even when you adjust for inflation. We're talking about film history here.
Not to be overlooked in all this, either, is Endgame's 96% score on Rotten Tomatoes.
Approximately 27% of Endgame's gross—and its seeming unthinkable dominance over even Infinity War's opening—can be chalked up to China, where the film broke the all-time box office record with $217 million USD in its first three days, a total projected to top $330 million by weekend's end. (Infinity War didn't open in China until two weeks after debuting elsewhere, unlike Endgame, which opened in China simultaneously.) That's just the beginning of the film's international impact, really: Disney reports (per the New York Times) that Endgame now holds the largest opening weekend record in 44 overseas markets.
The downside of all Endgame's success—beyond the fact that it's another gargantuan win for Disney, an increasingly omnipresent entertainment giant that seems to do nothing but win nowadays—is the pressure put on the theater system by a movie of this magnitude. The film has taken over entire multiplexes across the country, some of which have added screenings at all hours, or opted not to close at all this weekend. Endgame is showing in a record 4,662 theaters in the U.S. alone.
The MCU has now made north of $19 billion in total. By the time Endgame's run is over, it will have certainly surpassed $20 billion—by how much is the only question.
Endgame is now in theaters everywhere and beyond. Here's a trailer.