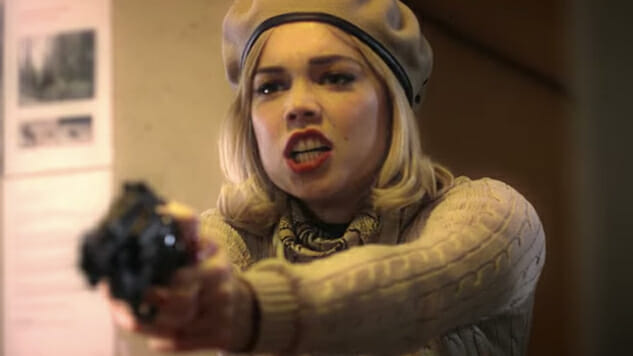 As a policy, I focus on subjecting myself more to emotional masochism than other actions that indicate that I do not know how to love myself. I let my anxiety get the best of me: It's easier, often less expensive. But there are times when forcing myself out of my comfort zone can do some good.
When I visited Los Angeles in April 2014, for the occasion of covering the TCM Classic Film Festival, I was newly out as queer, but at an arm's length from queer culture, said arm balancing books and DVDs from the library about queer sociality. I lived in Connecticut and, pre-Lady Bird ambivalent reappraisal of my home state, it felt like there was little to offer there for me, or the different versions of myself (including my queer self). A friend with whom I'd worked a year prior, Juan, saw I was in town and invited me for a night out, excitedly embracing the role of "gay uncle." He convinced me to dress in my coolest clothing and ditch my glasses, then took me to, I imagined, one of the coolest places that was West Hollywood adjacent. I could not see, mostly, but I allowed Juan to lead me to a place called Tiger Beat—two floors of pumping music, drinks and twinks. Something magical happened there: I fell in love.
Not with another boy, no; I realized that the sensory overload of club scenes, with their purple-pink flashing lights and their packed-in claustrophobia, was not really my scene. But I looked up at the club's gargantuan screen, huge enough that it could have been a light source all its own, as I sipped my cranberry juice and sprite, and the speakers pounded the bass, midrange and beat so relentlessly that my skin felt as if it were going to unravel from the aggressive vibrations. On that screen was the music video for Avicii's "Addicted to You," and there, surrounded by boys I didn't know and would never see again, almost blind, I fell in love with music videos.
Avicii, nee Tim Bergling, was the Swedish-born Grand Master of EDM, DJ and producer, with hits like "Levels" and "Wake Me Up" dominating the dance charts. His body was found in Muscat, Oman on April 20th, with a statement suggesting that his death, at 28, was a suicide.
"Addicted to You" struck me in a number of ways: It's queered Bonnie and Clyde and its short three-and-a-half minute running time impressively fit its cinematic emotions compactly. Aided undoubtedly by Audra Mae's vocals, the video, directed by Sebastian Ringler, has a simultaneously expansive and intimate quality to it. Ringler's camera sweeps through the snowy, mountainous roads, establishes the space of the restaurant where the two outlaws pull off their heists, and makes the two the center of a big world. In one (kind of ludicrous) scene, the camera travels through a fairly large bedroom with scantily clad men around to push in on the two women embracing one another, imagining the limitless possibilities of their on the road life. It's a little silly, by no means the Bound of music videos, but nonetheless touching.
A testament to the addictive qualities of the track, which levies its acoustic elements with hard pounding thumps while never sacrificing the emotional scope of the song, it had never occurred to me in any serious way that music videos could be like movies, like art. There was something about watching a woman get up on top of a desk and point her guns down at the audience, on a screen that dwarfed everyone below it—as the song went, "I'm addicted to you, hooked on your love"—that was totally mesmerizing to me.
His other videos played that night, too. "Hey Brother," a curious music video both in terms of the appropriateness of the setting (a gay club) and its function, plays out like Texas scenes in The Tree of Life, as ambivalent about nationalist and militaristic ideology as greater (anti-)war films. "Hey, brother, do you still believe in love, I wonder?" asks vocalist Dan Tyminski, scenes of idyllic suburban, American life dissolve back and forth into a Navy funeral. "Hey Brother" was such an oddity to me: It's a dance song, "pounding" at 125 BPM, certainly respecting its bluegrass origins but nonetheless intended to shake the room with flashing lights. But director Jesse Sternbaum is more concerned with juxtaposing the hyper-aestheticized nostalgia of 1960s Americana—which serves to tell the tale of two brothers, the older of whom goes off to the Vietnam War—against the bittersweet, almost artifice-laden normality of the tragedy of war.
What? A music video for a dance track? Formal experimentation is welcome for any music video, but that narrative was employed for a song that, effectively, doesn't really need it. It wears its regret and sentimentality like a forward-facing Yankees ball cap. I became entranced at the potential for music videos, researching their history, watching one after the other. They could be as narratively driven as Avicii's "Hey Brother," "Addicted to You," the Sisyphean "Levels" (Avicii's first hit) or aesthetically anchored like Sia's "Cheap Thrills," which parodies, eerily, American Bandstand.
In spite of being tangentially aware of the number of film directors who had fairly extensive experience as directors of music videos, from Jonathan Glazer to David Fincher to Michael Bay, they were, for me, at best, novel (many an afternoon watching "Making the Video" as a 7 year old), at worst, background noise. There is, particularly, a liveliness to Avicii's videos that are, as far as my experience with EDM goes, unapologetically sentimental. His experimentations with voice manipulation made the vocal track sound more emotional, not less.
I don't think I'll ever "let loose" in, well, any situation, but I do think that falling in love with music videos, there and forever, allowed me to step outside of myself in a way in which I was not previously comfortable. My enjoyment of the club environment is predicated on interesting lighting and a screen that plays music videos. There is a somewhat ironic freedom in distraction, where the videos of Avicii, or Martin Garrix, or Robyn give me something to latch onto in a setting that makes me anxious. There's a film in the background, but for me, it's something familiar and safe, like all these people throwing their hands up and losing themselves in a movie theater.
So, Mae's voice echoes through the mountains, through the town, down the road, a whole new world, guns ablaze. And even if the music video weren't formally ambitious, I felt like I had seen something new, or realized what was right in front of me could be interesting. I was intrigued by the relationship between image and music, and began exploring how film language shaped music videos and then how music videos crafted a language all their own, which, in turn, began to influence filmmaking again. Bumping up against an unending number of guys precariously dancing with their drinks, my eyes were glued. I don't know much about music, but right there, across the room, beneath the lights and smothered by the sounds of Avicii, I fell in love with music videos.