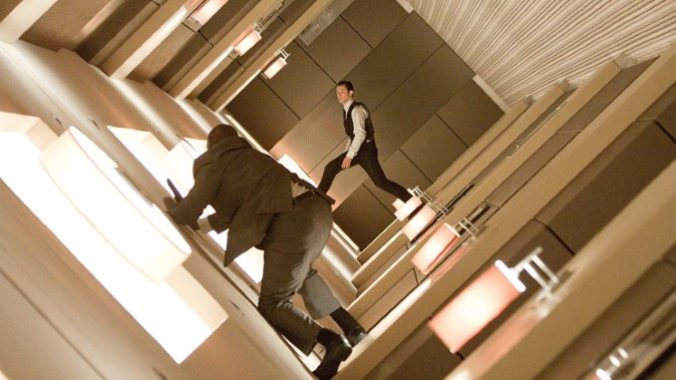 Our 25 Best Movies of 2010 range from a Facebook biopic to a Western remake, from an animated story about toys to a war movie that hardly ever leaves the interior of a tank. There's a Venezuelan story filmed in Austria, an Israeli film called Lebanon, an American remake of a Swedish movie, and films from Belgium, Australia, Argentina, Great Britain and Italy. Some are popcorn flicks, and others will change the way you think. But all are worth the $10 ticket, the $2 rental or the two hours you'll spend enjoying them.
Here are the 25 best movies of 2010:
---
25. Lebanon
Director: Samuel Maoz
Though nominally concerned with the 1982 Israeli invasion of Lebanon, a more fitting title for this film would be Tank. The plot is simple, recounting the first 24 hours of the conflict ?entirely from inside a tank, where four soldiers (and a few other intermittent visitors) struggle through their first taste of war. Drawn directly from writer/director Samuel Maoz's personal experiences in the Israeli army, the film is jarring and stressful, offering a unique anti-war message told almost entirely in first-person. Lebanon stumbles when it unloads some extremely pat metaphors and generalizations, a heavy-handedness likely owing to the first-time director's inexperience. Still, even those clumsy moments have more than a hint of truth to them, and the film is too visceral for them to really blemish the rest of the chilling look at the nature of war.—Sean Gandert
---
24. Somewhere
Director: Sofia Coppola
Sofia Coppola has made ennui the focus of her first four films, including her latest, Somewhere. Johnny Marco (Stephen Dorff) is an actor whose sole purpose is sleeping with whichever beautiful woman he meets, eating good food and enjoying a hedonistic lifestyle that gives him no pleasure until he's suddenly left with his 11-year-old daughter (Elle Fanning). Coppola's film rises above similar efforts by offering its protagonist redemption. Elle Fanning's performance perfectly captures the joy of life and offers Marco an alternative path which, ultimately, he takes. Coppola really believed in the content here, and while she needs to tone down her metaphors and return to more realistic characters, her actors believed in her vision just as much as she did and are able to carry it through.—Sean Gandert Read full review.
---
23. The Secret In Their Eyes (El secreto de sus ojos)
Director: Juan José Campanella
For its first hour, The Secret in Their Eyes is a conventional crime thriller focusing on the investigation of a rape/murder case that goes awry in exactly the ways audiences have learned to expect: with a frame-up, red tape and bad luck preventing the suspect's arrest. And then writer-director Juan José Campanella takes the gloves off and delivers one of the most virtuosic chase sequences ever filmed, followed by a steady trickle of new mysteries. New light is shed on previous events with the criminal's arrest and subsequent release, effectively starting the film anew while questioning both Argentinean politics and the boundaries of ethical justice. Campanella's classical style is assisted by a nuanced performance from his longtime collaborator Ricardo Darín, who brings gravity to the investigation and the somewhat-less-interesting love stories that surround it. Though slow at times, The Secret in Their Eyes recaptures the greatness of its genre, and does so without mimicking or replicating its predecessors.—Sean Gandert Read full review.
---
22. I Am Love
Director: Luca Guadagnino
The Recchi family, the powerful Italian clan at the core of Luca Guadagnino's I Am Love, is exclusive. Its wealth is nearly immeasurable, if not incomprehensible, and even marrying into it doesn't warrant an invitation to its inner circle. Although Emma (Tilda Swinton) gave up her life in Russia—with the exception of her Russian accent, which she just can't keep from tainting her Italian—in order to become a Recchi, she orbits the rest of the family in the Recchi villa, where the sense of propriety is nearly as tangible and cloying as its thick tapestries. I Am Love is a beautiful film, and a lesson in storytelling. It unfolds at a leisurely but lovely pace, taking time to revel in the details of the setting but never shifting focus from its many rich, complex characters. Swinton becomes Emma, her every pore and follicle embodying passion, guilt and grief with equal conviction. Even in its most tense moments, I Am Love is like the many dishes Antonio shows off in the film—painstakingly created and never overdone.—Ani Vrabel Read full review.
---
21. Exit Through the Gift Shop
Director: Banksy
When renowned graffiti artist Banksy took the camera away from the man shooting his biopic and decided that the subject would become the documentarian (and the documentarian, the subject), the zaniest doc in years was born. Was it Banksy's own attention and the pressure of the film that motivated Mr. Brainwash to become an international sensation in his own right, with his inaugural show in Los Angeles becoming the largest and most profitable in street-art history? Or was the artist born, not made? Or is his whole career just part of the whole huckster atmosphere of the film? Banksy's not saying. But it's certainly a wild ride to watch.—Michael Dunaway Read The 20 Best Documentaries list.
---
20. How To Train Your Dragon
Directors: Dean DeBlois, Chris Sanders
First, my five-year-old son's review of this movie: "I'd like to see this movie one million times. [Pause, deep in thought.] And I think if I saw it one million times, I'd want to see it one million more times." My feelings were somewhat more restrained, but I get his enthusiasm. It's a movie about flying a dragon. That's the only thing that trumps pet robots and dinosaurs. And even if that's the film's real raison d'être—much of the screentime is given to aerial training, aerial romance, aerial battles—the result is fun and thrilling, and plenty of snappy jokes and sight gags will keep audiences of all ages entertained. On the first viewing, anyway; I make no promises for the next 999,999.—Josh Jackson Read full review.
---
19. The Wild and Wonderful Whites of West Virginia
Director: Julien Nitzberg
You can have Gene Simmons, the Palins and the Kardashians. I'll take the Whites of Boone County, West Virginia for pure reality entertainment. Produced by the "Jackass" MTV folks, the film takes a close look at these modern day hillbillies with a bent for crime. They make the Gotti mob look like the Osmonds. Openly using and selling drugs, milking the government entitlement system and, maybe worst of all, giving their kids names like Cheyan and Tylor. In one scene Derek White demonstrates the "Boone County mating call" by shaking a bottle of illegal drugs and shouting, "Come and get it, baby." Hank Williams III contributes some tunes to the movie with "Punch Fight Fuck!" being the most appropriate theme song.—Tim Basham Read The 20 Best Documentaries list.
---
18. Blue Valentine
Director: Derek Cianfrance
Most films about disintegrating marriages are grim, gray affairs, and filmmakers often use the device as an excuse to punish their audiences. But Blue Valentine is different—the story is told with such overwhelming tenderness and humanity that although the slow unraveling of Dean's (Ryan Gosling) and Cindy's (Michelle Williams) love is still heartbreaking, it feels like the director's heart is breaking along with yours. That's rare. It doesn't hurt that Gosling is in top form, or that Williams gives the finest performance of her career. The script was promising enough to win the Chrysler Film Project even before those performances were turned in, and indie favorites Grizzly Bear contributed a haunting soundtrack. There was really nothing in director Derek Cianfrance's resume to suggest he had such a nuanced, sensitive film in him, but I'll certainly be watching his career with interest from here on out. In the meantime, Blue Valentine was one of the very best highlights of Sundance 2010.—Michael Dunaway
---
17. Vincere
Director: Marco Bellocchio
In its first act, Vincere is as an over-edited biopic about the rise of fire-bellowing orator Benito Mussolini. As the future dictator moves from broke rabblerouser to fascistic rhetorician, he marries Ida Dalser, who gives birth to their son. But as Mussolini's ascent quickens, director Marco Bellocchio inverts all expectations and the film instead follows the downward trajectory of the scorned Dalser. A little-known footnote of history, she was discredited and locked in an insane asylum by Italy's fascist forces, her son mocked and left to die in an institution. Bellocchio began investigating the dysfunctional Italian family with his audacious 1965 debut Fists in the Pocket, but here he goes further, implicating cinema itself. In Vincere, we behold the medium shifting from entertainment to propaganda tool, the character of Mussolini replaced by a demigod image projected on the screen for the enraptured audience.—Andy Beta Read full review.
---
16. Animal Kingdom
Director: David Michôd
David Michôd's first narrative feature film Animal Kingdom is a menacing, slow-build crime drama set on the mean streets of Melbourne, Australia. It's powered by one of the best performances of the year from Picnic at Hanging Rock's Jacki Weaver and riveting turns from Guy Pearce, Ben Mendelsohn, and a very strong ensemble. Based on a true story, it follows the path of J, a Melbourne teen who goes to live with his grandmother and uncles once his mother overdoses. Despite his reservations, he finds himself drawn into the family crime business, with devastating consequences.—Michael Dunaway Read an interview iwth director David Michod.
---
15. Shutter Island
Director: Martin Scorsese
Martin Scorsese's adaptation of Dennis Lehane's pulp thriller is a brainy and compelling take on that most hoary of film genres: psychological horror. Equal parts parable and cautionary tale, Shutter Island is an expertly-paced thriller that feels far shorter and more exhilarating than its lengthy runtime suggests. Federal marshal Teddy Daniels (Leonardo DiCaprio dressed to the nines as a scenery-devouring g-man) is sent to the eponymous isle—a maximum security mental-ward-cum-penitentiary off the New England coast called Ashecliffe—to investigate a criminally insane prisoner's disappearance. It's quickly apparent that there's something amiss about this case, and a palpable sense of foreboding bleeds through Scorsese's gorgeous and ominous establishing shots: brick buildings loom against murky skies, the prisoners' screams echo through the facility's crumbling corridors, and Daniels, a WWII veteran, is haunted by vivid and surreal flashbacks to his dead wife and the liberation of the Dachau concentration camp. Scorsese's knack for getting his audiences emotionally invested in the ride fosters a near-voyeuristic thrill at seeing DiCaprio (ravenous for what might well be an Oscar nod) break down, so the fragments of his psyche can be sorted out along with the plot. Which is why Scorsese hasn't just crafted an admirable thriller—he's damn near made the genre his own.—Michael Saba Read full review.
---
14. Nowhere Boy
Director: Sam Taylor-Wood
John Lennon taught the world that all you need is love. What the world may not realize is that he spent his entire childhood vying for it. Sam Taylor-Wood's debut feature film tells the story of a staggeringly bitter young John Lennon (Aaron Johnson) struggling to make sense of the relationship with his happy-go-lucky mother Julia (Anne-Marie Duff) and his tight-lipped caretaker Aunt Mimi (Kristin Scott Thomas), and ultimately with himself. It plays out like a therapy session, with the audience witnessing such an intimacy between characters that watching these moments feel almost voyeuristic. An exhaustingly visceral look at a fascinating artist, Nowhere Boy is a portrait of the struggles of a boy from Liverpool who became the man whose music conquered the world.—Maggie Coughlan Read full review.
---
13. Client 9: The Rise and Fall of Eliot Spitzer
Director: Alex Gibney
Alex Gibney was a presence in 2010 with four major documentary features. Client 9 was his tightest, his most personal and his best. Gibney has great sympathy for Spitzer and great anger at the powers that brought him down, but his impatience at the weakness Spitzer exhibited in making that fall possible is evident. As with most of Gibney's films, expect a sharp intellect, crisp photography, brilliant use of music and a strong viewpoint.—Michael Dunaway Read The 20 Best Documentaries list.
---
12. Marwencol
Director: Jeff Malmberg
Some of the best documentaries are the ones that confuse and confound you before
completely winning you over. Marwencol does that, sneaking up on you with a
simple story of a damaged man whose unique form of self-treatment is making him
whole again. That part of Mark Hogencamp's life would suffice as a pleasing story,
even if we never looked closer. But director Jeff Malmberg does bring us closer, and
the result is a story rich in awakenings, Barbie dolls and shoes.—Tim Basham Read The 20 Best Documentaries list.
---
11. Rabbit Hole
Director: John Cameron Mitchell
Who would've thought that the director of Hedwig and the Angry Inch and Shorbus would bring to the screen one of the most traditionally dramatic films of 2010? Filmed so as to distract as little as possible from the performances on-screen, Rabbit Hole has the intensity of a John Cassavetes film but with much more controlled writing. Tackling the incredibly difficult subject of coping with the death of a child, Rabbit Hole brings its characters through some of the darkest moments of life, offering questions about mortality and faith without pretending there are easy answers. By the end of the film, neither parent has really come to terms with the tragedy of their son's death (nor, as it's shown, will they ever), but they have found a sense of peace with a world where such an event can take place.—Sean Gandert Read full review.
---
10. 127 Hours
Director: Danny Boyle
A crime thriller. A drama about heroin addicts. A romantic black comedy. A zombie movie. A charming kids' flick. A space odyssey. And then an Oscar-winning tale about a poor, lovelorn boy in India. If there's another director alive with the range of curiosity that Danny Boyle has, he's not as talented. So naturally for his 9th film, Boyle decided to tell the true story of Aron Ralston, a mountain climber and canyoneer who was trapped alone by a fallen boulder in Utah for 127 hours in 2003. It's a harrowing story, expertly told by Boyle. In the opening shot, we see crowds of people at ballgames, mosques, city streets. And then we see a man trying to get away from it all and finding some of the most isolated, barren and beautiful landscape in America. He's alone with his music and enjoying the freedom. James Franco's character is kinda funny, kinda crazy and a complete loner. But his story taps into that deepest emotional center—survival. And, better still, survival comes with the hope of a kind of redemption. Yes, the penultimate scene is gruesome and difficult to watch. But the ending is so triumphant to the soundtrack of Sigur Rós' "Festival," that it's well worth reliving Ralston's ordeal. Another genre mastered, Mr. Boyle.—Josh Jackson Read full review.
---
9. Inception
Director/Writer: Christopher Nolan
In the history of cinema, there is no twist more groan-inducing than the "it was all a dream" trope (notable exceptions like The Wizard of Oz aside). How, then, to create a compelling movie where that conceit isn't just a plot device, but the totality of the story? Director Christopher Nolan does just that with Inception, a bracing and high-octane piece of sci-fi drama. The measured and ever-steady pace and precision with which the plot and visuals unfold, and the gorgeous, globe-spanning on-location cinematography, implies a near-obsessive attention to detail on Nolan's part. The film winds up and plays out like a clockwork beast, each additional bit of minutia coalescing to form a towering whole. Nolan's filmmaking and Inception's dream-delving work towards the same end: to offer us a simulation that toys with our notions of reality. As that, and as a piece of summer popcorn-flick fare, Inception succeeds quite admirably, leaving behind imagery and memories that tug and twist our perceptions—daring us to ask whether we've wrapped our heads around it, or we're only half-remembering a waking dream.—Michael Saba Read full review.
---
8. A Prophet
Director: Jacques Audiard
Focused on prison drug syndicates in France, A Prophet excels at taking a cold, documentarian look at an ascendant thug Malik El Djebena (Tahar Rahim) without backhanded glamorization. The film packs a brass-knuckled punch as we see Malik painfully shove a folded razor into his mouth for an assassination assignment, a perfect marriage of adrenalized plot and assumed reality. Call it Noir Verite. The story begins with Malik, a bewildered, illiterate 19-year-old tossed into a prison that bears an uncanny resemblance to an American university dorm. Charged with assaulting a police officer, the teenage offender is soon introduced to a prison yard built around racial battle lines. Half Arab and half Corsican, Malik is left in a precarious position defined by France's ethno-religious strife. Herein lies the film's ironic morality. Its "hero" manipulates racism as a tool to control the intolerant, uniting the color-blind and downtrodden into a triumphant force—to deal drugs. The message is about as cynical an affirmation of brotherhood as be, and this provocative ambiguity makes the question less about moral ideals than how morality can facilitate blind survivalism. For those who revere the gospels of De Palma, Scorsese and Coppola, A Prophet delivers the right message.—Sean Edgar Read full review.
---
7. Carlos
Carlos is more than just the most epic movie of the year—running at two hours and forty-five minutes even in its shortened version—it's a picture that captures the feeling of world caught in the turmoil of terrorism. Its wildly international scope tells the story of a post-modern revolutionary, whose idealism slowly transforms into pragmatism despite a willingness to die for his cause. In particular Edgar Ramirez's performance in the lead role is spectacular, illustrating both the man's charisma and commitment alongside his vanity and self-deception. Olivier Assayas manages to make Carlos empathetic despite a largely critical view of his actions and the work, like the man at its center, ends up a bundle of intentional contradictions, as fascinating as any biopic put to film. —Sean Gandert
---
6. Toy Story 3
The latest adventures of Woody and Buzz are about as perfect as an animated feature can be. The challenges facing the gang at a daycare center are every bit as scary as any major drama, and the one-liners are pure gold. Plus, there's a baby doll that'll scare the bejeebers out of you. That well-worn ad line never fit as well as it does here: It's a film for the whole family.—Tim Basham Read Pixar's Greatest Hits.
---
5. Waiting for "Superman"
Director: Davis Guggenheim
In a year that gave us three major documentary features about the glaring need for educational reform in America, Davis Guggenheim's Waiting for "Superman" presents the most unavoidably compelling argument. In one of the biggest eye-openers, he shows that housing a man in prison (where inner city high school dropouts are statistically likely to wind up) costs three times as much per year as sending them (as kids) to even the most exclusive private school. Another—in order to bring the U.S. from close to last in developed-world education to close to first, we'd only have to get rid of the worst 10% of teachers. Like his previous epic An Inconvenient Truth, it's not the most balanced picture, but he does give the largest teachers' union their say. They're on the wrong side of history, however, and one day this film, like An Inconvenient Truth, will be seen as one of the turning points in the conversation.—Michael Dunaway Read The 20 Best Documentaries list.
---
4. The King's Speech
Director: Tom Hooper
It's not the way that a non-stuttering actor stutters that makes Colin Firth believable as King George VI, but the pitch-perfect emotional resonance of gifted actor. And while the performances of his co-stars—Helena Bonham Carter as Queen Elizabeth and Geoffrey Rush as the king's Australian speech therapist Lionel Logue—aren't highlighted by such an obvious physical obstacle, they're both subtly brilliant. It's the interplay between all three actors—and the brief scenes with Michael Gambon as King George V—that make Tom Hooper's film such a joy to watch, despite a climax that is little more than a man trying to read several paragraphs over the radio. We care so much for his character by the end of the film, that the final speech is indeed a worthy last hurdle to clear.—Josh Jackson Read full review.
---
3. Winter's Bone
Director: Debra Granik
Watching Winter's Bone is like entering into an entirely different world, vividly capturing the sights and sounds of the Ozark mountains in a way that's stylized yet feels completely natural to the setting. But that's all just beautiful wrapping around Jennifer Lawrence's stunning performance as a 17-year-old raising her two younger siblings, supporting her mother, and trying to find the whereabouts of her deadbeat father before their house is taken away. Debra Granik takes this search plotline in dreadful new directions, and while Lawrence may end up battered by her community and nearly starved by an indifferent society, she never loses her dignity. Winter's Bone is simultaneously the most depressing and uplifting film of the year, showing us the worst of humanity without ever giving in to it. —Sean Gandert
---
2. True Grit
Directors: Ethan Coen, Joel Coen
In remaking one of the better cowboy films of the 1960s, the Coens have also taken on the genre's biggest star—John Wayne, who played the irascible marshal Rooster Cogburn in the original '69 adaptation of Charles Portis' straightforward and engaging novel. Casting, however, has never been a Coen weakness, and Jeff Bridges wholly embraces and reinvents the role for which Wayne received an Oscar. There's a simplicity about the performances in True Grit that jives well with the rich landscapes and the authentically recreated, urban settings of nineteenth century Arkansas and the Indian Territory. That, and the genuine attire of the times, allows the Coens to create a world where the actors can play real characters, not caricatures of reality. It's a talent that keeps begging the question, "What's next?"—Tim Basham Read full review.
---
1. The Social Network
Director: David Fincher
This year's true sequel to 1987's Wall Street is a smart and engrossing film, a befitting look at the evolution of one of the most financially successful institutions of the 21st century. In The Social Network, the truth is surprisingly stranger—and wildly more interesting—than the fictional and flat Oliver Stone sequel. Never before have coding and algorithms been so titillating. Jesse Eisenberg gives the performance of his life in the best film of 2010. He plays Zuckerberg as a dysfunctional genius desperate to fit a month of ideas into a single moment. Throughout the film he displays an intense stare that alternately masks and reveals his inner thoughts. Although he becomes one of the wealthiest men in the world (in his early 20s) his satisfaction comes from winning, with money merely being used as a measuring stick. Director David Fincher (Fight Club, Zodiac, Se7en) has created a film where the young heroes aren't superficial, aren't trying to find a clever shortcut into the castle. In The Social Network they build the castle themselves and then barricade it. But, like the first Wall Street film, greed is still king and the wolves are at the door.—Tim Basham Read full review.