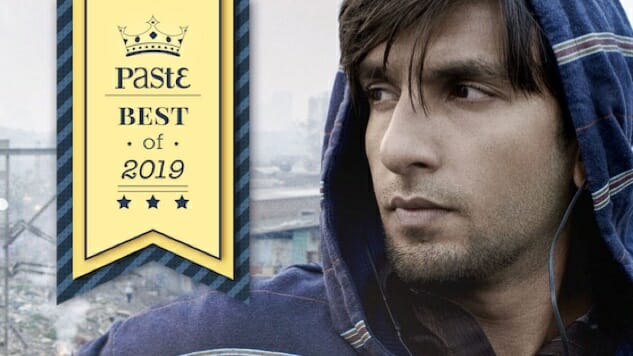 Like much of the world, India has seen a tumultuous 2019. The re-election of a Hindu nationalist government BJP led by Prime Minister Narendra Modi in a landslide majority, the targeting of minorities through lynchings, the abrogation of Article 370 of the Indian constitution that gave the Indian state of Jammu and Kashmir special status, and the continuing conversations around the #MeToo movement have continued to dominate the headlines among other news that included Indian space agency ISRO's (failed) robotic mission to the moon and the Indian cricket team's ups and downs during the Cricket World Cup.
Indian cinema in 2019 also reflected these themes playing in the political and social arena, as well as churning out its usual masala mix of romance, comedy and action films—with a dash of historical fictions and bio-pics added. Taking into account both the critically acclaimed and the box-office hits, here are the 10 best films that came out this year.
1. Gully Boy
Director: Zoya Akhtar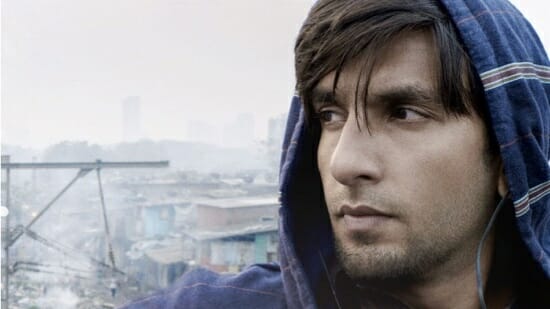 Co-written and directed by Zoya Akhtar, who has come to be known for her ability to offer complex character studies while also paying heed to Indian popular cinematic traditions, Gully Boy is loosely based on the lives of Indian rappers Divine and Naezy. Inspired by the likes of conscious hip-hop artists such as Nas, Big L and Rakim, Divine and Naezy evolved a Mumbai style which has come to be known as gully rap. The film stars Bollywood current A-list stars Ranveer Singh and Alia Bhatt, alongside a bevvy of character actors such as Kalki Koechlin, Vijay Raaz and Siddhant Chaturvedi. Akhtar was credited with showcasing the acting chops of Singh, who is known for his flamboyant sense of style on and off the red carpet. Singh was praised for his quiet performance that allowed his ensemble cast to shine in this story of a young Muslim man trying to make his voice heard in life and on the stage.
---
2. Article 15
Director: Anubhav Sinha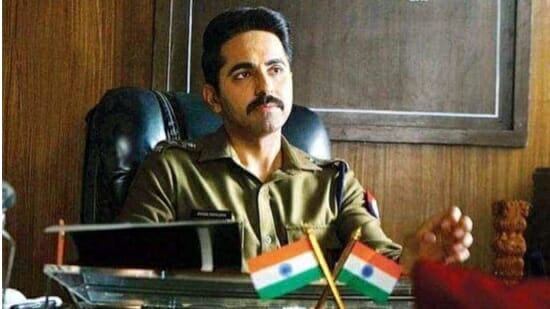 Anubhav Sinha, the co-writer and director, talked about making Article 15 out of the rage he felt when reading news of lynchings on the basis of caste and creed. Starring Ayushmann Khurrana as the main lead, the film uses the detective-thriller genre to explore the issue of caste in India today. The haunting score, evocative imagery and characters inspired by real life events, as well as formidable acting by an ensemble cast make this a must watch film. Article 15 isn't without its faults; many have criticized the film's Brahmin savior complex approach. Nevertheless, Article 15 manages to combine Indian cinema's craft and conscience together to make a film whose scenes stay with you long after the credits roll.
---
3. War
Director: Siddharth Anand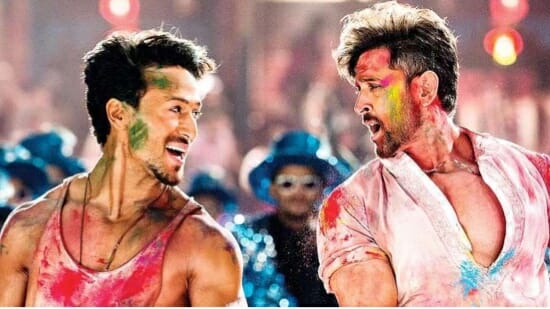 Think of it as Zoolander meets Mission Impossible. You have to be a bit of a Bollywood insider to truly understand the casting subtext of this spy thriller movie that broke all of sorts of box office records. Tiger Shroff is a young Bollywood actor whose admiration for Bollywood star Hrithik Roshan is well documented. Over his almost two-decade-long career, Roshan has managed to combine brains with brawn and displayed some ability of being able to dive into a character. However, he's best known for his phenomenal dancing skills. Shroff, on the other hand, is known more for being a beefcake who can dance really well—and who has made several shareable videos copying Roshan's moves. War purports to tell the story of an elite Indian spy Kabir (Roshan) who has gone rogue. It falls on his former protegé Khalid (Shroff) to bring him in. As many critics have pointed out, this is an Indian action movie in which the high-octane scenes featuring explosions and chases on foot and an assortment of vehicles are rather impressive, even if bordering on camp.
---
4. Uri: The Surgical Strike
Director: Aditya Dhar
Indian nationalism has been a winning formula in recent Bollywood films, and Uri: The Surgical Strike was one of the more obvious manifestations of this sentiment. The plot of the film is inspired by what India described as surgical strikes on militant camps across the border in a disputed area of Kashmir in 2016. This was in response to a militant attack on Indian armed forces stationed in the town of Uri in Kashmir. Pakistan has denied that any surgical strikes took place, instead describing the exchange as cross-border firing. Uri: The Surgical Strike dramatizes the Indian version of events, showing the narrative solely from the Indian army's perspective. A specialized army unit headed by Major Vihaan Shergill (Vicky Kaushal) is shown battling with militants in India's northeast before being offered a desk job in New Delhi to better take care of his ailing mother. His unit, including his brother-in-law Karan Kashyap, is stationed in Uri, and comes under militant fire. Kashyap dies in the exchange. Shergill leads a retaliatory mission which is described by his handlers as a mission to "enter their homes and kill them there." This was a well-crafted, slick debut by director Aditya Dhar that hit all the right jingoistic notes, and had fans enthusiastically mimicking the Indian military call-and-answer: ''How's the josh (passion/morale)? High, sir!"
---
5. Bharat
Director: Ali Abbas Zafar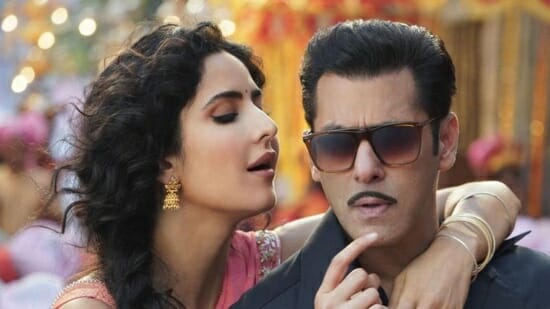 A big budget Salman Khan spectacle that releases on Eid has become something of a Bollywood staple. However, Bharat had epic aspirations. Its narrative arc tried to condense India's 70-year history since its split with Pakistan into a three-hour plot—with song and dance included, natch. It tells the story of Bharat (Khan) whose promises his father to keep his family together as they leave Pakistan for India during the 1947 Partition—although his father and sister get separated during the mass migration. To fulfill that promise, Bharat takes up a variety of jobs: stunt performer in a circus, an oil worker in Saudi Arabia and then a sailor. In the middle he also romances Kumud Raina (Katrina Kaif), a role that was to have been played by Priyanka Chopra Jonas—who is rumored to have abandoned the project to marry Nick Jonas. The movie's length and meandering plot didn't sit well with critics, but this film will delight Khan fans.
---
6. Mission Mangal
Director: Jagan Shakti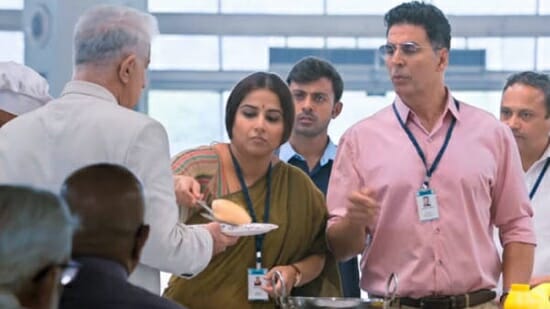 When news about Indian space agency ISRO's robotic mission to Mars came out in 2014, I was one of many people delighted to see images of Indian women in saris and jasmine in their hair celebrating the success. Those women turned out to be administrative staff, but ISRO was quick to acknowledge the important role played by women scientists working for the organization. Clearly the image of women scientists tickled Bollywood's fancy, but it needed to rope in Bollywood's leading man Akshay Kumar to lead Mission Mangal. Kumar plays Rakesh Dhawan, who is taken off of a prestigious project after a failed satellite launch due to an error by his colleague Tara Shinde (Vidya Balan). Dhawan is shunted off to the Mars project that doesn't have enough funds. But Shinde comes up with a plan inspired by frying puris (fried bread), and assembles a ragtag team of junior—primarily female—scientists. Unlike Hidden Figures, which focused on the integral role that African-American female mathematicians played for NASA during the Space Race, Mission Mangal isn't really a tribute to female scientists—who are shown juggling expectations at home and work. Though not quite a giant leap for womankind, Mission Mangal certainly is another step in the right direction of showing complex female characters in Bollywood.
---
7. Ek Ladki Ko Dekha Toh Aisa Laga
Director: Shelly Chopra Dhar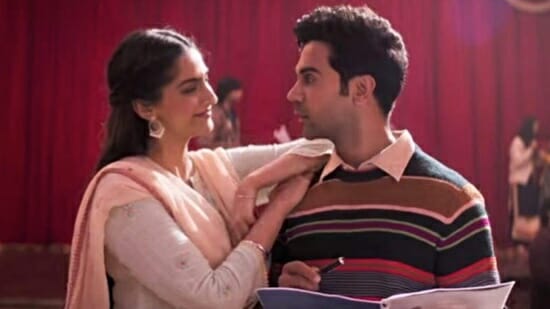 A handful of Indian films have depicted LGBTQ characters in past. The characterization ranges from caricatures in movies such as Dostana (2008) about two men pretending to be gay in order to rent an apartment to the sensitive portrayal of a university professor who loses his job and sense of self after his sexual orientation is exposed in Aligarh (2016). However, Ek Ladki Ko Dekha Toh Aisa Laga was the first big budget Bollywood film to star an A-list Bollywood star as a queer character. Billed as an "unexpected romance," it told the story of Sweety Chaudhary (Sonam Kapoor), who has lived her whole life in a small town in Punjab, hiding her true identity from her family. However, when a suitor, Sahil Mirza (Rajkummar Rao), appears in her life, she speaks her truth out loud for the first time. Although the film follows the conventions of a typical Bollywood rom-com, Sweety's coming out to her family makes it an exceptional film.
---
8. Mard Ko Dard Nahin Hota
Director: Vasan Bala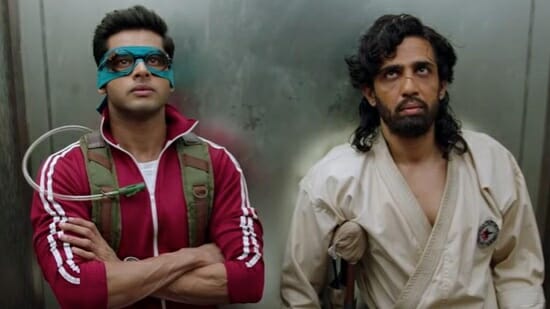 After winning the Midnight Madness People's Choice Award at the Toronto International Film Festival in 2018, Mard Ko Dard Nahin Hota got its theatrical release this year. An homage to vintage martial arts films, a childhood growing up on VHS tapes and schlocky B-movies, Mard Ko Dard Nahin Hota presents an original concept that revels in its goofiness. Surya (Abhimanyu Dassani) was born with a rare genetic disorder that renders him unable to feel pain. After his mother dies in a mugging, Surya is brought up by his grandfather, Ajoba (Mahesh Manjrekar), who indulges Surya's flights of fancy as a modern-day karate-chopping masked hero who wants to avenge his mother's murder. A reunification with his ass-kicking childhood gal-pal Supri (Radhika Madan) and her mentor Karate Mani (Gulshan Devaiah) brings Surya fist-to-face with another villain Johnny—Karate Mani's twin brother (also played by Devaiah). If you know your Bollywood and martial arts movies, there are lots of inside jokes to revel in. Even otherwise, Mard Ko Dard Nahin Hota should be on your watch list.
---
9. The Zoya Factor
Director: Abhishek Sharma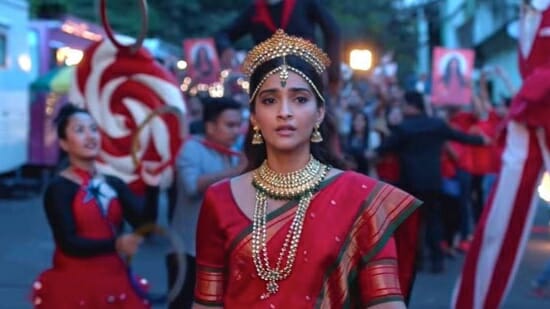 Malayalam actor Dulquer Salmaan is a huge celebrity in South Indian cinema. The son of Malayalam cinema legend Mammootyy, Salmaan has carved out his own space in the film industry for the range of roles he's played—from meet-cute romances to heavy dramas. Although Salmaan made his Hindi cinema debut last year in a small film called Karwaan (also worth watching), many Hindi cinema fans truly discovered him through The Zoya Factor. Based on a book by Anuja Chauhan, the movie revolves around Zoya Solanki (Sonam Kapoor), a young woman whose professional life as an advertising agency newbie and love life sucks. When assigned to work on a campaign with the Indian cricket team, word gets out that Zoya is considered to be a lucky mascot for the Indian cricket team. This complicates Zoya's budding romance with the team captain Nikhil Khoda (Salmaan). While The Zoya Factor's initial draw for many Bollywood fans may have been Kapoor, you stay with the movie for Salmaan.
---
10. Photograph
Director: Ritesh Batra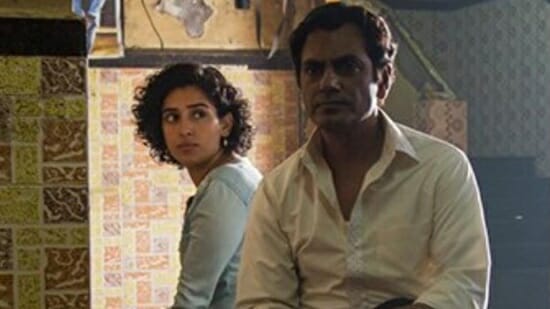 Like in Batra's debut feature The Lunchbox, which starred Irrfan Khan, Siddiqui and Nimrat Kaur, Photograph is about lonely individuals adrift in a city bustling with people. Rafi and Miloni don't talk much—to each other, or to their family and friends. They listen, observe and occasionally smile. The city equally plays a character; its balmy days give way to monsoon nights, filled with cups of tea and freshly fried bhajiyas (savory vegetable fritters). Underneath this ostensibly simple story, there are layers of other issues such as class, gender, physical appearances, but Photograph never hits us on the head with any of them. These are incidental ideas you may find yourself thinking about long after the scene has moved on. Batra's choice to show us Rafi, Miloni and Mumbai through doorways, windows and mirrors adds to the central theme of Photograph: When you really look into the frame, how much does it show, and how much does it hide? Though not a traditional romance, Photographis certainly about gestures of love. Whether Rafi and Miloni stay together in the end is irrelevant. What matters is that they helped each other appreciate themselves.
---
Aparita Bhandari is an arts and life reporter in Toronto. Her areas of interest and expertise lie in the intersections of gender, culture and ethnicity. She is the producer and co-host of the Hindi language podcast, KhabardaarPodcast.com. You can find here on Twitter and here. Along with Bollywood, Toblerone bars are one of her guilty pleasures.