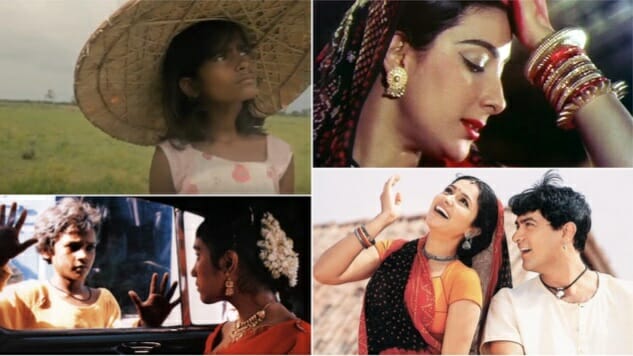 Official nominations won't be released until later this month, but this year's Academy Awards' Best Foreign Language Film race is shaping up to be a notable one. Mexico's Roma, South Korea's Burning, Japan's Shoplifters and Lebanon's Capharnaüm (to name a few) have been hailed as exemplary works of art and even landed on various critics' year-end lists.
Usually the category itself is often overlooked at the Oscars, typically stuffed indelicately at the beginning of the show far from the awards that traditionally hold any weight. But I've always had a vested interest.
Long before I became interested in the actual process behind the nominations, I would patiently wait for this category to see if any of the Indian, Hindi-language films that I had spent the previous year watching would be recognized. Most years I would be disappointed, but in 2002 I was delighted by the inclusion of the great sports drama Lagaan. There was something magical about hearing Sharon Stone and John Travolta announce, "From India… Lagaan" and seeing the gold-emblazoned title card appear on my television screen.
Lagaan remains one of India's biggest triumphs—an epic that transcended what many had pigeonholed Bollywood to mean. The film, set in the era of the British control in India, tells the story of a group of rural villagers who rise up against their ever-growing taxes and challenge their colonizers to a game of cricket in exchange for their freedom (the word "lagaan" translates to "taxation"). In typical Bollywood fashion, there is song-and-dance throughout the almost four-hour runtime, but the musical numbers service the story instead of existing outside of the confines of reality.
That year was the first and only year in my lifetime that I've seen a South Asian film recognized on such a grand scale. Mother India and Salaam Bombay received nominations in 1957 and 1988, respectively, but for an industry that churns out north of 1,000 films a year (and many more in other languages across the country), I can't help but ask the question: why aren't Indian films being nominated for Oscars?
In order to be considered for an Academy Award, each country must choose one official submission—a film released over the past year—which effectively represents the country at large and the stories that that society has to tell. Village Rockstars, India's 2019 entry about a young poverty-stricken girl who dreams of starting a band, seems to mirror previous submissions in its failure to receive any rumblings of awards recognition. Part of the issue is the lack of distribution and theater support—whereas I can find all of the aforementioned frontrunners playing in theaters all across Manhattan, I was not even aware of the existence of Village Rockstars until I began researching for this piece.
Mainstream support seems to be the recurring weakness of India's Oscar submissions. Taare Zameen Par, 2008's entry, failed to make the shortlist despite being highly acclaimed in India and having momentum within the diaspora. But, as some noted at the time, the film lacked any mainstream media attention within the foreign voting body of the Academy, especially compared to that of Lagaan and of the Hollywood-made Slumdog Millionaire in the same year.
But perhaps India is simply nominating the wrong films for this prestigious award? Comparing the winners of the Filmfare Awards in India (the equivalent to our Academy Awards) to their eventual Oscar submissions, you find an entirely different list of films recognized each year. And the ones that end up winning a Filmfare Award not only make more money, they also have more of a foothold in international conversations than the Oscar entries—Dangal was a runaway hit about young women wrestlers while Bajirao Mastani received much attention about its portrayal of history.
Last year there were rumblings of introducing an Oscar category for "Best Popular Film," an idea met with a lot of skepticism about how much importance will be placed on box office numbers. While nominating these high-grossing films somewhat plays into the idea of this new category, India could do well to put forth their "popular" films. It's a careful balance between films that make money, films that have something to say, and films that are genuinely well-made—but that's a balance that Bollywood often strikes.
Lagaan was notable because of its quality of storytelling and production, yes, but also because of the starpower behind the machine. Aamir Khan is a celebrated actor-turned-filmmaker, and has only grown in prominence over the years. In 2018, Indian culture began to permeate even deeper into the global atmosphere largely due to the rise of Priyanka Chopra's profile. Her marriage to Nick Jonas was one of the most talked-about events of the year, an extravaganza that seemed to span an entire month (long even for standard Indian wedding timelines).
Only a week previous to the Nickyanka (can we work on this name?) wedding, two other massive Bollywood stars also tied the knot. Deepika Padukone and Ranveer Singh's own lavish and stylish nuptials were celebrated viacoordinated social media posts garnering north of six million likes, each photo outdoing the last.
This may seem like a slight digression, but there is a vested interest in Bollywood stardom within India, within the diaspora, and now slowly creeping into non-Indian audiences, which likely plays well on a world stage; a film with a recognizable face may be given a second look by the Academy. After all, Roma has the lauded director Alfonso Cuarón intimately involved in the making of the film, and Burning stars Steven Yeun of The Walking Dead fame.
The films that capture the attention of both endemic audiences as well as critics and fans abroad are the ones that end up with nominations. India (and specifically Bollywood) has a lot going for it, if only they'd put all of the pieces together.
---
Radhika Menon is a pop culture-obsessed writer and filmmaker living in New York City. Her work has appeared in NY Post's Decider, Brown Girl magazine, and Syndicated Magazine. She is a proud alumna of the University of Michigan and is one-half of the comedic video duo, PromRad. She loves puns and thinks she's funny on Twitter.