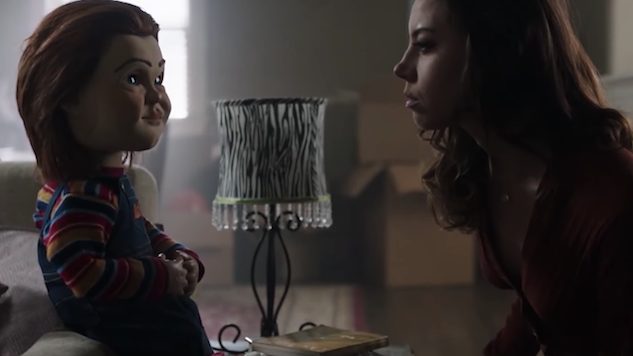 We're officially three weeks away from the theatrical release of Orion Pictures' Child's Play remake and we still haven't seen a decent clip of the film's feared antagonist.
Orion debuted the latest "first look" clip from the contemporary re-imagining of the 1988 horror cult-classic earlier this afternoon, the first of three trailers to feature Mark Hamill as the voice of Chucky.
Well—Hamill sounds great. And suitably spooky. But where the hell is Chucky?
Despite releasing three trailers in anticipation for the forthcoming film, Orion Pictures still hasn't debuted a clip of the character in action and full motion. The trailers only show obscured images of the reimagined character: shots of the doll hiding in shadows and standing motionless in corners, his arms or his legs in motion or the back of his head.
The film's producers made a stylistic choice early on to forgo relying entirely on CGI effects, which meant that six animatronic dolls (with a slight CGI crutch) were used to bring the Chucky character to life. Your childhood nightmare is just an assembly of plaster, foam latex and a plastic exoskeleton. Feel better?
Glimpses of the animatronic structure can be viewed in a behind-the-scenes video released last month, where the doll is mostly stationary and, uh, limp. Only a few shots of the doll in motion are shown, but it's clear that producers are making concerted attempts to further obscure its full-frontal reveal.
The frustratingly concerted attempts to conceal the full character beg the question of where the producers' intentions lie for doing so. Is it a stylistic choice? What exactly are the advantages of keeping its appearance a secret—building suspense, maybe? Are the producers de-incentivized from fully revealing the character in any way—perhaps fearing a negative reaction to the design, the uncanny valley effect or a repeat of the Sonic fiasco (or Chucky being memed in general)?
As we get closer and closer to the Lars Klevberg-directed film's release, it seems likely fans won't get a full-frontal glimpse of the character until the lights have gone down in theaters.
Child's Play will be released in the U.S. on June 21, and stars Aubrey Plaza, Gabriel Bateman, Brian Tyree Henry and Hamill.
Stay tuned for any further Chucky reveals (or lack thereof), and check out the film's new clip below.