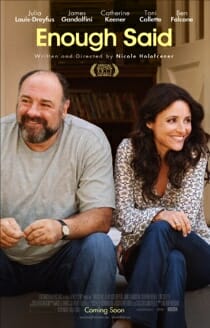 Enough Said has been much heralded as the film that features James Gandolfini's last leading role, and his easy-going onscreen presence is achingly bittersweet to watch. But the film's true revelation is seeing Julia Louis-Dreyfus largely shake off the remaining vestiges of Seinfeld's Elaine. While she still does an occasional eye-roll that reminds us of her ubiquitous TV character, those instances are thankfully few and far between in the film. Instead, Louis-Dreyfus gives a more subtle performance—that's at once both touching and comical—as a West L.A. massage therapist looking for love.
Written and directed by Nicole Holofcener, Enough Said isn't the first romantic comedy to look at love in the middle age. But unlike films like Something's Gotta Give or It's Complicated, the dialogue is honest, engaging and cheeky—in other words, it's relatable and grounded in reality. (Granted, that shouldn't be too much of a surprise coming from the writer-director of such films as Walking and Talking, Lovely & Amazing and Friends with Money.)
In Enough Said, sassy Eva (Louis-Dreyfus) and everyman Albert (Gandolfini) are divorced, single parents who dare to dip their toes in the Los Angeles dating pool. They first meet at a cocktail party where Eva offhandedly cracks to a friend that there are no attractive men at the party. Schlubby Albert self-deprecatingly agrees with Eva's assessment, firing off the first flirtatious volley.
At the same party, Eva meets Marianne (the always-terrific Catherine Keener), a new-agey Santa Monica poet who becomes Eva's client, and eventually, friend. (The choice of Eva as a massage therapist is brilliant. Louis-Dreyfus gets to show her comic timing during a variety of sessions and through conversations with friends about the pitfalls of a profession where one person in the room is always naked.)
Although Eva and Albert have a great first date in which the laughs and conversation never stop, she tells him she's "not sure" when Albert moves in for a goodnight kiss. They instead settle on an awkward handshake in the car. In a revealing follow-up brunch date at Albert's house—during which he wears his pajamas and Birkenstocks then serves her bagels, cream cheese and lox—the two start talking. They talk about life, their exes, impending empty nests and the hazards of dating. The openness is a turn-on because in no time the two reignite their dormant sex lives.
At the outset, Eva and Albert have a lot in common. Both have teenage daughters about to leave for college. Eva's daughter, Ellen (Tracey Fairaway), vacillates between needing her mom and pushing her away as she prepares to go across the country for school. Albert's daughter, Tess (Eve Hewson, yes, Bono's daughter), is more entitled—heading to fashion school in New York—and, like her mother, embarrassed about the slovenly Albert. Though they're secondary stories, the onscreen parent-child dynamics feel real, each brimming with both subtext and emotion.
Thanks to Holofcener's pointed script, the conversations between Albert and Eva are refreshingly direct: Albert talks about ear hair and asks whether his paunch prevents Eva from breathing when he's on top during sex. Listening to many of these conversations is akin to walking in on parents in flagrante delicto—horrifying, embarrassing and laughable at the same time.
Eva dishes about her new love to her girlfriends Sarah (Toni Collette) and Marianne. Unfortunately, the poet is still bitter about her failed marriage, using her massage time to talk smack about her ex—an overweight guy whose habits eventually drove her crazy. (We'll give you one guess who Marianne's ex-husband turns out to be.)
The negativity slowly suffocates Albert's and Eva's burgeoning relationship. With doubt creeping into Eva's mind, the nitpicking and criticism begin. At the same time, Eva struggles with her daughter's move and even tries to use Ellen's best friend, Chloe (Tavi Gevinson), as a surrogate daughter. Though she may mean well, Eva makes plenty of missteps in all her relationships.
Holofcener's direction is confident and assured, keeping the film moving at a good pace and away from the overly maudlin territory in which so many rom-coms get mired. Her attention to detail, from Eva's sandals and choice of car to Marianne's loose-fitting and flowing wardrobe, shows the director knows the denizens of West L.A. and Santa Monica neighborhoods quite well.
At the heart of the movie are the stellar performances by a solid cast with Louis-Dreyfus and Gandolfini leading the way. Gandolfini's cooly confident performance as a man who knows exactly who he is (a big-bellied slob) and what he wants out of a relationship plays perfectly against a woman who builds defense mechanisms to protect herself—and her heart—from getting it wrong again the second time around. The actors have the chemistry to appeal beyond the targeted audience of a certain age.
Holofcener's characters are wonderfully imperfect, and Enough Said shows that, just as in real life, sometimes moms and dads don't have all the answers.
Director: Nicole Holofcener
Writer: Nicole Holofcener
Starring: Julia Louis-Dreyfus, James Gandolfini, Catherine Keener, Toni Collette, Ben Falcone, Eve Hewson, Tracey Fairaway, Tavi Gevinson
Release Date: Sept. 18, 2013