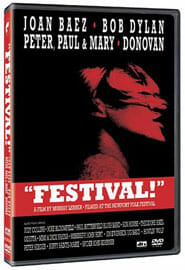 The Revolution Televised: A riveting—if fragmentary—portrayal of a transitional era in popular music
What's so magical about Festival! is that it opens a window into the musical world as it appeared to those living in 1967 at the time of the film's original theatrical release. If the so-called mid-'60s "Folk Boom" has come to leave a sour aftertaste of hoary paternalism and bullheaded purism, the earnestness and improvisational flair of Murray Lerner's pioneering countercultural document reanimates it with a sense of higher purpose and, yes, even fun.
Collecting footage from the 1963, 1964 and infamous 1965 editions of the Newport Folk Festival, Murray Lerner's Festival! offered both a fan's-eye encomium to a musical happening and a more self-conscious, broad statement of social purpose. Featuring over 40 different performers—ranging from Buffy Sainte-Marie and Fred McDowell to Donovan (interestingly, the only singer whose excerpted performances even gesture toward the Vietnam War), the Staple Singers and now-long-forgotten gems like Spokes Mashiyane—Festival! functioned not only as a concert movie but also as an overt statement of cultural inclusion in an era when inviting civil-rights activists like Fannie Lou Hamer onstage to sing spirituals was nothing short of revolutionary. Now released on DVD, it's a time capsule for the ages.
The film's tone is inadvertently and serendipitously established in the first few seconds with a ramshackle depiction of Jim Kweskin and the Jug Band, interrupted midsong so the camera man and director can argue (with the tape and audio still rolling) while the band looks on. A flash of naked honesty and emotional fragility, it paves the way for a variety of delicious vignettes ranging from Mike Bloom?eld's utterly arresting and charmingly self-conscious discussion of the blues' sociopolitics to buoyant Joan Baez's cheerful riffs on the hassles of being famous. Also coy and charming is the way Lerner teases the audience by dragging out the introduction of Dylan's now-legendary electric tear through "Maggie's Farm," knowing even in that instant its totemic significance.
With the DVD release undoubtedly calculated to ride the jet stream of the current Dylan-mania, the disclaimer must be made that, by and large, this is not a Dylan flick. While the roaring guitars of "Maggie's Farm" are certainly stunning in contrast to the largely acoustic fare presented, in the end that performance comes off as a mutant anomaly, juxtaposed without comment against so much other varied material.
Frustrating, however, is the speed with which the film dashes through performances, offering only about an aggregate 20 seconds of Odetta, barely a glance at the Swan Silvertones, and only a fraction of the Howlin' Wolf the average soul requires. Moreover, one comes to realize that in 1967 different things were popular and deemed important, and thus more historically fascinating. Johnny Cash gets five seconds while the retrospectively fluffy Peter, Paul and Mary dominate throughout. Sadly, the DVD offers no extra footage and so we are left with 97 minutes when the musical roster could sustain at least 300. Nonetheless, even for all it didn't include, Festival! remains a musical and cultural treasure—a whimsical backward glance at an all-too-forgotten movement.