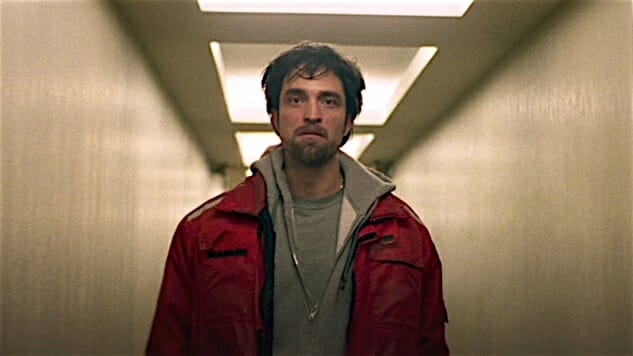 One of the pleasures of fiction is being in the company of a smart, resourceful character. Whether it's Sherlock Holmes or Walter White, a crafty protagonist doesn't just earn our admiration but also raises the bar for our expectations: Can he get out of this fix? How will he outwit his opponents this time? Narratives are jigsaw puzzles, and the brightest characters make the solving of them not just exciting but also deeply satisfying. Anybody can escape a bind with the help of a gun—a sharp mind is so much rarer, and therefore so much more engrossing.
The hero of Good Time is one of the canniest individuals in recent cinema, which might seem like an odd thing to say about a scummy lowlife who screws up a bank heist in the film's opening reels. But don't underestimate Connie: Several of the people who cross his path make that mistake, and he gets the better of them every time.
Connie is played by Robert Pattinson in a performance so locked-in from the first second that it shoots off an electric spark from the actor to the audience: Just sit back, he seems to be telling us. I've got this under control. The financially strapped character lives in Queens, unhappy that his mentally challenged brother Nick (Benny Safdie) is cooped up in a facility that, Connie believes, doesn't do enough to help him. Impulsively, Connie strong-arms Nick into helping him rob a bank. They make off with thousands of dollars, but what they don't realize is that they live in the real world, not a movie. A paint bomb goes off in their bag, staining the money and the criminals' clothes. Shaken and trying not to panic, Connie and Nick abandon their getaway car, quickly raising the suspicion of some nearby cops, who chase down Nick. Connie escapes, determined to get his brother out of jail—either through bail money or other means.
Good Time is the latest from directors Josh and Benny Safdie, who prefer plunging a viewer into their characters' worlds until you're up to your neck. 2009's Daddy Longlegs was about a deadbeat dad, his behavior mysterious to everyone—including himself. 2014's Heaven Knows What was about a heroin addict living on the streets, played by a former homeless heroin addict. The Safdie brothers don't bother introducing their characters or explaining their worlds—our disorientation is part of the filmmakers' design, which leaves us reeling, trying to understand subcultures so much harsher and urgent than our own.
Once we meet Connie and Nick, and Nick goes to jail (where he's badly beaten up), Good Time spends not a single second explaining anything that happens afterward. This thriller doesn't even really let us inside Connie's head, displaying incredible confidence that we'll be able to keep up with this hood's on-the-fly scheming to rescue his brother. Connie isn't someone given to exposition—and when he is, he might be lying. (To finagle a bunch of money from his needy older girlfriend, played by Jennifer Jason Leigh, he concocts a phony story in order to elicit sympathy.) A major twist unfolds about halfway through the movie, but the reveal of it occurs several minutes later—Connie understands what has happened, but it takes the audience a little longer to piece it together. Connie doesn't "open up" about anything—his background, his plan to spring Nick, his relationship with his brother. He's too busy thinking.
Since Good Time's premiere at the Cannes Film Festival, critics have raved about the film, although some have commented that Connie is a fascinating, even funny character because he's kinda dumb. This is an incorrect reading of Connie—and a failure to appreciate precisely what Pattinson has achieved. This Queens crook may have never cracked a book, but his street smarts are formidable. The Safdies often use nonprofessionals in their films, and the Twilight star brings a similar ratty ordinariness to his portrayal. Connie exudes live-wire danger, but his most lethal quality is his mind, which is always plotting three steps ahead, sizing up every situation. Good Time is structured like a "one crazy evening" escapade in the style of After Hours, and the Safdies send Connie on a midnight odyssey that zigs and zags with impetuous abandon. But it's Connie's smarts that guide the adventure.
Since Twilight, Pattinson has shown his dramatic range by playing characters, in movies like Cosmopolis, who possess a dark, chilly interior life beneath the handsome outer trappings. (In a sense, he was still portraying vampires.) But as Connie, he's shockingly vital and present, unabashedly throwing himself into any situation. He'll sweet-talk a young woman (Taliah Webster) he's just met, even trying to seduce her so she doesn't realize he's a criminal on the lam. He'll impersonate cops or arrange an 11th-hour drug deal if the stakes require it. And the longer the night goes on, it becomes obvious that these aren't new abilities Connie is learning—more likely, this quick thinking and charming swagger have probably been crucial to staying alive this long.
Following their star's lead, the filmmakers deliver a jet-fueled variation on their usual intricate exploration of New York's marginalized citizens. The preciseness and bruising empathy of Daddy Longlegs and Heaven Knows What have been transplanted into an old-fashioned on-the-run thriller. (Sometimes, the knowingly antiquated vibe is especially alluring: Throughout the evening, Connie sees his picture on the local TV news, a constant visual goading that he's not safe anywhere in this vast metropolis.) Good Time features no shootouts or car chases—there isn't a single explosion in the whole film. The Safdies and Pattinson don't need any of that. Like Connie, they thrive on their wits and endless inventiveness—the thrill comes in marveling at how far it can take them.
Grade: A-
Directors: Josh and Benny Safdie
Writers: Josh Safdie, Ronald Bronstein
Starring: Robert Pattinson, Benny Safdie, Jennifer Jason Leigh, Buddy Duress, Peter Verby, Barkhad Abdi, Taliah Webster
Release Date: August 11, 2017
---
Grierson & Leitch write about the movies regularly and host a podcast on film. Follow them on Twitter or visit their site.