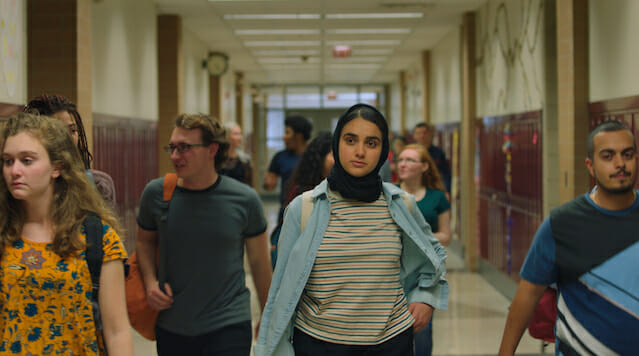 Another Apple original feature is in the works, with Hala set to make its debut on the company's streaming service, Apple TV+, on Dec. 6.
Opening in select theaters on Nov. 22, the Minhal Baig-directed film tells the story of a young Pakistani girl, Hala, who is caught in the middle of her own desires, and her familial, cultural and religious obligations. "As she comes into her own, she grapples with a secret that threatens to unravel her family," teases the film's synopsis. The trailer doesn't give much away, but it is clear that Hala struggles to find where she fits into the contrasting molds of Muslim daughter and carefree teenager. "It was in the quiet, in the moments alone, that she could see herself most clearly," she recites over a crescendoing symphony.
The coming-of-age tale stars Geraldine Viswanathan (Blockers) as Hala, supported by Jack Kilmer (The Nice Guys), Gabriel Luna (Terminator: Dark Fate), Anna Chlumsky (Veep), Purbi Joshi (Comedy Circus) and Azad Khan (The Vineyard). The film is produced by Clarence Hammond, Jamal Watson and Baig, and executive produced by Jada Pinkett Smith.
A selection of the 2019 Sundance Film Festival and 2019 Toronto International Film Festival, Hala is the latest title to join Apple's nascent slate of original features, joining the recently revealed The Banker.
Watch the trailer for Hala below and see a few stills from the film further down.