Jay Z to Co-Produce Trayvon Martin Film & Documentary Series
Photo by Kena Betancur/Getty
Movies
News
Jay-Z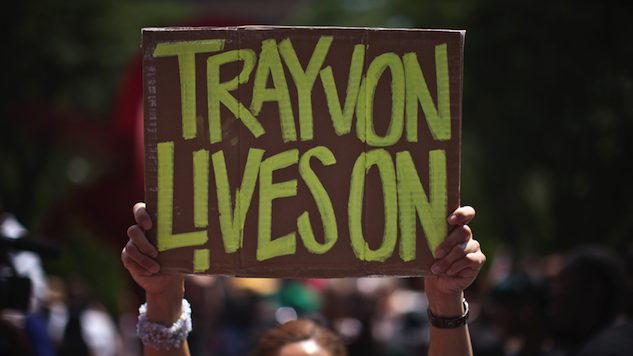 Jay Z and the Weinstein Company will produce a film and documentary series about the death of Trayvon Martin. 17-year-old Martin was murdered in 2012 by neighborhood watch member George Zimmerman, whose later acquittal sparked outrage and a national dialogue on racial profiling and inequality. Five years later, the murder is still sending shockwaves through the nation.
Variety reports that Jay Z and the Weinstein Company have acquired the rights to two books inspired by the high schooler's death. The first, Suspicion Nation: The Inside Story of the Trayvon Martin Injustice and Why We Continue to Repeat It by Lisa Bloom, follows the true story of Bloom as a reporter covering the case. The second is a more personal story: Rest in Power: The Enduring Life of Trayvon Martin, written by Martin's parents, Sybrina Fulton and Tracy Martin.
We don't know a lot of the specifics surrounding the forthcoming projects, but we do know Jay Z plans to produce a six-part documentary series while the indie studio will work on a feature film. Presumably, the two aforementioned books will serve as guidelines. Before the deal was finalized, Jay Z and the Weinstein Company met with Martin's parents, who made it clear they were concerned with how their son's life would be represented.
There is no current information as to when the series will begin filming, or when they'll be released—we'll definitely keep an ear out, though, so check back with Paste for future updates.