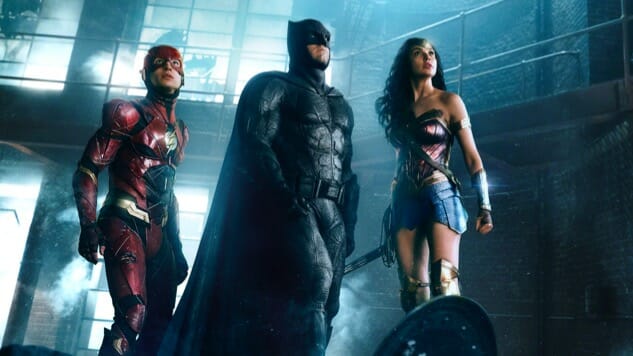 As promised, the first full trailer for Zack Snyder's DC team-up blockbuster has arrived, and whether you love or love to hate the DC Extended Universe, you should probably watch it.
Other than the bastardized rendition of The Beatles' "Come Together" that insinuates itself onto the soundtrack in supremely gimmicky fashion, there's not all that much to cringe at in Justice League's first full trailer, though there's not a ton to be excited about, either. We get the quickest glimpse of a robotic antagonist before Bruce Wayne (Ben Affleck) and Wonder Woman (Gal Gadot) take charge of assembling the league, leading into fresh looks at Aquaman (Jason Momoa) and Cyborg (Ray Fisher), then a recycled reintroduction of The Flash (Ezra Miller). It soon becomes clear that Momoa's Aquaman is going to steal this show, much like Mark Ruffalo's Hulk did in the first Avengers flick. Superman (Henry Cavill) is conspicuously absent, though Amy Adams' Lois Lane does make a momentary appearance. Last but by no means least, we get a fleeting look at J.K. Simmons' Jim Gordon, sure to be another standout performance.
Ironically, or perhaps expectedly, by far the least fun member of the Justice League would appear to be Affleck's Batman—he delivers all his dialogue, even jokes ("I'm rich," he deadpans when quizzed about what his super power is), in painfully flat fashion, as if through gritted teeth—like Snyder has a gun pointed at him from off-camera. Especially with the rumors floating around about Batfleck's desire to make an early exit from the DCEU, it appears plain as day that he's phoning it in here, and Justice League figures to suffer for it.
Justice League comes to blot out the cinema sun on Nov. 17. Find the film's full synopsis below, see the trailer for yourself above, and revisit the poster and character-specific promos that preceded it here and here.
Fueled by his restored faith in humanity and inspired by Superman's selfless act, Bruce Wayne enlists the help of his newfound ally, Diana Prince, to face an even greater enemy. Together, Batman and Wonder Woman work quickly to find and recruit a team of metahumans to stand against this newly awakened threat. But despite the formation of this unprecedented league of heroes—Batman, Wonder Woman, Aquaman, Cyborg and The Flash—it may already be too late to save the planet from an assault of catastrophic proportions.