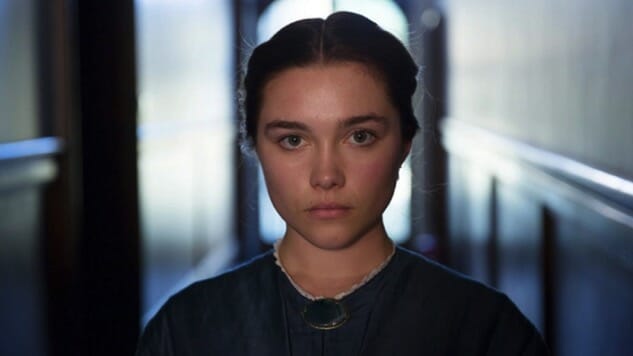 Perhaps it's best not to read the literary inspiration for Lady Macbeth, Nikolai Leskov's 1865 novella The Lady Macbeth of Mtsensk, before watching the film. Doing so will only accentuate the kind of psychological acuity that is sorely missing from William Oldroyd's vacuous adaptation. Though Oldroyd and screenwriter Alice Birch have transposed Leskov's novella from 19th-century Russia, to 19th-century England, the characters and situations are basically the same. Katerina Ismailov has become Katherine (Florence Pugh), and she's still trapped in a loveless arranged marriage to gruff Alexander (Paul Hilton). She finds a deliverance from her boredom in farmhand Sebastian (Cosmo Jarvis), with whom she carries on a torrid love affair that she eventually tries to hold onto by committing a series of murders against the family members that have suppressed her. And Lady Macbeth explores many of the same themes of Leskov's work—in particular, the stifling effect that patriarchal norms have on women who are expected to be little more than subordinates to their husbands and bearers of their children, and the way this particular female descends into violent amorality in her bid to challenge such expectations.
Much of the first half of Lady Macbeth does generate a certain delicious black-comic frisson from seeing Katherine become ever bolder in lashing out against the societal strictures imposed on her. Pugh, in her first leading film role, surely deserves a lot of credit for this, bringing a palpable girlishness to her fractious behavior—like a kid getting a dirty thrill from being naughty—that gives the film a subversive edge that is sometimes enlivening. But Oldroyd, a theater director making his feature filmmaking debut, adds to the black-comic aura with his extremely poised and precise filmmaking, alternating between impeccably framed stationary shots to convey Katherine's sense of imprisonment and handheld camerawork during her freer moments. Seeing Katherine gleefully commit her transgressions toward "polite" society within the calm of Ari Wegner's camerawork gives Lady Macbeth the feel of a passionate modern character fighting the stylistic restrictions of a staid period drama.
Alas, the deeper Katherine wades into the moral hole she seems to have no compunction digging into, the less the filmmakers seem interested in actually exploring this fascinatingly messed-up character than in simply beholding her as some kind of freak faux-feminist icon. There's a disappointing shallowness at the heart of Lady Macbeth, one that extends not only to the increasingly monstrous Katherine, but to a character Birch has added to Leskov's story: Anna (Naomi Ackie), a black housemaid whose servitude toward Katherine and the rest of her family, and Katherine's own heartless treatment of her even during her liberated moments, signals class and racial angles that Birch and Oldroyd ultimately have no real interest in examining.
All of this is in stark contrast to the original Leskov novella, which may have maintained a similar tone of ironic detachment throughout the telling of its sordid tale, but which also brought us inside its main character's head in ways that managed to shed light on her unsettled state of mind, without quite fully explaining her. Oldroyd, however, maintains such a rigorous distance from Katherine that she gradually seems less like a human being than like a mere carnival attraction: Step right up and watch the long-suffering housewife go violently, ape-shit mad! The utter lack of tragic affect in its ostensibly disturbing final shot of Katherine sitting on a couch with an unrepentantly blank expression on her face exposes Lady Macbeth for the emptily portentous fraud it is.
Director: William Oldroyd
Writer: Alice Birch
Starring: Florence Pugh, Cosmo Jarvis, Paul Hilton, Naomi Ackie, Christopher Fairbank
Release Date: July 14, 2017
---
Kenji Fujishima contributes film criticism to Slant Magazine, Brooklyn Magazine, The Playlist, and the Village Voice in addition to Paste. When he's not watching movies and writing and editing film criticism, he's trying to absorb as much music, art, and literature as possible. He has not infrequently been called a "culture vulture" for that reason.