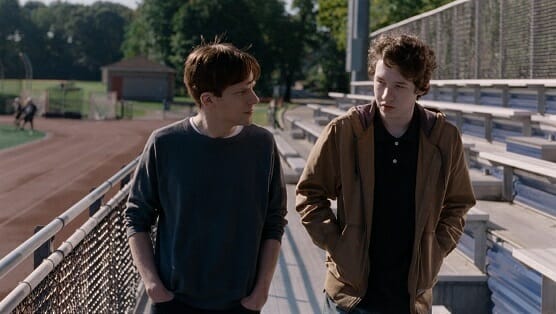 In his promising early career, filmmaker Joachim Trier has cornered the market on stylish literary adaptations. What's funny is that, of the three features he's made, only one is actually based on a book. Nonetheless, Trier's intelligent, multilayered stories (Reprise and Oslo, August 31st) have the texture and depth of a good novel, balancing several characters and themes with a casual grace.
For his next trick, he's taken on one of the most disreputable cinematic subgenres: the sentimental dead-family-member melodrama. Louder Than Bombs finds the Norwegian director once again collaborating with cowriter Eskil Vogt to tell an original story that's part of an old Hollywood awards-season tradition. The enigmatic matriarch of a suburban New York family, acclaimed war photographer Isabelle (Isabelle Huppert), died two years ago in a car crash. Now, a major retrospective of her work will be shown in Manhattan, forcing her widowed husband and two children to reunite and finally confront her legacy and their unhappy lives.
From that logline, you can practically see the somber "For Your Consideration" ads. But rather than being manipulative or formulaic, Louder Than Bombs is a smart treatment of material that's littered with potential booby traps. Weaving together flashbacks with present-day brooding, revealing hurtful family secrets and offering observations on the alienation of modern life, Trier's film approaches terrain that's been covered in everything from American Beauty to Little Children to Men, Women & Children. But Louder Than Bombs succeeds because Trier focuses so intently on his characters, avoiding the temptation to offer zeitgeist-y reflections on The Way We Live Today. The movie isn't a sermon—it's an expression of one family's slow grieving process.
Jesse Eisenberg plays Jonah, the older of the two brothers. An overachiever who's just about to begin a professorship, he has also just become a father—a development he welcomes, even though he runs into his beautiful ex-girlfriend (Rachel Brosnahan) in the hospital, reigniting an old spark. The younger brother, high-schooler Conrad, is portrayed by Devin Druid as an angry, sensitive loner. He seems to have directed all of his rage about his mother's death on his teacher father Gene (Gabriel Byrne), who has only started recently picking up the pieces of his life, dating Conrad's English teacher Hannah (Amy Ryan)—a development that further angers the kid.
The forthcoming retrospective for Isabelle prompts an old family friend (and fellow journalist) Richard (David Strathairn) to write an appreciation in The New York Times. But Richard lets Gene know he's going to be honest in the piece, revealing to the world what he, Gene and Jonah know: Her car crash wasn't an accident but, rather, a suicidal act. Gene and Jonah have never told Conrad the truth, and they're concerned how the moody, distant teen will take the news—especially because, like everyone in the family, he had an intense relationship with her.
With patience and novelistic flair—although, blessedly, without the portentous voiceover narration that usually saps such stories of vitality—Trier creates a portrait of three men still grappling with their memories of Isabelle. Typically, these movies will include flashbacks that tease the existence of some deep, dark secret that, by the end, will be revealed, bringing healing to all. Louder Than Bombs doesn't do that: Yes, there are flashbacks, but the filmmaker has delicately incorporated them into the narrative—not as clues to a mystery but, rather, to show what thoughts are floating around in these characters' heads. There's no deeper secret to be uncovered, although some revelations do come out. But by and large, the memories (and occasional dream sequences) work together to make the past and present seem fluid for these men, part of a process of letting go of Isabelle.
The performances are strong almost throughout the cast, with Eisenberg doing some of his best work while moving a bit away from the precocious/exacting characters that have been his trademark. His Jonah is a man who hasn't yet faced the fact that his encroaching domesticity terrifies him, and the character's rapport with Conrad is quite touching, the older brother the only person who seems capable of reaching the closed-off teen. Druid, however, isn't quite as strong: His character seems too similar to the many brooding teens we've seen in family dramas like American Beauty and The Ice Storm, and Conrad's personal journey doesn't offer much surprise.
But Byrne and Huppert are both superb, and neither role is an easy one. A former actor who gave up on his dream in order to raise their kids while his wife was covering atrocities around the globe, Gene is a depressive who is subconsciously trying to dampen his children's enthusiasm for their mother. As for Huppert, her Isabelle is the film's heart and soul, and although the character has been dead for two years, her memory haunts the picture. The actress doesn't play Isabelle as a saint or a basket case, instead cannily keeping this photographer out of focus, her personality different depending on which family member is remembering her. (Brilliantly, Louder Than Bombs also lets Isabelle have her own say, the character explaining an aspect of her life in a monologue that subverts the impressions we had of her all along.)
With these types of films, a catharsis often occurs at the finale, bringing some sense of closure to the characters. Trier doesn't intentionally resist such a tidy conclusion, but his ending is in keeping with the film's insistence that the trauma of one ordinary family, if viewed from the proper perspective, can be engaging, insightful and open-ended. Louder Than Bombs' title presumably refers to the quiet inner anguish that can be more scarring than the horrors Isabelle saw on the battlefield. If so, it's one of the film's rare hokey, Hollywood moments.
Director: Joachim Trier
Writers: Joachim Trier, Eskil Vogt
Starring: Gabriel Byrne, Isabelle Huppert, Jesse Eisenberg, Amy Ryan, Devin Druid, David Strathairn, Rachel Brosnahan
Release Date: Screening in Competition at the 2015 Cannes Film Festival
---
Tim Grierson is chief film critic for Paste and the vice president of the Los Angeles Film Critics Association. You can follow him on Twitter.