Jessica Chastain Brings Down the House in Molly's Game Trailer
The film marks Aaron Sorkin's directorial debut
Image via STX Entertainment/YouTube
Movies
Video
Molly's Game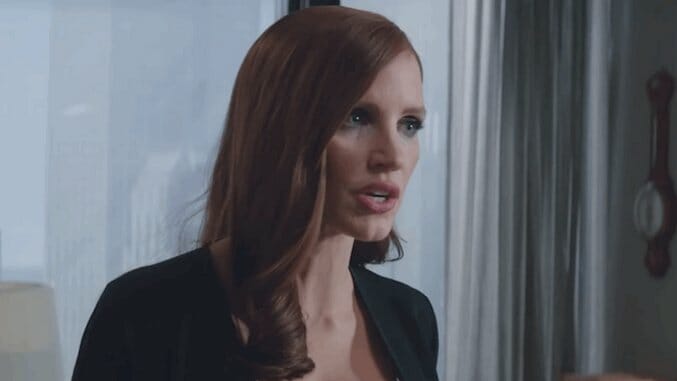 For decades, Aaron Sorkin has been the king of snappy dialogue. From movies like A Few Good Men and The Social Network to television series like The West Wing and The Newsroom, Sorkin has consistently proved his talent and knack for writing strong scripts. But for all his prolificness, Sorkin has never actually stepped behind the camera as a director—until now.
For his directorial debut, Sorkin has chosen to adapt Molly Bloom's memoir, Molly's Game: From Hollywood's Elite to Wall Street's Billionaire Boys Club, My High-Stakes Adventure in the World of Underground Poker. Mouthful title aside, the film's first trailer promises good things.
The film will star Jessica Chastain as the titular Molly who runs several high-stakes celebrity poker games in backrooms and hotel suites. The only problem? It's incredibly illegal. It's apparent from the trailer that at some point she is caught by the FBI and a trial ensues.
It's an interesting premise and one that promises ample opportunity for rapid-fire discussions and witty put-downs, Sorkin-style.
Watch the full trailer above. Molly's Game will hit theaters on Nov. 22.