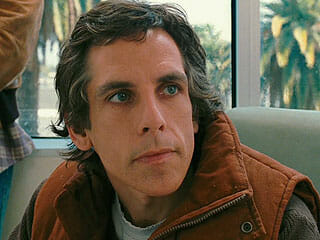 Release Date: March 26
Director: Noah Baumbach
Writers: Baumbach
Starring: Leigh, Ben Stiller, Rhys Ifans, Greta Gerwig, Brie Larson
Cinematographer: Harris Savides
Studio/Run Time: Focus Features, 107 mins.
Coming of Middle Age: Noah Baumbach doesn't get old
The Los Angeles of Greenberg—the latest character portrait from The Squid and the Whale writer/director Noah Baumbach—is crammed with strip malls, old Hollywood grills and florescent-lit donut shops; a scrappy counterpoint to the glistening condos and clubs of The Hills. The city's worn, dusty streets suit Roger Greenberg (Ben Stiller), a forty-ish carpenter from New York visiting the Left Coast to house-sit for his brother Phillip (Chris Messina), currently on vacation in Vietnam with his picture-perfect family. While in town, Greenberg becomes entangled in a peculiar relationship with Phillip's wide-eyed personal assistant, Florence (Greta Gerwig), an awkward twenty-something with a deficit of gumption and a surplus of overcautiousness. He also revisits a broken friendship with former bandmate Ivan (Rhys Ifans). But Greenberg is mostly intent on "doing nothing," a goal he fails to further delineate: "That's brave, at our age," comments his ex-girlfriend Beth (Jennifer Jason Leigh), practically dripping with pity.
Eventually we find out that before coming to L.A., Greenberg completed a stint in a mental hospital. Baumbach's script keeps the details vague, but it seems he's in a state of permanent adolescence, wallowing in selfishness and vitriol. Witness the new manhood: Greenberg's afternoons consist of reliving his time in an almost-was college rock band, shuffling around in a graying Steve Winwood T-shirt (which winkingly declares "Back in the High Life Again"), engineering mix CDs for Florence, composing grocery lists ("whiskey, ice cream sandwiches"), writing gnashing letters to corporations and crafting a doghouse for his brother's ailing pooch, Mahler. Greenberg's autonomy is compromised by the fact that he can't drive (also the bane of every 15-year-old in America) and his dedication to walking becomes a metaphor for his increasing sense of alienation and childishness.
Greenberg isn't particularly likeable, but Stiller's portrayal is just charismatic and mixed-up enough to make him an oddly sympathetic presence—no matter how many relationships he bungles, it's hard not to relate. After all, most adult humans have overdosed on ennui at one point or another, or found ourselves stuck living a life we didn't anticipate and feeling powerless to correct. (It also helps that Baumbach allows the narcissistic Greenberg temporary custody of a sick dog, a successful empathy-grabbing coup.) Florence is played with impressive and convincing innocence by the mesmerizing Gerwig, and her affection for Greenberg seems rooted in her own quarter-life crisis. As different as they are, they're both searching for a savior: "It's weird, aging, right?" Greenberg asks at his three-person birthday party, in one of the movie's most spectacularly weird (and telling) scenes.
LCD Soundsystem's James Murphy wrote and performed the score, which captures the film's modern dissociation. Murphy's "All My Friends" from 2007's Sound of Silver pops up in the film's trailer, and feels like it could have been composed specifically for the film: "You spent the first five years trying to get with the plan, and the next five years trying to be with your friends again," Murphy howls over anxious keyboards.
Baumbach has a history of writing movies about overeducated white people who just don't want to grow up (most notably 1995's Kicking and Screaming)— his narrative specialty is clearly middle-class disaffection. But Greenberg is also a remarkably funny and charming film, one which captures the vague, gnawing restlessness that plagues its characters. The veracity of those problems belies how mundane they occasionally seem, and production designer Ford Wheeler's attention to detail only adds to the atmospherics. Even Florence's shoddy studio apartment—with its plastic blinds, hand-me-down saucepan and Scotch-taped photos—feels beautifully real.