Faye Dunaway and Warren Beatty Announce Wrong Best Picture Oscar Winner
Photo by Kevin Winter/Getty
Movies
News
Oscars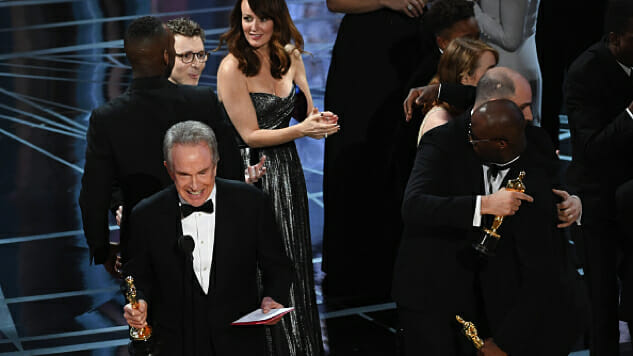 The stars of Bonnie and Clyde reunited 50 years later for one more heist. Pulling a "Steve Harvey," Warren Beatty and Faye Dunaway declared La La Land to be the Academy Award winner for Best Picture. It was only after heart-felt speeches from the movie's producers that one of them added a cryptic, "We lost, by the way."
Warren Beatty returned to the microphone to explain: "I opened the envelope, and it said, 'Emma Stone, La La Land.' That's why I took such a long look at Faye and at you. I wasn't trying to be funny."
After a chaotic rearrangement of victors on stage, the Moonlight crew recovered. Director Barry Jenkins said, "Very clearly, even in my dreams this couldn't be true." Producer Adele Romanski added, "I'm still not sure this is real. … I hope it's inspiring to little black boys and brown girls and other people watching at home who feel marginalized."
Both movies fared well with La La Land taking home six Oscars, including Best Director for Damien Chazelle and Best Actress for Emma Stone. Moonlight won three, including a supporting actor victory for Mahershala Ali and a best adapted screenplay for Barry Jenkins with story by Tarell Alvin McCraney. (View the full results here).
Shell-shocked host Jimmy Kimmel closed the show, blaming himself and promising not to return. But it seems like the fault lay somewhere in the distribution of envelopes.
After the high-profile screw-ups at the Miss Universe pageant and the Oscars, can we take one more look at the presidential election envelope?