With a Movie Industry in Need of Fixing, the Oscars Seem Even Sillier than Usual
Movies
Features
Oscars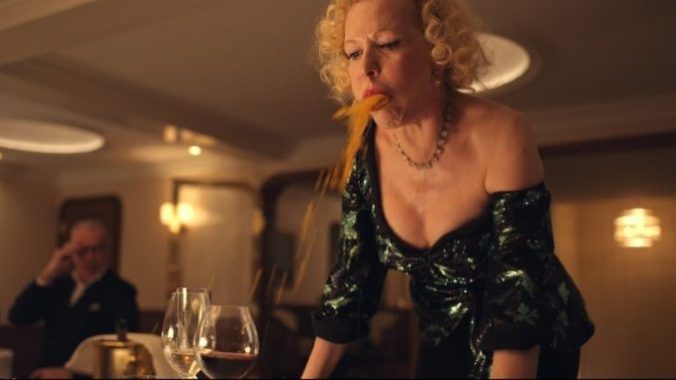 Seriously, why are the Oscars still happening?
"Hollywood's biggest night" keeps getting more and more irrelevant with each year, especially when it comes to inspiring audiences to check out the films that get nominated. Last year's telecast did get some good ratings: 16.6 million people tuned in, up 58% from the historic low achieved the year before. But you know people started watching after a certain movie star lost his fucking mind, assaulted a comedian for joking about his wife, and went on to win Best Actor. Hey, drama will always bring in the eyeballs.
If you ask any random person about last year's Oscars, The Slap will most likely be the only thing they remember. It's highly doubtful that anyone remembers who won Best Picture. (BTW, it was CODA, an Apple TV+ film that I've been told played in theaters.) I'm sure the most recent Best Picture win everyone remembers is La La Land Moonlight in 2017. (Thanks for that brief trainwreck, Bonnie and Clyde!) But, really, it's been this way for quite a while. In the past 10 years, such films as The Artist, Birdman, True Virtue and Spotlight have all taken home the Best Picture Oscar. Actually, three of those won Best Picture and one is a movie title I completely made up. If you know which one, you know a lot more about the Oscars than, like, everyone. 
But even if you know the actual Best Picture winners, when was the last time you heard anyone talk about them? When was the last time you even saw these films? Just because a movie won Best Picture doesn't mean the moviegoing public actually thinks it's Best Picture. I certainly didn't think Green Book (a movie I once called "a cute racism movie") should've nabbed a Best Picture win, especially when Black-and-proud hits Black Panther (which made a $1 billion worldwide) and BlacKkKlansman (which made close to $100 million) were in the same category. (The last, great Chadwick Boseman shared my sentiments.)
The Oscars has always been a star-studded industry party in denial, as the Hollywood elite crams into a theater once a year to salute both themselves and a handful of respectable films that came out the year before, practically ignoring the big-budget blockbusters, franchise tentpoles, genre movies and other popcorn flicks that actually brings the masses to the theaters. (If these films do get nominated and/or awarded, they're usually relegated to "the technical categories.") Truth be told, the Academy of Motion Picture Arts & Sciences have always been some stuck-up bastards, snubbing their noses at the more popular stuff and declaring who and what are most worthy of statuettes. (Just look at all the bullshit Andrea Riseborough went through when she got a surprise Best Actress nom.) The Academy begrudgingly expanded its Best Picture category in 2009, after people were getting pissed that excellent popcorn films like The Dark Knight and WALL-E were getting ignored. But while that change is the reason why recent moneymakers like Avatar: The Way of Water and Top Gun: Maverick have Best Picture nods today, you know they ain't gonna win. This is the Oscars, gotdammit, and they have a reputation of awarding more important films—AKA the shit you haven't seen.
But these days, that can be a lot. Now more than ever, it seems most people—all algorithm'd up in their little bubble—proudly stay in their lane, movie-wise. There are those who proudly prefer chaotic, CGI'd-to-hell superhero movies over artsy-fartsy pictures. And there are those arthouse snobs who think superhero lovers are ignorant asshats. (The ongoing, online war between Scorsese fans and Marvel fans is still one of the most batshit-crazy things I've ever witnessed.) 
Last year, many Oscar hopefuls failed to resonate with audiences. And even those that have been nominated are still struggling. Sure, A24's chopsocky multiverse family dramedy (and Best Picture nominee) Everything Everywhere All at Once was a breakout hit. It raked in $107 million and made comeback kids out of stars Michelle Yeoh and Ke Huy Quan, who've been respectively nominated for Best Actress and Best Supporting Actor and will most likely win (since they've been winning all over the gotdamn place). But good luck finding anyone who's seen fellow Best Picture contenders Tar, The Banshees of Inisherin or Women Talking. 
As successful as Avatar, Maverick and Everything were last year, multiplexes still weren't a consistently populated place in 2022. According to Statista, total box office earnings in North America amounted to around $7.37 billion, up from $4.48 billion the previous year. However, that figure corresponded to less than 40% of the revenue recorded in 2019—but that was before you-know-what happened.
The pandemic turned a lot of us into proud shut-ins, prompting media conglomerates to immediately send movies to streaming and/or VOD sites—after doing a brief stint in the theaters—where we can watch it on our 55" flatscreen we got for a few hundred bucks. (At least when we watch a movie in our homes, we don't have to go through it being badly projected, which is sadly becoming a regular occurrence at most multiplexes.) Both studios and theater chains have been doing everything they can to get people back in front of big screens, from re-releasing legendary blockbusters in IMAX or 3-D to, in one chain's case, setting up ticket prices based on seat location. (How the fuck does this makes movies better, Nicole?!) If the big-budget crowdpleasers aren't putting asses in the seats like they used to, you know most of these Oscar nominees aren't gonna bring 'em in, even if some of them should. 
The film industry appears to be broken across the board, and holding a show to salute it practically seems to be redundant. You'd think the Academy would at least put the Oscars on hold until the industry figures itself out. But the show must go on, no matter how cringey things get. So, expect glitz, glamor and a whole lotta bullshit to come out of the Dolby Theatre this Sunday night.
---
Craig D. Lindsey is a Houston-based writer. You can follow him on Twitter and Instagram at @unclecrizzle.