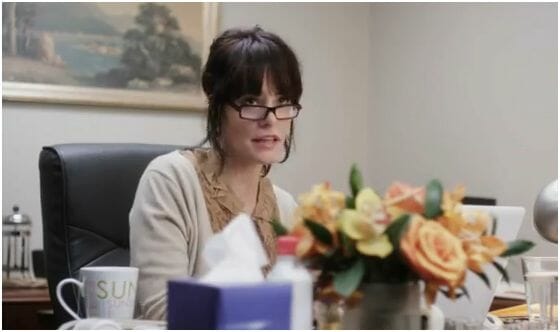 Price Check, a new film by writer-director Michael Walker, is being billed as a comedy about the "high price of a middle-class life." It stars Eric Mabius (Ugly Betty) as Pete Cozy, a husband and father who works a 9-to-5 gig in the pricing department of a midsize supermarket chain. It's not the most glamorous of jobs, but it's almost enough to support his wife, Sara (Annie Parisse), and their young son. Though the bills are piling up, Pete and Sara make due with what they have. (And don't pick up the phone when the creditors call.)
Things change for Pete when he gets a new boss—the power-hungry, highly strung, Maalox-guzzling Susan Felders, played by the entertaining Parker Posey. Susan's not afraid to make big changes to make their company a bigger player in the corporate grocery store game. She taps Pete—because of his economics degree from Dartmouth—to step up and help her implement these changes.
At first, Pete's not sure about Susan and checks in with old contacts in the music business (marketing indie bands was what he really wanted to do after college). But he and Sara are enjoying the increased income, so he throws himself into work. With more money comes more problems, and Pete is forced to spend more time at work and less time at home. He finds himself attracted to power, his new title, and, not surprisingly, his boss.
Writer and director Walker posits a theory that unfortunately undermines the entire film: Casting the great Parker Posey as an offbeat character does not automatically make a film a comedy. There are other necessary ingredients—like witty dialogue and compelling characters. The eccentricities of Susan's new team aren't fully explored, and most of the characters have as much impact as the greenery in corporate suites across America.
On paper, Pete is conflicted, torn between being a businessman and family man, but Mabius doesn't have the gravitas to turn into a soul-searching Ryan Bingham (George Clooney in Up in the Air) or even a Gordon Gecko-lite (Wall Street). Mabius' Pete is a milquetoast middle manager who barely registers any emotion at all—even when he's promoted to VP or cheats on his wife. Posey does her best with the material at hand, presenting a ball-busting female boss who makes costumes mandatory for the office Halloween party, crashes a nursery school costume party dressed as a sexy Pocahontas and throws the men she sleeps with under the corporate bus.
The end of Price Check is a bit of a mess. Although Pete's duplicity gets him into hot water at home and at the office, the film doesn't fully engage with any of the issues, quickly cutting to a bucolic view of Pete and Sara with two kids living on the coast of Southern California. There are so many themes that Walker could have run with in the film, including the changing business world, morality in business, middle-class struggles or exchanging the dreams of youth for responsibility to family. Instead, Price Check is a muddled, aimless film with its comedic moments few and far between.
Director: Michael Walker
Writer: Michael Walker
Starring: Parker Posey, Eric Mabius, Annie Parisse, Josh Pais, Cheyenne Jackson
Release Date: Nov. 16, 2012