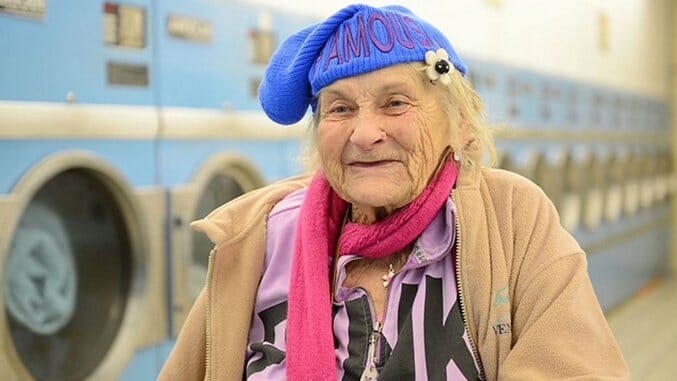 Throughout this low-key but moving film that bears her name, the charismatic, ever-smiling octogenarian known as Mimi—who can count Zach Galifianakis and Renee Zellweger among her celebrity friends—expresses herself in punchy, memorable bursts of existential maxims. "Yesterday is gone, tomorrow isn't here, live now" being just one of many that reflects both her sharp mind and affable personality. That she should be so focused on the present, on maintaining a mindset that understands the value of appreciating the good in life, is inspiring considering her circumstances and experiences.
When we first meet Mimi (real name: Marie Haist), she has been homeless for over 35 years. And for the past 18 of those, she's reigned over a castle of sorts the Fox Laundry on Montana Avenue in Santa Monica, CA. After years of living in her vehicle and under doorways, Mimi became a fixture at the laundromat by helping the staff fold their customers' laundry. Such was the affection she engendered that the Fox owner trusted her with a key to the front door and permission to sleep in the facility.
The reasons for her lack of a traditional home aren't entirely explained—Mimi 's philosophy of leaving the past where it is sees to that—but the film clearly links her circumstances to her divorce in the mid-1970s. After years and years of submitting to the will of a controlling husband who wouldn't let her apply her skills outside the home, she moved out of a house she could no longer afford, and only intermittently kept in touch with her kids.
Mimi embodies contradictions that compel us to reconsider whether it's correct or at least insufficient to call her "homeless." She doesn't see herself that way (friends note that Mimi doesn't care for the homeless that visit the laundry), and we meet people throughout the film who've taken her in at various points. Those friends, more than the apartments or houses in which they live, seem to constitute what Mimi would call a home.
In one moving interview, a friend of Mimi describes the moment he become aware of a shift in the nature of their relationship: He found himself visiting her not only to give her comfort or his time, but when he was having a bad day and needed a dose of Mimi's inimitable cheer. This lovely expression of humanity—both in the act and in the telling of the story—confirms the portrait of Mimi we see throughout the film. She's not an object of sympathy, but a person whose improbable sense of life is a boon to those who know and love her.
Among her admirers is Galifianakis, who shares how he came to know, love and provide for Mimi. He sees in her what we've been lucky to see: someone who transcends the stereotype of a homeless person. Director Yaniv Rokah, who got to know Mimi while working as a barista at a nearby coffee shop, treats her as a human being worthy of respect, and she carries herself that way. She insists that she's never asked for money, she's aware when she's being pitied or patronized, and she won't allow her own being or her work at the laundry to be disrespected.
So it's right that the respectful Queen Mimi lives up to its name doesn't condescend to its regal subject. Filmed over five years, it allows her to be a friendly guide through her life, one that has had a positive impact on those who've gotten to know her—including us.
Director: Yaniv Rokah
Screenwriter: Yaniv Rokah
Starring: Marie "Mimi" Haist, Zach Galifianakis, Amy Boatwright, Rita Branch, Yaniv Rokah
Release date: May 13, 2016