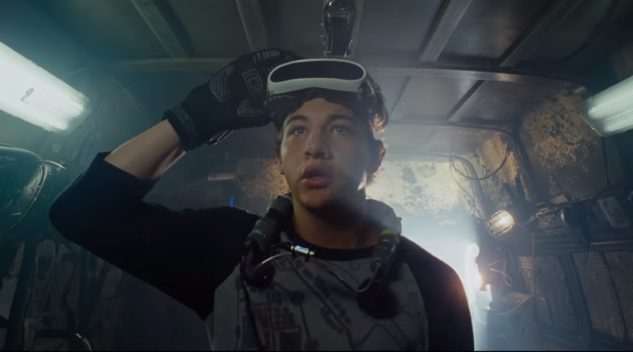 While the internet continues to obsess over the odd-looking length of a character's leg in a newly released poster for the upcoming Steven Spielberg YA adventure Ready Player One, we've been given significantly more interesting news: The film's first full-length trailer. The adaptation of the bestselling book by Ernest Cline, Ready Player One imagines an overcrowded 2045 in Columbus, OH, where the only escape of the bored and listless populace is to escape into a hyper-realistic and over-the-top virtual world known as The Oasis. But when the technocratic genius behind The Oasis dies and leaves his inheritance as a contest to find a rare Easter Egg within the virtual world, everything begins to melt down as everyone logged on searches for the key to the Oasis in a mad scramble.
Simply describing the sights and sounds of The Oasis is difficult—it appears as a phantasmagoria of pop culture and especially film references, replete with classic characters such as The Iron Giant, Chucky from Child's Play or Freddy Krueger. Curiously, though, there are also some more modern gaming references, as one can clearly see Tracer, the beloved poster girl of Overwatch, at one point. We also get a look at Ben Mendelsohn as the film's villain, looking and sounding much as he did in Rogue One, along with some narration from 21-year-old Tye Sheridan playing protagonist Wade Watts—you may recognize Sheridan as the kid who played a young Cyclops in X-Men: Apocalypse.
Spielberg's Ready Player One arrives March 30, 2018.