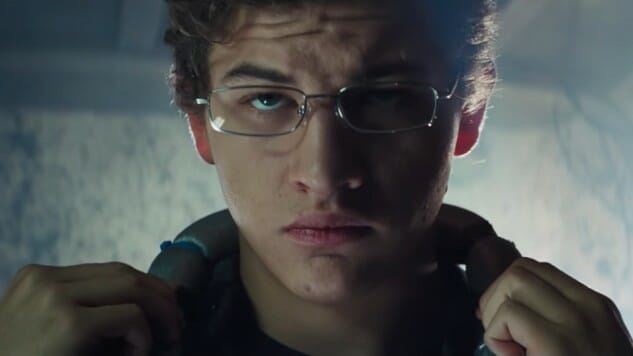 "A hidden key, a leap not taken, retrace your steps, escape your past and the key will be yours at last."
Soon you'll be able to journey into the OASIS and become who you were born to be in two-time Academy Award-winning director Steven Spielberg's newest magical adventure saga, Ready Player One. In the film, based on the novel of the same name, the OASIS serves as a refuge for those searching for a better life in an overcrowded America in the year 2045. Our hero, Wade Watts (sounds like a superhero, right?), embarks on a mission in the OASIS after the creator of this virtual world dies and challenges all OASIS users to find his Easter Egg, which will give the finder the entire fortune he left behind.
The film stars Tye Sheridan (The Tree of Life, Mud, X-Men: Apocalypse) as Watts, along with Thoroughbreds' Olivia Cooke, Emmy winner Ben Mendelsohn (Bloodline, Rogue One), The Chi creator and Master of None star Lena Waithe, T.J. Miller (Deadpool), the charming Letitia Wright of Black Panther, Star Trek's Simon Pegg, Tomb Raider co-star Hanna John-Kamen and Mark Rylance, who won the Best Supporting Actor Oscar for his turn in Spielberg's Bridge of Spies.
Though many were skeptical that even Spielberg would be able to turn Ernest Cline's reference-heavy, fanboy-fodder book into a compelling film, early reactions out of Ready Player One's premiere at SXSW earlier this week have been overwhelmingly positive. Fingers crossed that the hype is deserved, and not just a figment of virtual reality.
Revisit the first trailer for the highly anticipated film here and be sure to also check these awful, yet hilarious movie posters made for the film. You can see it on the big screen on March 29.