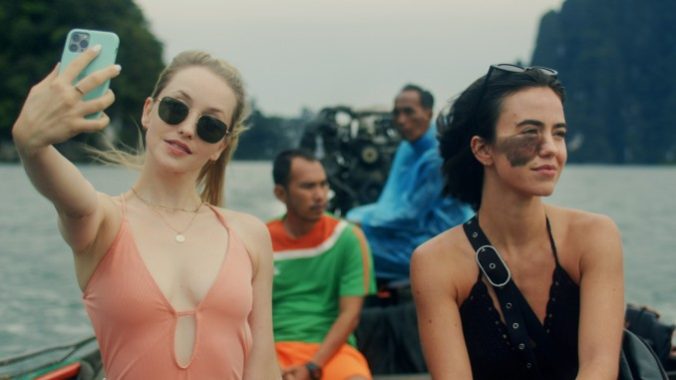 Kurtis David Harder's Thailand-set Influencer resembles those lifestyles of the Instagram famous it cautiously analyzes. Cinematographer David Schuurman captures majestic resort views and tropical island paradises with a tourism bureau's photogenic sharpness, but what's behind the picture-perfect imagery? Social media horror is the new subgenre du jour, which means an onslaught of online celebrity psycho-thrillers like Sissy and Spree have thoroughly mined observations about obsessions with follower counts or "likes" for attention. What Influencer brings to the party lands with a softer impact in the messages it preaches, but that doesn't prevent a twistier predatory narrative from snagging our attention like a buzzworthy viral sensation.
Harder and co-writer Tesh Guttikonda send travel vlogger Madison (Emily Tennant) on a solo destination vacation to Thailand for primo content opportunities. She snaps videos all day from an all-inclusive resort paradise that is rather lonely otherwise since Madison's boyfriend Ryan (Rory J. Saper) bailed on the trip last minute. Enter the liberated CW (Cassandra Naud), who befriends Madison and teaches her the joys of living off the grid and for herself. No fanbases to please, no products to promote, just a girl and her desire to experience the world's elegance up close and personal—but that's just what's visible on the surface.
Harder's weaponization of technology is the most attentive aspect of Influencer, especially with a WGA strike waging wars against AI tools in Hollywood writers' rooms. As CW and Madison's relationship becomes more complicated—social media stardom is much safer behind screens—deepfake software and voice modulation become tools for identity snatchers. Harder and Guttikonda confront the ease with which anyone can replicate another's identity using accessible programs, which complicates what we're seeing on meticulously curated social media feeds. It's beyond the existential crisis of salivating over existences that seem filter-perfect compared to the ho-hum-ness of commoners, highlighting a disruption of reality like an NBA superstar handing his TikTok over to an AI metahuman counterpart. 
What Influencer nails in commentary it lacks in staying power, despite the indulgent dew-kissed jungle landscapes and luscious exotic flare. Madison's appearance as an outsider works as the unfulfilled creator who chases follower highs. Still, the tangled substory about CW's intentions struggles to ensnare with the sharpness of barbed wire. It's hard to reveal much more because Influencer changes with the tides scene by scene, relying heavily on master plans meeting unforeseen hiccups. A suspension of belief is required as Vacation Friends becomes a murky thriller, which doesn't fully meet the intrigue of inherent internet-bred paranoias that feel too pushed towards the background.
Influencer stumbles with its intentionally jerky struggle as CW and Madison's precautionary adventure continues. The more CW engages with Madison's fabulous peers and demanding partner, the more the storylines knot in distracting ways. Thankfully, everyone—from the charismatic manipulator played by Naud, to Tennant's blonde hostess looking for meaning beyond pleasing her adoring yet fickle fanbase—delivers enough performative meat. That's the mildly frustrating part. There's plenty to explore beyond Madison's flip from bubbly and bright while rolling to almost pure defeat when offline that sinks as Harder steers into his thriller's stormy conflict, since these choppy stalker-forward waters throw the richer commentary off course.
You can source better and worse Insta-celebrity genre analyses than Influencer, a description that the niche subgenre's growth can now boast. Harder makes the most of Thailand's tourist bait and uncomfortably ponders both sides of the dangerous addiction that is superfluous social media highs, even if it's an incomplete catchall. Influencer is at times saved by its ambitions to subvert expectations, and fails in other instances when we come to expect the less and less unexpected surprises around most turns. Influencer bolsters the canon of horror tales existing under noses buried in glowing screens, but does miss the mark on leaving a legendary footprint.
Director: Kurtis David Harder
Writer: Kurtis David Harder, Tesh Guttikonda
Starring: Cassandra Naud, Emily Tennant, Rory J. Saper, Sara Canning
Release Date: May 26, 2023 (Shudder)
---
Matt Donato is a Los Angeles-based film critic currently published on SlashFilm, Fangoria, Bloody Disgusting, and anywhere else he's allowed to spread the gospel of Demon Wind. He is also a member of the Hollywood Critics Association. Definitely don't feed him after midnight.