The Last Jedi Is Dedicated to Carrie Fisher's Memory
Image via Lucasfilm/YouTube
Movies
News
Star Wars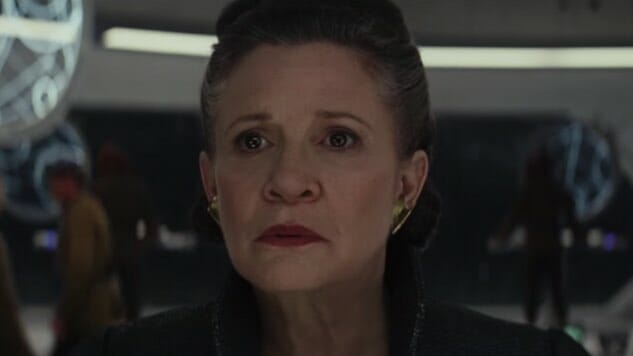 Rian Johnson's Star Wars: The Last Jedi is nearly upon us, but as excited as we are, Episode VIII promises to be especially bittersweet, as it includes the last appearance of Carrie Fisher's beloved princess-turned-general, Leia Organa. Fittingly, as revealed in advance screenings, The Last Jedi is dedicated to Fisher, with whom the Force will forever be.
The following text appears on-screen during the film's credits, per EW:
In loving memory of our princess, Carrie Fisher.
This is hardly the first tribute to Fisher that her Star Wars cohort have paid. Most recently, writer-director Johnson dedicated The Last Jedi's Los Angeles premiere to the actress, telling the crowd: "I want to dedicate tonight to Carrie. I know she's up there right now flipping me the bird, saying, 'Damn it Rian, how dare you bring the mood down and make this night a solemn tribute?' So let's all have a blast together for Carrie."
Johnson—whom Lucasfilm has entrusted with an all-new Star Wars trilogy of his own— told EW previously that Fisher's The Last Jedi storyline went unchanged after the actress died in December at the age of 60. "There's no way that we could've known this would've been the last Star Wars movie she would be in, so it's not like we made the film thinking that we were bringing closure to the character," he said. "But watching the film, there's going to be a very emotional reaction to what she does in this movie." It remains unclear what effect Fisher's loss will have on Episode IX, to be co-written and directed by J.J. Abrams and released on Dec. 20, 2019.
Fisher was also honored at Star Wars Celebration in April, with the franchise's godfather George Lucas recalling, "She'll always be the princess who took command, and never backed down, never was in jeopardy. She was always helping the other guys get out of the messes they created. We'll all love her forever and ever." Fisher's daughter Billie Lourd spoke, as well, recalling her mother's many similarities to Leia—each was "a beyond capable, independent, sensible woman in control of her own destiny. A rebel who resisted the norm." Shortly after her death, Fisher's The Last Jedi co-star Adam Driver looked back on the last time he saw her while appearing on The Late Show: She was "on-set, being Princess Leia." Oscar Isaac did the same in May, sharing the delightful fact that Fisher slapped him a whopping 27 times while filming a scene in The Last Jedi.
In July, Fisher received a posthumous Emmy nomination for her work on Amazon's Catastrophe, which Paste today named one of the 15 best sitcoms of 2017. She also made posthumous headlines in October when it was revealed that Fisher had once delivered a cow's tongue in a box to a Hollywood producer who had sexually harassed a friend of hers, promising, "If you ever touch my darling Heather or any other woman again, the next delivery will be something of yours in a much smaller box." That's Leia-level heroism if ever we've seen it.
Star Wars: The Last Jedi hits theaters this Friday, Dec. 15. Watch the trailer here and read our review of the film here, in which Will Leitch writes, "The movie is smart, stirring and deeply exciting … It expands the idea of what a Star Wars movie can be. It'll knock you over."