The Star Wars Celebration Honored Carrie Fisher in a Must-See Tribute Video
Image via Lucasfilm/YouTube
Movies
Video
Star Wars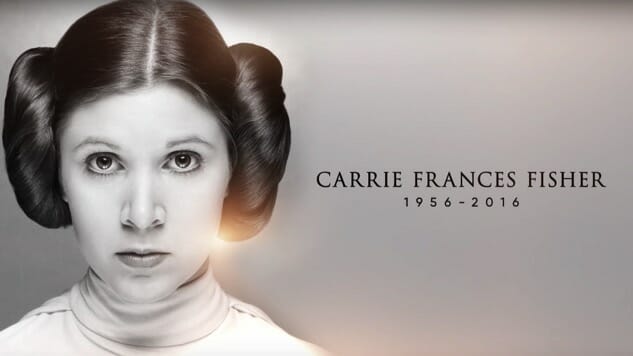 The Star Wars Celebration is in full swing in Orlando, Fla., and we bet it's all sorts of fun down there right now. They kicked if off this morning with a live stream of the panel that's celebrating the 40 years of this beautiful franchise. Warwick Davis brought a good amount of the original cast out onto the stage to an overwhelmingly thunderous round of nerd applause, but there was an obvious, sad empty spot on those couches.
Carrie Fisher was honored in a heartbreakingly touching tribute video that not only celebrated her role in Star Wars, but also her unstoppable personality and sense of humor. Also, it's set to the tune of Billy Idol's "Rebel Rebel," which is just too perfect.
George Lucas started off the tribute, saying, "She'll always be the princess who took command, and never backed down, never was in jeopardy. She was always helping the other guys get out of the messes they created. We'll all love her forever and ever." Fisher's daughter Billie Lourd then took the stage to introduce the video, saying:
My mom used to say she didn't know where Princess Leia ended and Carrie Fisher began. She went from being an unknown actress, the daughter of Debbie Reynolds and Eddie Fisher, to Princess Leia: a character synonymous with the ultimate strong woman. A soldier. A fighter. A beyond capable, independent, sensible woman in control of her own destiny. A rebel who resisted the norm.
Well, while we're over here crying our eyes out, you can take a look at the video above. It truly is touching, and hearing Fisher recite her original lines 40-ish years later is wonderful. There's a sort of touching poignancy that she adds to, "Help me Obi-Wan Kenobi. You're my only hope." She was truly, and unequivocally, wonderful. May the Force be with her.