New on Starz: All the Movies and TV Coming in December
Images via 20th Century Fox/YouTube
Movies
Features
Starz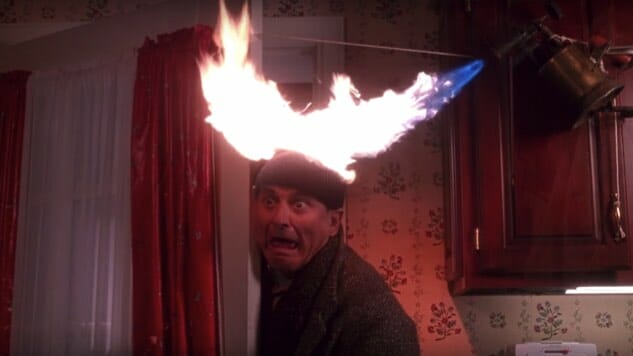 December has already begun, but that won't stop us from giving you the skinny on everything Starz is adding this month. The channel's streaming app is now home to quite a few new movies and TV shows, with plenty more to come as the month rolls along—read on for our breakdown of the most noteworthy programming headed to Starz this December.
First off are a number of feature films now streaming on Starz, including family classics Home Alone and Home Alone 2: Lost in New York, arriving just in time for the holidays. Following in Kevin McCallister's tiny footsteps are Ridley Scott's Oscar-winning war film Black Hawk Down, the classic Steve McQueen-starring The Great Escape (1963), John Carpenter's 1982 horror classic The Thing, quirky Ryan Gosling dramedy Lars and the Real Girl, Oscar-winning road film The Motorcycle Diaries, starring Gael García Bernal as a young Che Guevara, and Ang Lee's eye-popping martial-arts action-drama Crouching Tiger, Hidden Dragon. And not to be forgotten is bizarre 1974 sci-fi film Zardoz (available Dec. 22), featuring a fresh-off-James Bond Sean Connery wearing the worst onesie you've ever seen.
Our most-anticipated December addition on the small screen side might be a sneak peek at the pilot episode of Counterpart, a Starz original series starring Oscar winner J.K. Simmons as both mild-mannered government spy Howard Silk and his ass-kicking, quip-spitting alter ego, known only as Prime. The sneak peek arrives on the Starz app this Sunday, Dec. 10, with the series premiere following on Jan. 21, 2018. We highly recommend you revisit the trailer in the meantime. Of equal import are the season finales of a pair of prominent Starz originals: Outlander season three ends on Dec. 10, and Steven Soderbergh's The Girlfriend Experience concludes its second season on Christmas Eve, Dec. 24. All episodes of both shows so far are currently available on the app, in case you've fallen behind and need to play catch-up.
And bear in mind that a number of titles are leaving Starz this month, as well—we regret to inform you that, as of Dec. 2, Martin Scorsese's Daniel Day-Lewis-starring historical epic Gangs of New York is already gone, with televised sci-fi landmark The X-Files soon to follow on Dec. 7. You've got a little more time to catch Diane Keaton's (and no one else's) Oscar-winning comedy Annie Hall (leaving Dec. 17), Joel and Ethan Coen's Hollywood dramedy Barton Fink (leaving Dec. 30) and a whole heap of films leaving on Dec. 31: Spike Jonze and Charlie Kaufman's cerebral Being John Malkovich, Quentin Tarantino and Robert Rodriguez's exploitation double feature homage Grindhouse (including both Tarantino's Death Proof and Rodriguez's Planet Terror), harrowing historical drama Hotel Rwanda, Sam Mendes' Gulf War drama Jarhead, cult Kevin Smith comedy Mallrats, another Mendes film in the Oscar-nominated drama Revolutionary Road, Mel Brooks' indispensable 1987 Star Wars spoof Spaceballs and, for the kids, a number of entries in the Land Before Time series.
Find the full list of December's incoming and outgoing titles on Starz below.
WHAT'S NEW ON THE STARZ APP — DECEMBER 2017
AVAILABLE DECEMBER 1
The Accidental Spy (2002)
An American Haunting (2005)
America's Sweethearts (2001)
Antitrust (2000)
Bad Boys (1983)
Black Hawk Down (2001)
Dark Command (1940)
Diary of a Hitman (1991)
Did You Hear About the Morgans? (2009)
Digimon Adventure Tri (2015
Disturbing Behavior (1998)
The Great Escape (1963)
Growing Up Smith (2017)
Home Alone (1990)
Home Alone 2: Lost In New York (1992)
Hook (1991)
Indecent Proposal (1993)
"Jim Henson's Mother Goose Stories" (1990) – Episodes 101-113, 201-213, 301-313
"Jim Henson's The Storyteller" (1990) – Episodes 101-109
"Jim Henson's The Storyteller: Greek Myths" (1990) – Episodes 101-104
John Carpenter's The Thing (1982)
Judge Priest (1934)
Lars and the Real Girl (2007)
The Legend of Drunken Master (2000)
The Legend of Zorro (2005)
Lifeforce (1985)
"Mad About You" (1991-1999) – Episodes 101-122, 201-225, 301-325, 401-411, 415, 418, 420-423, 501-515, 518-
524, 601-621, 701-702, 704-722
The Mask of Zorro (1998)
Monogamish (2014)
The Motorcycle Diaries (2004)
"The Mystery Files" (2015) – Episodes 101-113
The Nutty Professor (1996)
The Nutty Professor II: The Klumps (2000)
"The Prime Radicals" (2011) – Episodes 101-126, 201-226
Ride a Crooked Trail (1958)
Robin Hood of the Pecos (1941)
The Spiderwick Chronicles (2008)
Spirit Game: Pride of a Nation (2016)
Suicide Kings (1998)
The Texas Chainsaw Massacre, Part 2 (1986)
The Toughest Gun in Tombstone (1958)
Unfaithful (2002)
Universal Soldier: The Return (1999)
Untamed Heart (1993)
"The Virginian" (1964-1969) – Episodes 203, 217, 223, 301, 306-307, 309-313, 316-318, 321-322, 325-330, 521,
602-604, 607-612, 614-626, 701-702, 704-707, 709-710, 712-715, 717-718, 720-722, 724-725
Wild Things (1998)
"The Wubbulous World of Dr. Seuss" (1996) – Episodes 101-120, 201-220
AVAILABLE DECEMBER 2
"Apple Tree Yard" (2017) – Episodes 1-4
AVAILABLE DECEMBER 3
Beverly Hills Chihuahua (2008)
"The Girlfriend Experience" (2017) – Episodes 205 & 212
"Outlander" (2017) – Episode 312
AVAILABLE DECEMBER 4
Ghost World (2001)
AVAILABLE DECEMBER 7
The Wizard (1989)
AVAILABLE DECEMBER 8
Anarchy Parlor (2015)
The Beautician and the Beast (1997)
Brokedown Palace (1999)
Class (1983)
Dark Blue (2003)
Eulogy (2004)
Ghost Town Renegades (1947)
The Golden Child (1986)
The Hawk of Powder River (1948)
Love and Other Catastrophes (1996)
Milton's Secret (2016)
A Reason to Live, a Reason to Die (1974)
The Return of the Musketeers (1989)
The Saga of Hemp Brown (1958)
Tales from the Crypt Presents: Bordello of Blood (1996)
Tales from the Crypt Presents: Demon Knight (1995)
True Heart (1997)
Venom (2005)
AVAILABLE DECEMBER 9
"The Secret" (2016) – Episodes 101-104
AVAILABLE DECEMBER 10
"Counterpart" (2018) – EARLY SNEAK OF PILOT EPISODE – Episode 101
"Outlander" (2017) – SEASON FINALE – Episode 313
AVAILABLE DECEMBER 15
An American Werewolf in London (1981)
Best Seller (1987)
The Curse of the Jade Scorpion (2001)
Dante's Peak (1997)
Eve's Bayou (1997)
Godsend (2004)
Hell Is for Heroes (1962)
Lightning Raiders (1945)
The Lone Star Trail (1942)
Love & Sex (2000)
"Pumpkin Reports" (2016) – Episodes 101-152
Sam Whiskey (1969)
Tell Them Willie Boy Is Here (1969)
Turbo: A Power Rangers Movie (1997)
Untamed Frontier (1952)
AVAILABLE DECEMBER 16
A Family Man (2016)
AVAILABLE DECEMBER 17
"The Girlfriend Experience" (2017) – Episodes 206 & 213
AVAILABLE DECEMBER 18
Tickling Giants (2017) – FEATURE DOCUMENTARY PREMIERE
AVAILABLE DECEMBER 19
Bebe's Kids (1992)
The Hunter (1980)
AVAILABLE DECEMBER 20
"Speed Racer: The Next Generation" (2008) – Episodes 101-126, 201-226
AVAILABLE DECEMBER 22
Armored (2009)
Butch and Sundance: The Early Days (1979)
Calamity Jane and Sam Bass (1949)
The Carson City Kid (1940)
Crouching Tiger, Hidden Dragon (2000)
Crusoe (1988)
Cutting Edge: The Magic of Movie Editing (2004)
Evening (2007)
Foxfire (1955)
Hard Rain (1997)
"Mad About You" (1996-1998) – Episodes 412-414, 416-417, 419, 516-517, 622-623, 703
The Navajo Kid (1945)
'Neath the Arizona Skies (1934)
Oath of Vengeance (1944)
Outlaws of the Plains (1946)
Overland Riders (1946)
The Paper Chase (1973)
Pathfinder (2007)
Pioneer Justice (1947)
Prairie Badmen (1946)
Prairie Outlaws (1946)
Prairie Rustlers (1945)
Range Beyond the Blue (1947)
Return of the Lash (1947)
Riders of the Purple Sage (1941)
Romance of the West (1946)
The Shakiest Gun in the West (1968)
Unfaithfully Yours (1984)
The Virginian (1929)
Walled In (2008)
Wisdom (1987)
Zardoz (1974)
AVAILABLE DECEMBER 23
Planet 51 (2009)
AVAILABLE DECEMBER 24
"The Girlfriend Experience" (2017) – SEASON FINALE – Episodes 207 & 214
AVAILABLE DECEMBER 29
Always Watching: A Marble Hornets Story (2015)
The Cimarron Kid (1951)
Drango (1957)
Wild Heritage (1958)
AVAILABLE DECEMBER 30
"Robotboy" (2005) – Episodes 101-152
The Wilde Wedding (2016)
AVAILABLE DECEMBER 31
"The Virginian" (1969) – Episodes 520, 522-523, 525-526, 528, 529, 601, 605-606, 613, 703, 708, 711, 716, 719,
723, 726, 801-824
WHAT'S LEAVING THE STARZ APP — DECEMBER 2017
LEAVING DECEMBER 1
24 Hour Party People (2001)
LEAVING DECEMBER 2
Gangs of New York (2002)
Rules of Attraction (2002)
LEAVING DECEMBER 3
The Game Plan (2007)
LEAVING DECEMBER 6
You Don't Mess with the Zohan (2008)
LEAVING DECEMBER 7
The X-Files (1998)
LEAVING DECEMBER 8
Edge of Winter (2016)
LEAVING DECEMBER 14
Concussion (2015)
Illegal (2010)
LEAVING DECEMBER 15
Backstreet Boys: Show 'Em What You're Made Of (2015)
The Hitcher (2007)
The Ringer (2004)
LEAVING DECEMBER 17
Annie Hall (1977)
LEAVING DECEMBER 22
Bye Bye Love (1995)
Kevin Hart: Laugh at My Pain (2011)
LEAVING DECEMBER 25
Heartbreakers (2001)
LEAVING DECEMBER 29
Aquamarine (2006)
LEAVING DECEMBER 30
Barton Fink (1991)
The Last Fall (2012)
Underdog Kids (2015)
LEAVING DECEMBER 31
54 (1998)
The Adventures of Buckaroo Banzai Across the 8th Dimension (1984)
American Ninja (1985)
American Ninja 2: The Confrontation (1987)
American Ninja 3: Blood Hunt (1989)
America's Sweethearts (2001)
Apache Drums (1951)
The Battle at Apache Pass (1952)
Beautiful Boy (2011)
Being John Malkovich (1999)
Black Hawk Down (2001)
Black Horse Canyon (1954)
Black Rain (1989)
Blood Creek (2008)
Bobby Jones: Stroke of Genius (2004)
Burning Blue (2014)
Catch .44 (2011)
Comanche Territory (1950)
The Court-Martial of Jackie Robinson (1990)
Cry, the Beloved Country (1995)
The Da Vinci Code (2006)
Death Proof (2007)
Drugstore Cowboy (1989)
Eddie Macon's Run (1983)
Excess Baggage (1997)
Existenz (1999)
Father of Invention (2010)
Flyboys (2006)
Get a Job (2016)
Goin' South (1978)
The Great Escape (1963)
The Greatest Show on Earth (1952)
Grindhouse (2007)
Gun for a Coward (1957)
Hanging Up (2000)
Highlander: Endgame (2000)
Highlander: The Final Dimension (1995)
Honey (2003)
Honey 2 (2011)
Hotel Rwanda (2004)
Hustlers Convention (2015)
In the Cut (2003)
Jade (1995)
Jarhead (2005)
John Carpenter's The Thing (1982)
Just Another Girl on The I.R.T. (1992)
The Kids Are All Right (2010)
Kill Your Darlings (2013)
La Entidad (2015)
La Ignorancia de Sangre (2014)
La Vida de Alguien (2014)
The Land Before Time: Sing Along Songs (1997)
The Land Before Time VIII: The Big Freeze (2001)
The Land Before Time X: The Great Longneck Migration (2003)
The Land Before Time XI: The Invasion Of The Tinysauruses (2005)
The Land Before Time XII: The Great Day Of Flyers (2006)
The Land Before Time XIII: The Wisdom Of Friends (2007)
A League of Their Own (1992)
Left-Handed Law (1937)
"The Life and Legend of Wyatt Earp" (1955-1961) – Episodes 1-226
Lockdown (2015)
Mallrats (1995)
Marathon Man (1976)
The Meanest Men in the West (1978)
Midnight's Children (2012)
Nevada Smith (1966)
New Police Story (2004)
The Nutty Professor (1996)
Nutty Professor II: The Klumps (2000)
Operation: Endgame (2010)
Orgazmo (1998)
The Perez Family (1995)
Planet Terror (2007)
Rebel in Town (1956)
Red State (2011)
Regarding Henry (1991)
The Return (2006)
Revolutionary Road (2008)
Salute (2008)
Saving Santa (2013)
Secret Window (2004)
Shattered (1991)
She Hate Me (2004)
Six Degrees of Separation (1993)
Sleeper (1973)
Sleepless In Seattle (1993)
Spaceballs (1987)
Stage Beauty (2004)
Texas Rangers (2001)
Under Suspicion (1999)
Waterhole #3 (1967)
Wonder Boys (2000)