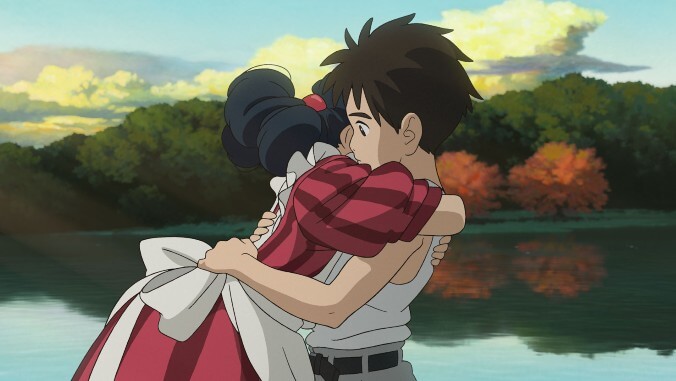 Ahead of its first screening outside of Japan, Hayao Miyazaki and Studio Ghibli's long-anticipated The Boy and the Heron has released its first trailer. The film marks Miyazaki's first movie in a decade, since the game-changing The Wind Rises marked the last time the anime master threatened to retire from filmmaking. The Boy and the Heron has been even more enticing as a swan song because of the mystery surrounding the film. With no conventional press materials released in the years of development, we've been left to speculate what kind of narrative would befit Miyazaki's (alleged) farewell. Now, after releasing in Japanese theaters in July, Studio Ghibli and GKIDS have released the first footage to the world.
Take a look:
Fittingly, the official description of The Boy and the Heron was released in poem form:
A young boy named Mahito

yearning for his mother

ventures into a world shared by the living and the dead.

There, death comes to an end,

and life finds a new beginning.

A semi-autobiographical fantasy

about life, death, and creation,

in tribute to friendship,

from the mind of Hayao Miyazaki.
Featuring the familiar, glorious hand-drawn house style of Ghibli alongside some innovate, nightmarish animation, The Boy and the Heron naturally deals with mortality, war, magic, history, lines between reality and fantasy, and human connection. Also, a heron.
Though the movie's Japanese title (How Do You Live?) references a 1937 Genzaburō Yoshino novel, Miyazaki is known for his liberal adaptation style, sometimes discarding everything but a single element of a source, so don't look too hard for clues. Rather, it seems more illuminating to look to the themes and subject matter that has preoccupied Miyazaki's later career, especially as the 82-year-old gets more and more comfortable explicitly addressing his age in his work.
The Boy and the Heron premieres at the Toronto International Film Festival this weekend, followed by a few other festival appearances before it starts select appearances on November 22 and fully hits theaters on December 8, 2023.
---
Jacob Oller is Movies Editor at Paste Magazine. You can follow him on Twitter at @jacoboller.
For all the latest movie news, reviews, lists and features, follow @PasteMovies.