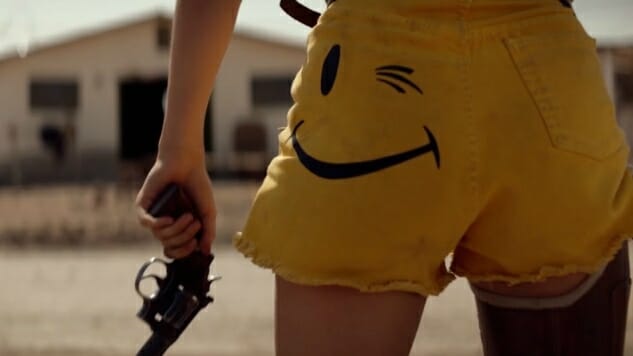 Three years after her black-and-white "Iranian Vampire Western" debut, A Girl Walks Home Alone at Night, director Ana Lily Amirpour is back with the summertime theatrical release of her most recent feature, The Bad Batch.
While our Toronto Film Festival review reflected a film with chronic storytelling shortcomings, the trailer itself remains quite striking. Images of an amputee Suki Waterhouse (Pride and Prejudice and Zombies, Insurgent) dying of thirst on a skateboard, bodybuilders powerlifting in the middle of the desert, a barely recognizable scavenger Jim Carrey and, you know … just Jason Momoa are all a lot of audiences are going to need to want to check out this movie.
Taking place on the outskirts of an alternate America where undesirables (illegal immigrants, drug dealers, murderers, etc.) have been dumped, this cannibal-packed picture also stars Keanu Reeves, Giovanni Ribisi and Diego Luna.
The Bad Batch hits theaters on June 23. Check out the fever dream of a trailer above.