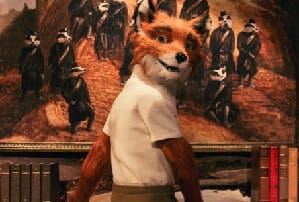 Release Date: November 25, 2009
Director: Wes Anderson?
Writer: Roald Dahl (novel), Wes Anderson and Noah Baumbach (screenplay)?
Starring: George Clooney, Meryl Streep, Bill Murray, Adrien Brody, Owen Wilson, Willem Dafoe, Jason Schwartzman, Brian Cox, Michael Gambon, Anjelica Huston
?Studio/Run Time: Twentieth Century Fox, 87 min.
Wes Anderson's whimsical animated film features his familiar themes and undeniable fingerprints, but has broader-than-usual appeal.
A match made in heaven? Wes Anderson's trademark ironic eccentricity and Roald Dahl's vaguely menacing but entirely lighthearted surrealism combine to form Fantastic Mr. Fox, Anderson's first animated effort (and, by all accounts, one using maddeningly traditional stop-motion techniques).
It's ostensibly a children's film (Mr. Fox and his family and friends try to outrun the mean farmers), but rather transparently aimed at their parents, who likely read Dahl's books in grade school, remember stop-motion when it didn't feel vintage, and have been following Anderson's work for years now. But while earlier Anderson films have turned off some audiences with their self-conscious quirk, Fantastic Mr. Fox is broader and more straightforward, trading some of the hipster-ness for cuteness.
The tale has been greatly expanded from the Dahl original to cover familiar Anderson themes of family, rivalry, and feeling different. And with its lush autumnal palette and hijinks worthy of Max Fisher or Dignan, the result is a film that only Wes Anderson could have made.