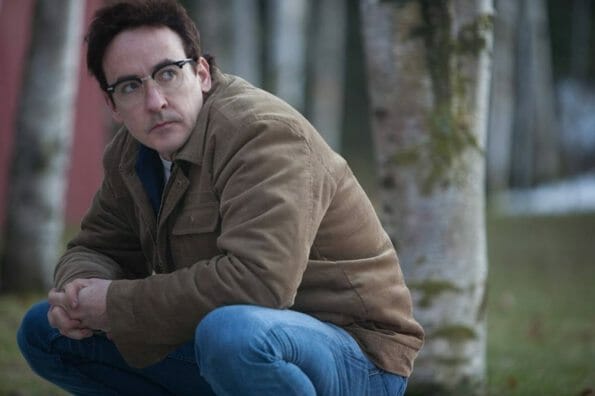 A sort-of anti-Zodiac, first-time writer-director Scott Walker's The Frozen Ground is based on real events in Anchorage, Alaska, in 1983, when after a dozen years of systematically kidnapping, raping and killing young women, serial killer Robert Hansen (John Cusack) lets one get away. It takes awhile for State Trooper Sgt. Jack Halcombe (Nicolas Cage) to pin the crimes on his suspect, however, despite the testimony of teenage prostitute Cindy Paulson (Vanessa Hudgens).
Reminiscent of this season's The Killing, with its focus on runaway girls who survive on the streets by selling their bodies, and Top of the Lake, with its remote, rugged location, The Frozen Ground feels like it might have been a better fit on television, where the intricacies of the case could have been more thoroughly explored. As it stands, it's unclear why it took law enforcement so long to link the cases of the missing girls, how Hansen has an alibi for the night Cindy was kidnapped and raped, why they can't arrest him once they figure out what happened to her rape kit, and how problematic Cindy is as a witness—in other words, Law & Order 101.
Of course, Cage and Cusack probably wouldn't star in the TV version—nor should they. Neither is doing his hammiest work here, but they're clearly collecting a paycheck. Cusack's casting particularly, as workmanlike as his performance is, marks a major misstep in concept. Part of what was so shocking about the Hansen case was that he was a respected family and businessman, but in the film he's portrayed as brusque with his staff, cold to his friends and an asshole to his family. And unlike David Fincher's masterful addition to the genre, there's no mystery that Robert did it—only whether he'll ever get charged—sucking all the suspense out of the investigation.
Looking like Mila Kunis' kid sister, Hudgens, on the other hand, demonstrates impressive range. Between her turn in Spring Breakers and this demanding role, she's showing a willingness and ability to break free from her High School Musical roots to carve out a challenging career. She does justice and brings dignity to Cindy's story—as well as the 16 other women whose portraits precede the movie's end credits. Unfortunately, with a confusing script pocked with plot holes, The Frozen Ground misses an opportunity to create a lasting testament to their memories.
Director: Scott Walker
Writer: Scott Walker
Starring: Nicolas Cage, John Cusack, Vanessa Hudgens
Release Date: Aug. 23, 2013