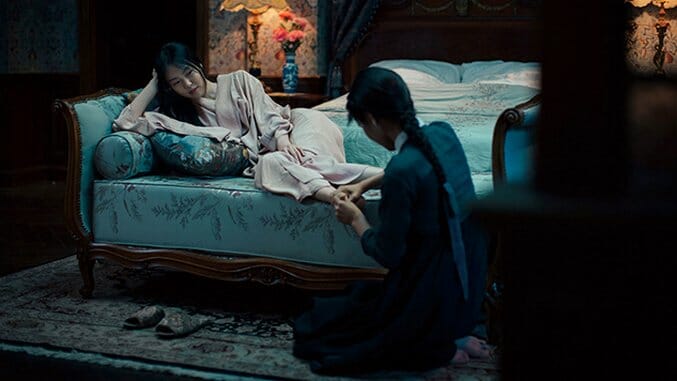 When you spend your time making revenge movies, people may start to call you "the revenge guy"—and, in the last decade of his career, Park Chan-wook hasn't exactly given the impression he's eager to shed his image as an auteur of cathartic, bloody vengeance. Honestly: Why would he be? Revenge, in all its forms and for all its purposes, is the unifying thread of Park's entire body of work, from the obvious titles—Sympathy for Mr. Vengeance, Oldboy, Lady Vengeance—to the more inconspicuous oddities in his oeuvre, like I'm a Cyborg, But That's Okay, a cutesy rom-com that still manages to be vengeful in its own way.
Revenge, in other words, is his fuel. It's the thing that makes Park movies Park movies beneath the surface. The surface itself is his secondary calling card, dazzling in its imagery and meticulous mise en scène. Watching any Park film, it's simple to recognize his obsession with obsession itself, but his revenge yarns stay pinned to our consciousness by dint of flawless construction: He makes grisly movies about revenge, and he makes these grisly movies look beautiful. His latest film, The Handmaiden—a psychological erotic thriller based on author Sarah Waters' novel Fingersmiths—is no exception, and could even be the summation and the refinement of each element integral to Park's style as a filmmaker.
That's a pretty way of saying that Park includes vengeance as part of the film's backdrop, but he's evolved beyond the grimier, nerve-bending interests of his earlier pictures and has chosen to put greater emphasis on sex, mystery and subverting the trope of feminine subservience. Oddly, his shift in focus doesn't noticeably impact his storytelling formula, and if The Handmaiden lacks graphic depictions of slashed Achilles tendons and improvised dentistry, it is by no means tame: Orthodontic brutality has been replaced by psychological brutality. The latter is a familiar instrument in Park's toolbox that he historically prioritizes below physical anguish, but The Handmaiden favors the shock of abuse to the shock of violence, to say nothing of its scenes of sexual abandon. In our American cultural context, The Handmaiden's open carnality feels like a hand grenade of provocation in our normal pop diet of stabbings and shootings.
So give Park the chance work you into a lather over the course of 145 minutes. There are few filmmakers on Earth capable of crafting the experience of movies like The Handmaiden so exquisitely while maintaining both plot inertia and a sense of fun. (Yes, it's true: Park has made a genuinely fun, and often surprisingly, bleakly funny, picture.) The film begins somberly enough, settling on a tearful farewell scene as Sook-hee (Kim Tae-ri) is carted off to the manor of the reclusive and exorbitantly rich aristocrat Kouzuki (Cho Jin-woong), where she will act as servant to his niece, Lady Hideko (Kim Min-hee). But Sook-hee isn't a maid: She's a pickpocket working on behalf of Fujiwara (Ha Jung-woo), a conman scheming to get his mitts on Hideko's assets. (That's not a euphemism. He only wants her for her money.)
The reveal of Sook-hee's true intentions is just the first of many on The Handmaiden's narrative itinerary. Park has designed the film as a puzzle box where each step taken to find the solution answers one question while posing new ones at the same time. As Sook-hee gets to know Hideko, she finds herself falling in love with her mistress, who in turn falls for her helper. The dramatic pleasures of The Handmaiden are best discovered by the viewer in tandem with its erotic inclinations, though Park marries these to undercurrents and overtones of patriarchal dominance: His women are controlled by his men, which naturally compliments his fondness for letting his protagonists get even with his antagonists.
The Handmaiden plays to his strengths as a filmmaker in other ways, too, allowing him to capitalize on his preference for deliberate, steady pacing, his knack for folding black humor into otherwise humorless subject matter, and his eye for stunning composition, aided here by longtime compadre Chung Chung-hoon, the man responsible for bathing every movie Park has made since 2003 in layers of sumptuous visual rapture. The Handmaiden's is the kind of world you'll want to live inside against your better judgment: Sure, Kouzuki stocks his basement with horrors unspoken (and until the last 20 minutes, unseen), and sure, the men are all awful, but gosh, would you look at the lush, verdant woodlands surrounding Hideko's elegant digs, to say naught of the elegant digs themselves?
It isn't a mistake that Jo Yeong-wook's score evokes Downton Abbey flashbacks, either, and though you will never conflate that show with The Handmaiden, the combination of sight and sound creates an atmosphere of ethereal opulence. And yet the film's texture, tone and tactility aren't its best recommendations, because its best recommendation is Park's talent for tempting us with the obvious. You may think you've figured out where the film is going, but you won't figure out how it's going to get there. It's not that Park does away with the obvious, it's that he reclaims the obvious for use elsewhere in his story, choosing to install it in unexpected places rather than remove it from The Handmaiden's structure wholesale.
But you're here to read about the sex, aren't you? The film's trailers can only hint at the libidinal peaks that Park ascends: It's in the sex scenes between the two Kims that Park shows the kind of filmmaker he really is. The sex is sexy, the scenes steamy, but in each we find a tenderness that invites us to read them as romance rather than as pornography. We're not conditioned to look for humanity in pantomimes of a sexually explicit nature, but that's exactly when The Handmaiden is at its most human. There's something comforting in that, and in Park's framing of deviance as embodied by the film's masculine component. We don't really need him to spell that out for us, but the message is welcome all the same.
Director: Park Chan-wook
Writer: Park Chan-wook, Chung Seo-kyung, Sarah Waters
Starring: Kim Tae-ri, Kim Min-hee, Ha Jung-woo, Cho Jin-woong
Release Date: October 21, 2016
---
Boston-based critic Andy Crump has been writing about film online since 2009, and has been contributing to Paste Magazine since 2013. He writes additional words for Movie Mezzanine, The Playlist, and Birth. Movies. Death., and is a member of the Online Film Critics Society and the Boston Online Film Critics Association. You can follow him on Twitter and find his collected writing at his personal blog. He is composed of roughly 65% craft beer.