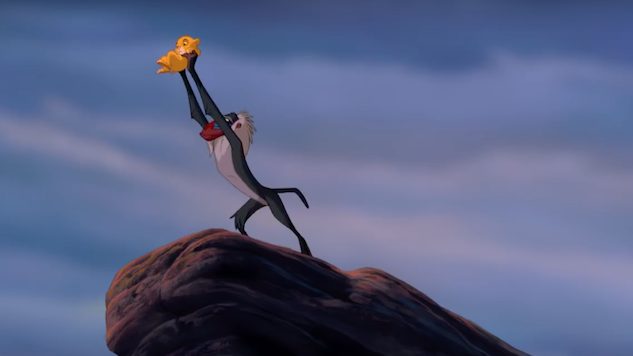 "Everything We Know about … " is Paste's series of deep dives into the forthcoming projects we're most excited about. Explore them all here.
The Lion King proved to be one of Disney's most successful animated films, leading to multiple sequels and even a long-running Broadway musical. Since Disney announced the "live-action" (more on that later) remake of their 1994 classic, anticipation has steadily grown for what is likely to be an enormous late-summer blockbuster for the multiverse giant next year.
From cast announcements to plot and music decisions, fans new and old have been eagerly waiting with bated breath for information regarding the forthcoming film. Read on for everything we know—so far—about the upcoming return to Pride Rock.
The cast alone justifies seeing the film
Much of the anticipation surrounding Disney's forthcoming live-action reimagining of The Lion King is its casting, which, to put it lightly, is packed to the brim with amazing talent. Truly, some of these casting decisions are so perfect that it's hard to imagine anyone else tackling the roles.
#TheLionKing. 2019. pic.twitter.com/UMJo18FwDt

— Disney (@Disney) November 1, 2017
Supporting roles Azizi and Kamari, hyena sidekicks to the insidious Scar, will be played by Eric Andre and Keegan-Michael Key, respectively. Stepping into the role of Zazu, the red-billed hornbill who serves as royal advisor in the film, will be John Oliver. As far as the everyone's favorite besties, meerkat Timon and warthog Pumba, Billy Eichner and Seth Rogen will step up to the plate. That's right—Seth Rogen and Billy Eichner will be performing "Hakuna Matata," the track that had kids saying "YOLO" before it was cool.
First-generation royals and parents of Simba, Sarabi and Mufasa, will be played by Alfre Woodard and James Earl Jones, respectively. Chiwetel Ejiofor will tackle the role of ever-jealous Scar, everyone's least favorite lion. This will be Jones' second time playing regal head of the pack Mufasa, and it's probably going to hurt just as much to watch his demise in the live-action version as it did in the original. It's probably a good idea to start mentally preparing now.
Easily the most exciting casting decisions, however, are those of Nala and Simba, and not just because they are the main protagonists of the story. Disney has taken the hip-hop royalty route in appointing Beyoncé Knowles-Carter and Donald Glover as future pride royalty.
The plot is a mystery, but likely similar to the original
While official plot lines haven't been released, lucky attendees at D23 back in July got a first look at the forthcoming film.
As reported by THR, the not-yet-released-online footage featured "jaw-dropping photo-real shots of African landscapes and many types of animals," eventually culminating with the iconic (and shockingly meme-able) scene where Rafiki introduces baby Simba to the world atop Pride Rock, of course backed by "Circle of Life."
Looking at the cast, the chosen surviving songs (up next) and how closely it appears Disney has followed the original film's opening sequence, it seems as though the forthcoming live-action take will at least follow the main, major plot points of the original, such as Mufasa dying and Simba taking on the challenge of ascending to the throne. However, despite that, much is still unknown.
There are classic songs and exciting new collaborations
The music from the original 1994 animated version has become the stuff of legend, with tracks like Elton John's "Can You Feel The Love Tonight" leaping off the screen and peaking at No. 4 on the Billboard Hot 100.
However, while some parts of the original's music composition are kept intact—Hans Zimmer has again been tapped to score the remake—others are changing, such as the soundtrack. Though the live-action iteration isn't entirely abandoning the 1994 John- and Tim Rice-composed soundtrack, Disney is only carrying over four of the original tracks ("Can You Feel the Love Tonight," "Hakuna Matata," "I Just Can't Wait to Be King" and "Circle of Life").
This decision is more exciting than bittersweet, however, as John revealed that he and Rice will be returning to compose one more new track for the film and, get this, they're collaborating with Beyonce to do so. If anything "means no worries," it's Beyoncé and Elton John working together on a track.
Jon Favreau's helming the effort
Jon Favreau is set to direct the new Lion King, not long after his major success with the live-action remake of The Jungle Book in 2016. He is bringing the same CGI/live-action hybrid style used in that film to Lion King. The "live-action" characterization of the film has been intriguing from the start, as there is no human element in the traditional battle for Pride Rock, unlike in The Jungle Book, so the line of what exactly will be "live-action," if anything, has been a point of intrigue.
Jeff Nathanson (Pirates of the Caribbean: Dead Men Tell No Tales) wrote the film's script, which was based on a Brenda Chapman story featuring characters credited to Irene Mecci, Jonathan Roberts and Linda Woolverton. Favreau serves as producer, joined by Jeffrey Silver and Karen Gilchrist.
Lion King will be released on July 19 of next year, leaving just enough time for the live-action Dumbo hype, set for release in March, to calm down before once again breaking hearts via parent-child relationship. Just Disney doing what Disney does best.
Here's the latest
Disney debuted the first teaser and poster for their reimagining of The Lion King on Thanksgiving, Nov. 22. Check 'em out below.