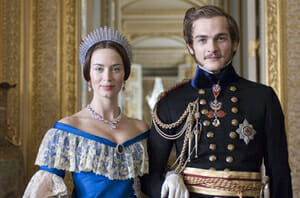 Release Date: Dec. 18 (limited)
Director: Jean-Marc Vallée
Writer: Julian Fellowes
Cinematographer: Hagen Bogdanski
Starring: Emily Blunt, Rupert Friend, Jim Broadbent, Paul Bettany, Miranda Richardson
Studio/Run Time: Sony Pictures Entertainment, 100 mins.
Blunt dazzles as British royalty in well-executed period piece
She was the snooty girl in The Devil Wears Prada, the hot date in Dan in Real Life, the funny sister in Sunshine Cleaning and the alluring daughter in Charlie Wilson's War. Now Emily Blunt steps into her first major leading role, dazzling and delighting in period piece The Young Victoria. Mostly set in the 1830s and '40s, this beautifully shot film follows the ascension of the teenage Victoria as she becomes Queen of England, a reign that lasts over 60 years. Blunt elegantly and assuredly executes the transformation from overprotected child to groundbreaking monarch. The supporting cast includes Jim Broadbent who, as King William, steals each of the few scenes in which he appears; Miranda Richardson, who's wonderfully distressing as the mother Victoria purges from her life; and Rupert Friend, who serves dutifully as Victoria's adoring Prince Albert. Although The Young Victoria ends too soon and leaves many a subplot unresolved, Emily Blunt's performance won't soon be forgotten.