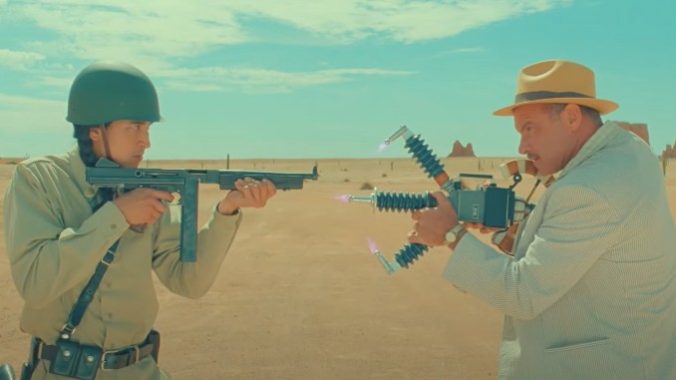 "You can't wake up if you don't fall asleep." This is the mantra of Asteroid City, Wes Anderson's latest and a film that leans more heavily on being quirky than the weaponization of whimsy that his last few films have employed. It's a fine line, and for many it's all simply an onslaught of saccharine silliness, but these deliciously crafted delicacies remain a treat.
While The French Dispatch crammed an impressive amount of narrative into its kinetic structure, Asteroid City's journey to the intersection between California, Arizona and Nevada feels positively placid. The film is a story within a story, structured as a television show about a playwright trying to put together a production called "Asteroid City." We bounce back and forth from the TV movie about the creation of the play, to a production of the play itself using the same characters, switching between black-and-white sequences narrated by a Rod Serling-like Bryan Cranston, and the Kodachrome splendor realized in the desert setting on the virtual stage. Thus, we have actors being actors playing actors, the kind of narrative playfulness that's too often ignored when focusing on Anderson's iconic visuals and soundtrack choices. The result is a meta-narrative constantly folding back on itself (in one of the film's more playful moments, Cranston's character accidentally appears in the color sequence, and quickly sees himself out), an alien invasion adventure story and family drama wrapped within the setting of a classic Western, where offramps literally lead nowhere and the seemingly regular shootout down the main street is the only interruption to what otherwise bucolic setting.
From the opening moments, the immaculate production design explodes off the screen, the onscreen filigrees and dynamic color scheme a feast for the eye. There's a mix between the stagey and the decidedly down to earth, with hand-painted signs advertising milkshakes dwarfed by background rock formations that are as theatrical as any Broadway flat. It's but one way the film toys with our perception of the characters, both believing in their small and intimate moments, but always made aware of the artifice. Once again, this playfulness will not be for everyone, but those open to its charms will find a wonderful sensation as the film vacillates between these different worlds.
The constellation of performers that make up Anderson's ensemble continues to expand, with certain stalwarts like Jason Schwartzman, Tilda Swinton, Stephen Park, Adrien Brody, Scarlett Johansson, Willem Dafoe and more making a welcome return. Some are on screen for mere moments—such as a luminous Margot Robbie living in another fictive world—while Tom Hanks takes over a role that one posits that Bill Murray was at one point set to perform, bringing a level of avuncular empathy to the part. Steve Carell, Jeffrey Wright, Hope Davis, Fisher Stevens, Hong Chau…the list goes on and on, and with each part, no matter the size, providing an important ingredient in this richly realized tale.
If there's a central emotional focus, it's found in the teasing relationship between Johansson and Schwartzman. Both play parents of "Stargazers," young geniuses headed to a meteor crater to present their latest inventions at a convention. Housed in neighboring cabins, the windows form proscenia, the photographer shooting his subject from one framed setting to the other, the model rehearsing her lines and evoking with her modes of subtle seduction. Both actors are exceptional: Johansson channels a 1950s iconic starlet in both look and behaviour, while Scwartzmann's choice to employ Kubrick's Bronx drawl while aiming his Swiss-made camera at his muse is one of the film's most pleasing elements.
There are of course many cinematic references, from the schlock of '50s sci-fi to more than a hint of Close Encounters that also fueled last year's Nope. There are also echoes to many of Anderson's own films. There's the dynamic between Dinah (Grace Edwards) and Woodward (Jake Ryan), which warmly evokes the adolescent affections of Moonrise Kingdom; the widower character reminds of The Royal Tenenbaums; the over-the-top stagecraft first seen in Rushmore; the goofy animation of Fantastic Mr. Fox and Isle of Dogs that continues well into Anderson's live-action productions; and even the salon-like setting of the cabins feel like sunbaked versions of The Grand Budapest Hotel's warren-like rooms. 
The music, always fundamental to the crafting of Anderson's cinematic worlds, employs a mix of Jimmie Rodgers-style early country music and newly constructed hoedowns, often used deep in the background of the mix, eschewing overt needledrop moments like in some of the earlier films in favor of simply setting a twangy mood.  Jarvis Cocker continues the tradition of providing a song or two, and his baritone intoning of the film's central mantra closes out the credits.
This repeated line may seem fatuous and self-evident, but perhaps no less silly and jingoistic as, say, the repeating of the title in The Cradle Will Rock. It's a matter of simply going with it, letting those elements that are serious and those less so to live with equal power—to embrace the journey, even if you're never quite sure it's traveled more than across the street or to a neighboring balcony. 
Asteroid City may be a minor work by this artist, but it's still a magical one. It's akin to the Coen Brothers' The Man Who Wasn't There: Perhaps not one of the films that gets checked off on the top of the pantheon, but nonetheless a welcome addition to one of the most interesting, intricate filmographies in the canon. There's so much joy on screen, so much playfulness, that it's perhaps churlish to complain about any missteps. While not as deeply moving as some, or downright thrilling as others in Anderson's filmography, it's a journey to the desert well worth taking.
Director: Wes Anderson
Writer: Wes Anderson
Starring: Jason Schwartzman, Scarlett Johansson, Tom Hanks, Jeffrey Wright, Tilda Swinton, Bryan Cranston, Edward Norton, Adrien Brody, Liev Schreiber, Hope Davis, Steve Park, Rupert Friend, Maya Hawke, Steve Carell, Matt Dillon, Hong Chau, Willem Dafoe, Margot Robbie, Tony Revolori, Jake Ryan, Jeff Goldblum
Release Date: May 23, 2023 (Cannes)
---
Jason Gorber is a Toronto based film Critic and Journalist, Editor-in-Chief at That Shelf, the movie critic for CBC's Metro Morning, and others. He is a member of the Toronto Film Critics Association and voter for the Critics Choice Awards Association. He also knows for a fact that CASINO is Scorsese's masterpiece, and has a cat named Zissou.