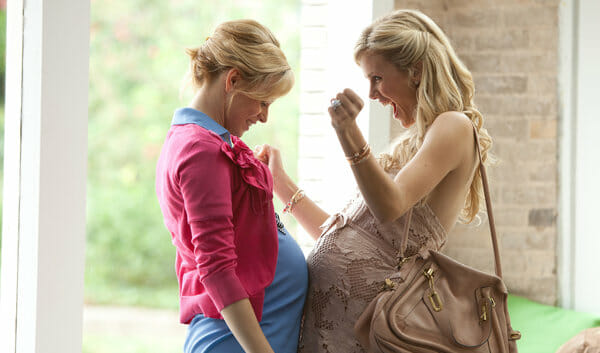 What to Expect When You're Expecting has been treated with a bit of skepticism, and rightfully so. Kirk Jones's fourth feature film is based on a hugely popular book, has an all-star ensemble cast reminiscent of last year's floppy New Year's Eve), and, perhaps most dire, stars Jennifer Lopez. However, J-Lo or no, What to Expect is as hilarious as it claims to be. With a brilliant script that embraces and challenges the philosophies of the original book by Heidi Murkoff, What To Expect serves up an adult-sized sippy cup full of good fun, good drama, and—most importantly—dirty pregnancy jokes.
The film follows five couples, each struggling with the art of conception. There's the celebrity couple, Jules and Evan (Cameron Diaz and Matthew Morrison), whose private discussions about the circumcision decision end up on the cover of magazines; the adorably over-zealous couple, Wendy and Gary (Elizabeth Banks and Ben Falcone), who receive e-alerts when the Mrs. is ovulating; Holly and Alex (Jennifer Lopez and Rodrigo Santoro), who are adopting due to infertility; and Rosie and Marco (Anna Kendrick and Chase Crawford), the young kids who just hooked up that one time but really like each other. Skyler and Ramsey (Brooklyn Decker and Dennis Quaid) make up the fifth couple, but they have a lesser storyline, as Quaid plays father to Falcone's character, and the two couples' stories are juxtaposed against each other, much like the father and son.
None of the couples in What to Expect have a traditional or normal pregnancy, and they struggle (hilariously so) against their own expectations and those of the people around them. Banks and Falcone (up against Decker and Quaid) are probably the most fun to watch, while the Diaz/Morrison couple offers more glitz and glam than authenticity. Kendrick and Crawford are eternally cute, even in the midst of an unexpected tragedy; and though the J-Lo/Santoro couple plays out the worst (in terms of performance), their storyline is one of the most compelling. All of the stories are told with great affection.
What to Expect also accomplishes the difficult task of weaving many stories together in subtle, but genuine ways. The entire cast, for example, watches the show Celebrity Dance Factor (where Jules and Evan meet), and many of the women are familiar with Holly's photography business, as she specializes in baby pictures. All of the men eventually come into contact with the beloved Dudes Group. Led by Vic (played by Chris Rock, in one of his finer moments), this group is like a Mommy and Me session that had a baby with Fight Club—at least the guys would like to think so. Rock and Thomas Lennon (from Comedy Central's Reno 911) are the most memorable, but the ensemble (which includes Rob Huebel and Amir Talai) is a force of comedic paternal nature. Just like a group of "real" Dads, they put bros before … uh … wives, are a wee bit neglectful of their kids (Chris Rock's son provides much of the Stooge-level-schtick), and are ultimately awesome.
Aside from the dominant narratives, What to Expect really shines in its smaller roles. Joe Manganiello plays Davis, the buff alpha male who the Dudes obsess over in the park, and as Banks's assistant, Rebel Wilson (from Bridesmaids) gives a strong performance chock-full of memorable one-liners. (Apparently there are some nifty "new pacifiers that really do taste like actual nipples.")
Despite the obvious parallels, What to Expect When You're Expecting is not simply another Knocked Up, or New Year's Eve, or Valentine's Day. Unlike Knocked Up or even a film like L!fe Happens, it gives the expectant couple their just due. The film does get off to a bit of a slow start and has its moments of Chic-Flickery, but once it picks up steam, the comedy is consistent. Hilarious, honest and sometimes heartbreaking, What to Expect delivers.
Director: Kirk Jones
Writer: Shauna Cross, Heather Hach, Heidi Murkoff
Starring: Cameron Diaz, Matthew Morrison, Jennifer Lopez, Anna Kendrick, Ben Falcone, Dennis Quaid, J. Todd Smith, Chase Crawford, Brooklyn Decker, Chris Rock
Release Date: May 18, 2012